Heidi Klum is putting a sexy spin on casual Fridays.
On Friday, the German supermodel and America's Got Talent host posted an Instagram photo of herself wearing nothing but a pair of black fishnet tights, with her cell phone carefully covering her top half. "Another day at the office," she wrote alongside the post that was liked more than 55,000 times.
The barely-there look was a departure from the outfit she wore earlier in the day — a gray, cropped hooded sweatshirt and white-washed jeans.
It's also a change of pace from the time-lapsed makeup transformation videos she's been starring in, courtesy of her makeup artist Linda Hay, who takes Klum from bare-faced to completely done-up.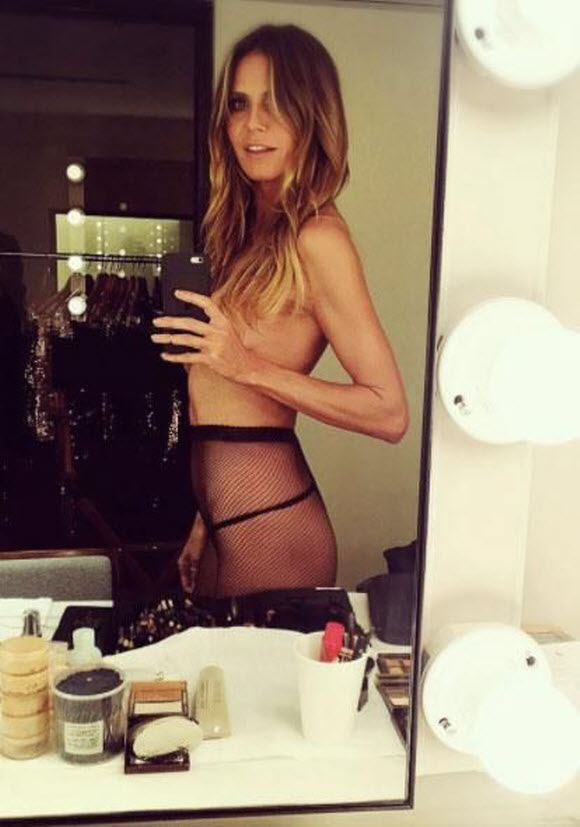 Klum, who calls herself a "hippie at heart," recently released Heidi Klum by Rankin, a coffee table book of nude portraits.
"I feel more comfortable when I'm naked than when I have clothes on," she told People in June, adding, "It's not like if you come to my house, I'll be walking around naked. But if it's a beautiful, sunny day and I'm in my backyard and there's no one there? Hell yeah I'm going to take my clothes off. I'd much rather sunbathe naked instead of getting tan lines."
For Klum, stripping down is clearly empowering. She told People, "I think nudes are beautiful, and I love celebrating women's bodies."
Source :