Actress Amy Schumer displayed her amazing figure in sexy Instagram photo shot , while using her canine companion dressed in a hot dog costume – to protect her modesty as a friend looked on laughing .
She got a dog earlier this year – naming her Tati.
But Amy used her pet pooch in an unusual setting as she posed topless in skimpy nude thong on Wednesday.
In the picture, Amy stands sideways in a kitchen, revealing her stomach, legs and a hint of her cleavage.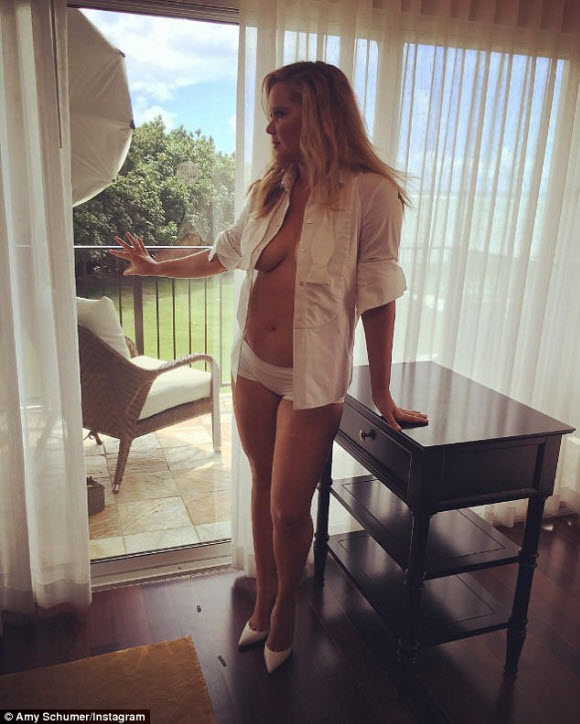 The comedian chose a flesh colored underwear while putting her derriere on display.
Amy held her adorable dog Tati in her arms; she dressed her tiny black haired companion in a hot dog costume.
Her dog shielded her topless chest in the candid photo.
Amy styled her blonde locks into a casual updo with minimal makeup, opting to show off her natural beauty.
Her friend was snapped laughing in the background.
Amy is no stranger to flaunting her figure on her Instagram; she has shared several revealing snaps on her page.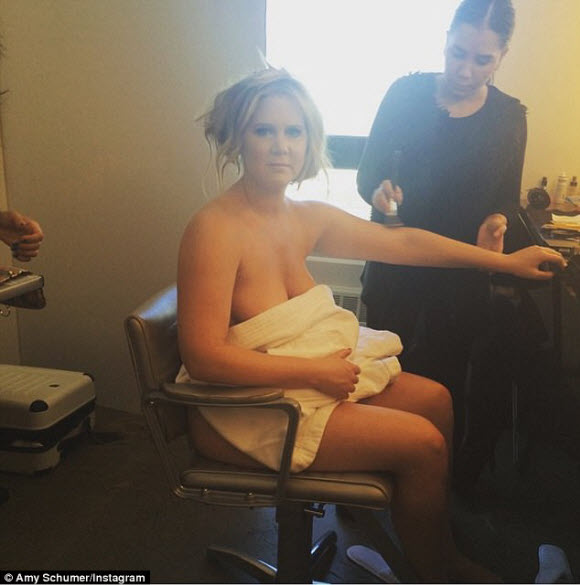 The Trainwreck actress revealed she got a puppy on a July Instagram post; she put her book The Girl With The Lower Tattoo next to her on the couch.
Amy wrote: 'Paperback out august 8th and I got a dog a couple months ago!'
The animal lover is a fan of dressing up her tiny pup in playful outfits with tongue in cheek captions.
One recent one had Tati in a donut and cupcake onesie with: 'Surprise him wearing his clothes #womensmags #tati.'
Last week she revealed her dog – whose full name is Tatiana Ronnie Maslany – was named after Tatiana Maslany, Amy's favorite actress.
Source : Dailymail