She's the mother of four beautiful children – and supermodel Heidi Klum looked incredible as she whisked her beloved offspring on holiday to Turks And Caicos in the Caribbean.
Showing off her taut abs in a very skimpy black and white striped monochrome bikini while on the beach on Sunday, the 43-year-old stunner was also with her mother Erna at the tropical location.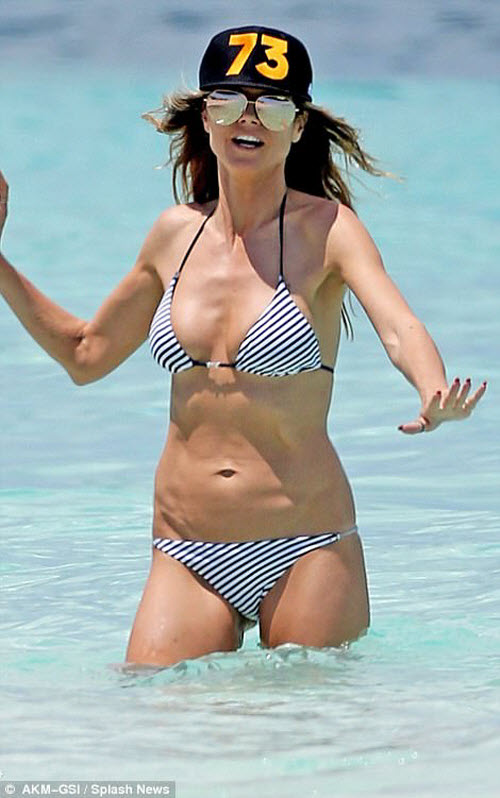 Making sure she didn't get too much sun, she wore a navy trucker cap with the number '73' (her year of birth), emblazoned on the front, with her blonde locks tied up underneath, but sometimes let down.
Hiding her eyes behind a pair of mirrored aviator sunglasses, the beauty later threw a black and white patterned sarong over her shoulders, making sure she didn't get burned.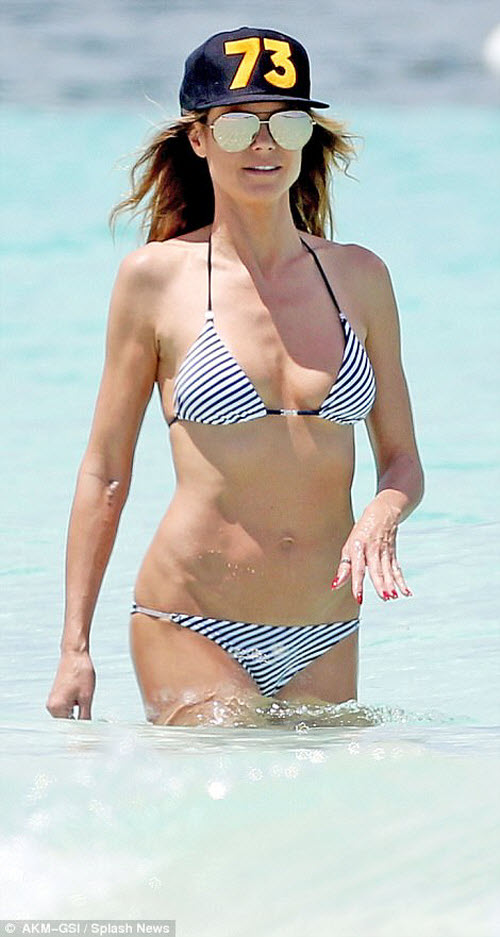 The group, which included children 12-year-old daughter Leni, 11-year-old son Henry, 10-year-old son Johan and seven-year-old daughter Lou, enjoyed kayaking and and splashed around in the surf.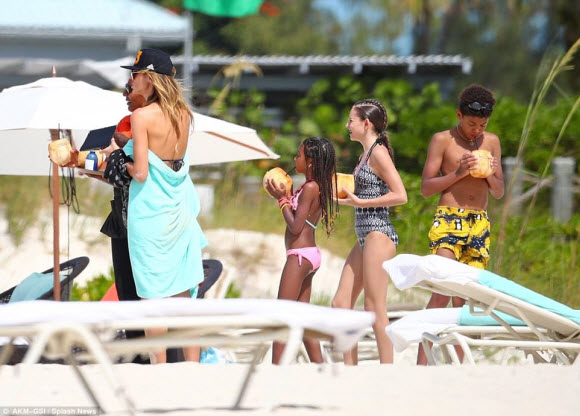 Heidi had children Henry, Johan and Lou with her ex-husband Seal, 54, and Leni from her past relationship with 66-year-old Italian businessman Flavio Briatore.
She also sipped from a fresh coconut and took a dip in the turquoise waters. Her boyfriend, gallery owner, Vito Schnabel was not pictured on the day – they have been dating since 2014.
The beautiful lady has been a co-host of Project Runway since 2004 and won an Emmy Award in 2013 for her work on the show.
She's also been a judge since 2013 on America's Got Talent.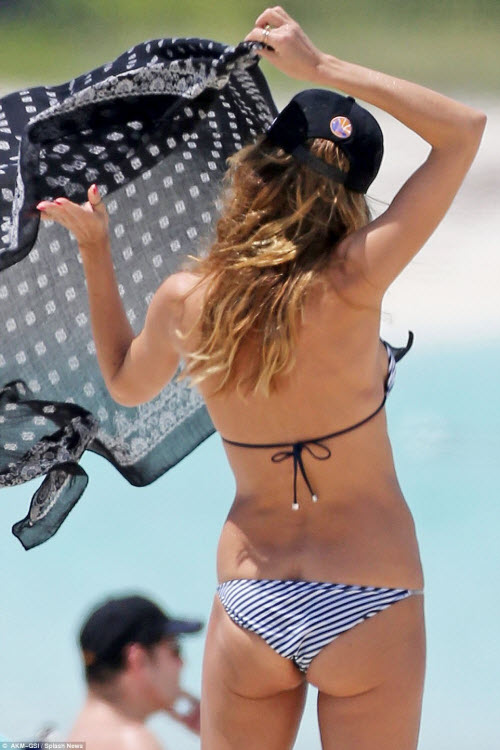 The former Sports Illustrated Swimsuit Issue cover model has has been the host and judge of Germany's Next Top Model.
The 12th season of America's Got Talent will premiere later this year with Tyra Banks replacing Nick Cannon as host.
Heidi told SHAPE magazine last year that it's a myth that models don't eat as she said she has a healthy appetite.
She said: 'I love my shape because it's mine. At the end of the day, it's not what anyone else thinks about my body but how I feel about myself.
'The myth that models don't eat is totally not true,' the svelte cover girl said.
'I just think that because we're in this business, we have to choose more wisely. It's not just about doing the cardio so that you're nice and fit, and slim and trim, but your heart needs to pump, too.'
Source : Dailymail