The Jolidon Clandestine FW17/18 collection is enveloped in a maze of senses and stances, from sumptuousness and fancifulness, to daring – even edgy – poses, to subtle romantic gestures.
Every piece of lingerie from this collection tells a certain story, as if it was a character.
The antithetical ideas emerged in this collection, specific to Jolidon Clandestine style, brings out a certain attitude of a "femme fatale", both sweet and provocative, both ultra-modern and classic. For this collection, the brand puts forward a blending of fabrics and textures that are modern and also extremely comfortable, offering a lavish styling.
Two ranges make up the new Clandestine FW17/18 Collection: Black Ivy and Vivienne.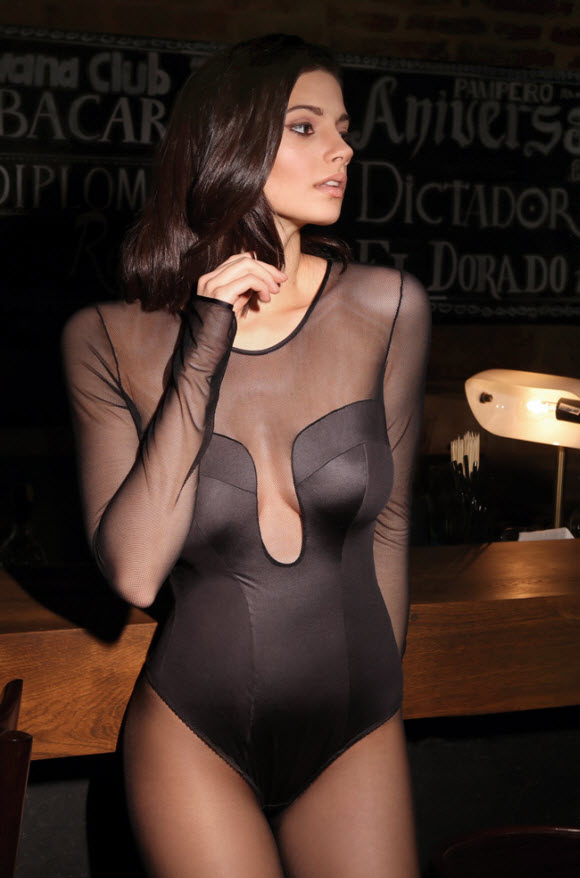 Black Ivy
Black Ivy from Jolidon Clandestine Fall / Winter 2017-2018 Collection is created around two fashion elements, proposing a mix of two fashionable decades – the roaring 20s and the nonconformist 80s. The flapper-style fringes of the 20s and the grunginess of the 80s, suggested by the mesh lace, come together in a powerful selection of boudoir lingerie & loungewear pieces, that totally seduces the eye.
An all black lingerie line, Black Ivy is utterly elegant, it's sexy and provocative, created for the woman who holds nothing back, who completely embraces her femininity & inner beauty and has a natural approach to sensuality, always inspiring a sense of mystery. The black mesh lace and the leather-like fabric used for the lingerie pieces give a certain grungy feel to the line, reminding us of the rebellious punk times, while the dangly monochromatic fringes add more dimension, texture and motion to the whole line.
Styles offered: Bodysuit with Brazilian brief shape; bodysuit with long sleeves and string brief shape; bodysuit with fringes and string brief shape and triangle bralette with fringes and elastic bands.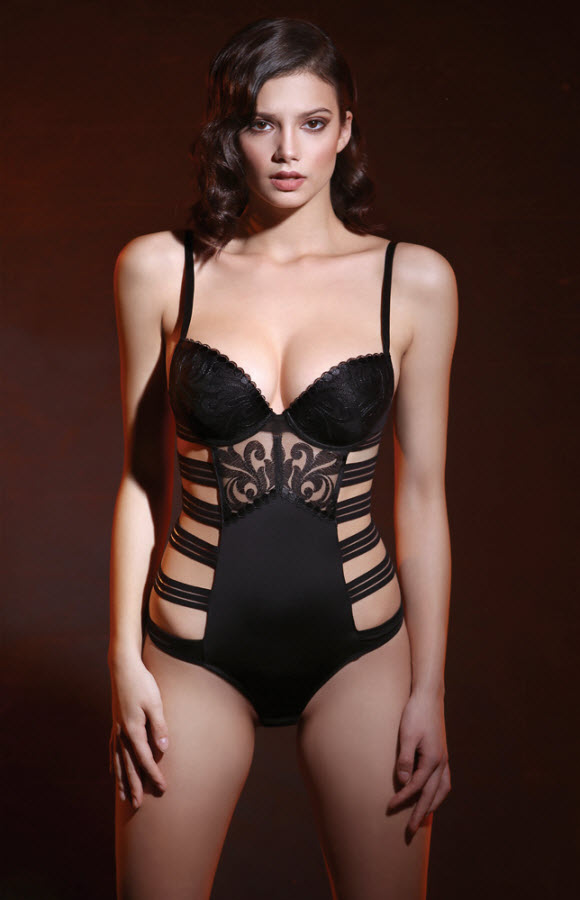 Vivienne
Vivienne from Jolidon Clandestine Fall / Winter 2017-2018 Collection is a mix of opposing concepts, like the elegance of the embroidery and the dynamism of the elastic bands, which define the overall design of this lingerie line. For Vivienne , we used a floral embroidery, sheer soft tulle, with microfibre insertions, completed by the ultra-modern elastic bands, that give a more daring touch to the lingerie pieces. The linearity of these elastic bands and the graphic of the embroidery form a wonderful geometric design, inspired by the latest trends in lingerie.
Vivienne is a line of contrasts, where you can find a junction of different styles, a line that is both modern and classic, in terms of design and shape of the lingerie pieces. In this line, the boldness of the elastic bands meets the sheer femininity of the floral embroidery, the opaque plays with transparency, the delicate joins the bold, the active style is layered with elegance.
Styles offered: bodysuit with gradual cups and Brazilian brief shape.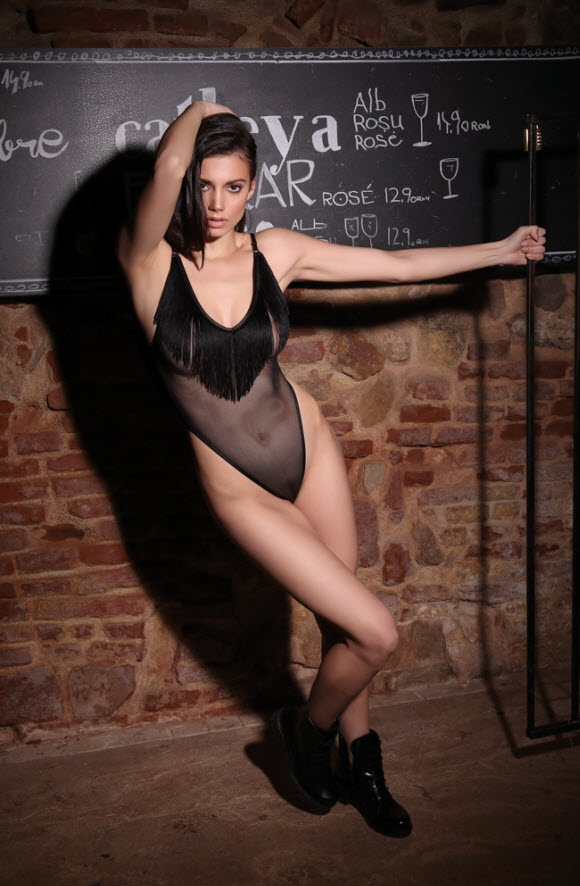 Source : Lingerie Journal