Even though AW15 has just started kicking in we're already getting lots of previews through for AW16 and today we take a look at Lingadore Night.
This new collection matches really well with their lingerie and its very romantic and feminine with lots of autumnal colours.
Here's a breakdown of what to expect later in the year.
Zahra arrives as a satin cobalt blue chemise, top & short and kimono and you'll find a lot of lovely black lace that matches well with the Victoria range of the upcoming Moments lingerie collection.
Bibi consists of a chemise, jumpsuit and kimono and it shows off some very original styling. We love the jumpsuit with its deep V-neck and black lace. This is a very seductive touch and would be perfect for Winter nights in.
Farrah comes in the lovely autumnal colours of Gold, Excalibur and Black and consists of a gorgeous chemise and long dress. We love the back of this range that has broad lace straps brought together at the neck by a binding. In between the straps you'll find an open back revealing lots of sexy back cleavage!
Amira is one of the largest ranges in this new collection and arrives as a chemise, jumpsuit, short kimono and palazzo pants & top. We really like the short kimono that makes use of lots of lace at the neckline and sleeve openings.
Kamila is the racy range and arrives in a very sophisticated animal print that's finished off in dark brown lace. You'll find a kimono and 2 chemises of which one chemise has a pretty lower central back consisting entirely of dark brown lace.
Finally its time for our favourite that you can see in the first photo below. The Sophia Body is just gorgeous and very romantic. We love the comfy stretchable micro fabric that fit nice and easy. There's a zipper on the upper front panel and the sleeves are made from high-quality 2-way stretch lace. This is something a little bit special.
Sizes for all the above will be from XS – XXL and you should be able to see them on the shelves towards the end of the Summer. Check out the pics and let us know what you think.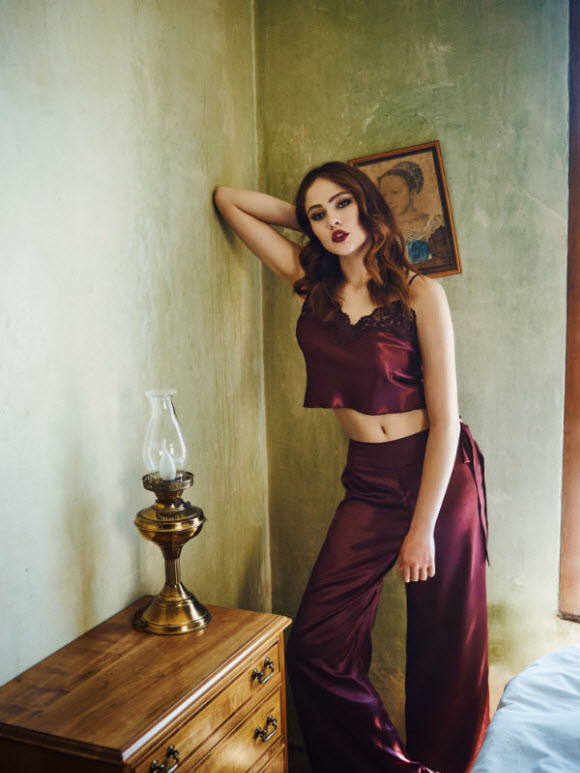 Source : LingerieBlog