Nike is trying curvier models on for size.
The athletic giant is getting high-fived for its Instagram posts featuring full-figured NYC athletes sporting the brand's Pro Bra Collection — especially because the ad campaign doesn't draw attention to the fact that these powerhouses are plus-size.
Model Paloma Elsesser rocks the first post that went live on Friday, where she poses in just the supportive brassiere and a pair of high-waisted spandex pants with her arms flexed over her head, completely owning her body's every fold and curve — which stands in stark contrast to the long, lean women shown in most Nike pix.
"Love a different body shape in ads," raved one satisfied customer.
"Way to go @nike @nikewomen for representing body diversity without labeling it 'plus-sized!'" added another. "This is a great post and a big step towards true body equality."
Another chimed in, "I've never seen anyone that looked like me in a major athletic advert, until now. Thank you Nike."
The original "Welcome to Sports Bra 101" post featuring Elsesser has been "liked" more than 70,000 times and drawn more than 1,300 comments since it went up.
It was followed by a second post on the Nike Women Instagram page Sunday showing another buxom beauty, Claire Fountain, creator of Trill Yoga, also modeling just a bra and athletic tights while holding a challenging yoga Mermaid pose with one leg held behind her head.
"I was so excited to do this, because it's so relatable to lots of women," Fountain, 30, from the upper West Side told The Daily News. "The feedback has been so great, with women saying, 'This makes me so happy, this makes me feel better about myself.'"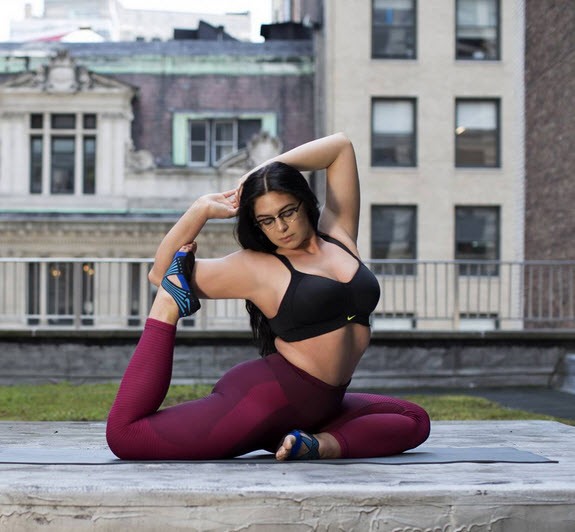 The campaign perfectly fit her philosophy that yoga is for everybody, and every body.
"When a major brand like Nike takes such a positive step, we can hope it starts a chain reaction that triggers a lot of other manufacturers to really look at female athletes of all sizes," she added. "They normalize it so that bodies are bodies."
But some ladies noted that Nike's empowering, all-inclusive message isn't reflected in everything it sells. The gear still run a bit small, some proud Amazonian athletes complained, with the new bras going up to just an XL or an E, which is usually equivalent to a DD.
"Great to see you using real women, just sad your sizes don't represent it," noted one reader who said she wears a size 28F, but can't find a bra from Nike in her size.
"Until you start offering plus sizes, this ad means nothing," added another. "Big girls work out too!"
Nike has yet to respond to the Daily News' requests for comment, but the company answered online complaints on the Nike Women's social media account with promises to consider these suggestions for future merchandise.
"We're constantly innovating and working to improve our product to make you the best athlete. Stay tuned for what's to come," the company posted.
Source : nydailynews