German intimate apparel brand Triumph Lingerie need girls to embrace themselves for no matter form and size that they are available in.
To celebrate Triumph's My beautiful me campaign, the brand command a star-studded event complete with a fashion show at a number one store in Petaling Jaya recently.
The campaign in partnership with Parkson was command in conjunction with its yearly collaboration, highlight Triumph's experience, style and evolution and its mission of being the provider of women's confidence.
Over two hundred business partners and members of the media were hosted to a night of glamour, with an opening performance by Metero; the curious glitter speed painter who magically painted the brand's logo in sparkly glitter. Malaysia's hottest singer Poova worked her magic by playing greatest hits as models sashayed on the runway.
The brand's lingerie Winter 2016 collection was disclosed that includes the campaign's highlights of My beautiful me – love, love and Shine. These 3 lines provide totally different style elements to cater to different customers' desires. adore items reflect a way of fun, love is pretty and smart while Shine is concerning glamour with a touch of sexiness.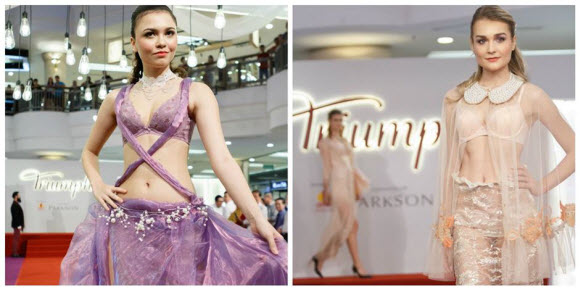 The Winter 2016 collection featured a palette of sentimental and dark tones from pastel blue and pink to darker tones of violet, red and black.
A highlight is that the Maximizer aqua, a deep V wired push up bra, that comes in four colours; skin, violet, red and black. select matching underwear in mini, string or hipster.
It's a gorgeous style with complex lash lace on the cup edges beside pretty embroidery – good under low neckline outfits.
The My beautiful me campaign reflects the journey of Triumph, from campaigning for ladies to seek out the one to ending the year encouraging women to like and appreciate themselves for who they're.