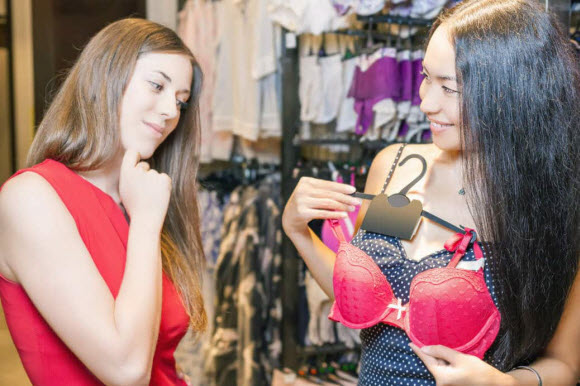 The most common question , how to find good fitting bra online ? .. Do not let stores, magazines and advertising lead you astray.
Shopping online definitely has its benefits-  no need to wait in line, leave the house or even change out of your bra . 
If your goal is to find affordable (or at least "reasonable," depending on your perspective) bras for your activity life to wear, follow these steps to success.
1. Know exactly your measurements. 
By now, we all know that sizes vary depending on the brand and even the batch the products were made in. This is easily navigated in-store by taking a quick trip to the dressing room, but with online shopping, you don't have that luxury. Unless the store you're buying from uses True Fit, you're going to need to whip out the measuring tape and take note of your band size and cup size .
Not sure about your correct bra size ? check this topic and you will know exactly your right bra size : Step by Step : Your Guide To Learn How To Measure Your Bra Size Correctly
2. Check the bra size charts. 
Before you head to the virtual checkout, see how your handy new measurements stand up to the site's size chart to help determine what you should actually be ordering. If you're shopping on websites that have multiple brands, you'll need to dig a little deeper.
Taking a glance at the size chart on the designer's own website before buying isn't a bad idea, since the ones used by online shopping sites are more of a general guideline for everything on their site.
So even though the online shopping site's chart says you should order your bra in a size 36C , the company might recommend going up to a 36D . Another thing you might want to look at is the size the model is wearing. Her height can sometimes give you an idea of how long or short a piece actually is.
3. Read the reviews.
Customer reviews are extremely valuable pieces of info, since they give you real perspective on the piece you're considering. Scan for comments touching on size, fit and quality of material to get a better idea of whether an item fits true to size, or if you'll need to size up or down. While the piece may look on point in the photo.
4. Research materials.
The feel of a material is just as important as the size. There's nothing worse than finally receiving that bra you've been eyeing for months, only to find that the fabric feels like sandpaper. Since you can't touch the fabric and often can't distinguish what the texture of a piece is like just by looking at a photo, it's a good idea to familiarize yourself with the fabric content. Go through your closet and find the bra that you love the most, as well as anything that feels itchy, stuffy or uncomfortable. Make note of their material compositions and use it as a reference point when shopping online. If you know you hate polyester and that top you're about to buy is all about it, you'll know it's better to take a pass.
5. Look to the catwalk.
Photos can be deceiving, so if you have an opportunity to see a bra in action, some online stores who include videos alongside bra shots to give shoppers an idea of how bras look .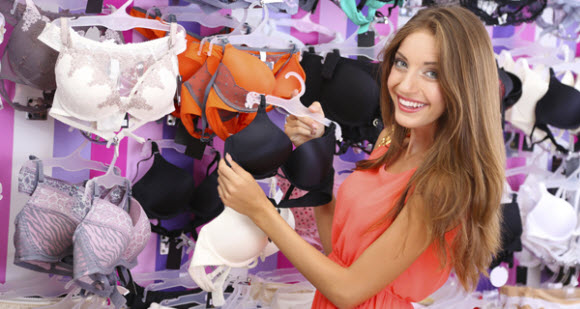 6. Be flexible.
Be aware that how a color appears on-screen may not translate the same way in person. Not only that, but color can also change from batch to batch. And while you should be prepared for your bra to arrive in a slightly different hue, if it doesn't match even your adjusted expectations (like burnt orange turning up neon), definitely send it back.
7. Give the return policies a second glance.
Even if you've followed all of the above steps, there still might be the occasional disappointment. Be prepared and familiarize yourself with the return policies before you order. Things to look for: free returns, how long you have to send the bra back, whether or not you can make exchanges, if returns can be made in store and if there is a restocking fee.
8. Take note.
Keep a running bra list of online retailers and brands you shopped with, making note of the sizes you ordered and how they fit. This will make future purchases a whole lot easier. Not only will you have a record of brands you love, but you'll have cut out the guesswork surrounding how their items run.
9. Befriend your neighborhood tailor.
 Just because something doesn't fit like a glove doesn't mean you should send it back, especially if you really like it. Take it to a local tailor or seamstress and have them make some adjustments. Of course, this works better if the garment is a little bit on the larger side — if it's too small, you'll likely have to return it.
10. Edit your cart.
Because you're not physically toting garments around a store like you usually would when shopping, it can be easy to make impulse purchases online. To avoid buying things you'll regret later, ask yourself if it's something you need, can wear with other items in your closet and would actually wear. One of the great things about shopping online is that you can save the items in your cart for up to 60 days in some cases, giving you ample time to consider your purchases. If you're still obsessing over that floral maxi dress a few days from now, go for it. If it has lost some of its allure, ditch it.
that is all , after these tips , any bra shopping online will be easy more than you think . and any questions feel free to ask .