Katherine Heigl and Josh Kelley have been married for nearly a decade and now the pair are teaming up for a secret project.
The couple took to social media over the past two days to tease fans with a series of racy pictures.
The 37-year-old actress was clad in skimpy lingerie as she captioned a photo: 'Been working on a secret project with @joshbkelley. The clock's ticking! Stay tuned.'
Heigl looked angelic as she sprawled across a luxurious white comforter in a lacy white bra and underwear set.
Her long, sculpted legs were on full display in the revealing undergarments while a make-up artist added a few finishing touches to her bedroom look.
In a separate snapshot of the lovebirds, Kelley propped himself up against a loft style brick wall in the soft, white sheets.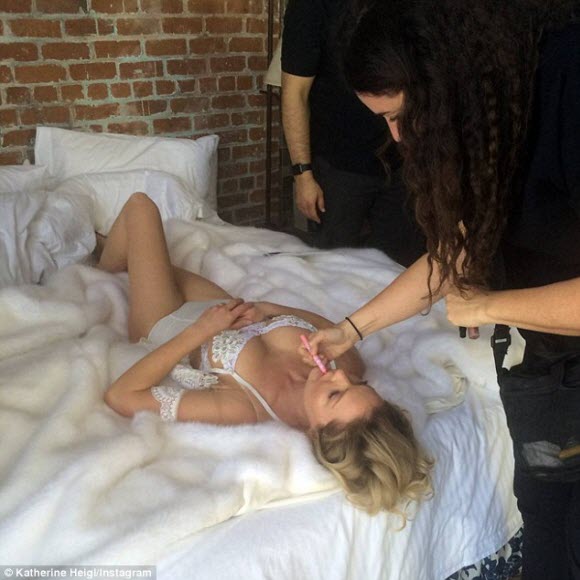 Katherine cradled herself in his arms as Josh, 36, wrapped himself around his gorgeous co-star and wife.
The duo – who married in 2007 – played the picture perfect romantic scene for their upcoming secret project.
Meanwhile, Katherine's brother-in-law recently opened up about the actress' reputation in Hollywood for being difficult to work with.
The former Grey's Anatomy actress is married to the brother of the Lady Antebellum band member, Charles Kelley.
Kelley talked about the subject on Watch What Happens Live earlier this month saying that he thinks Katherine gets a bad rap.
'She's actually a sweetheart.' Kelley told Bravo host Andy Cohen.
The happily married couple live in Utah with their two adopted daughters – Naleigh and Adalaide.
Kelley continued: '[Katherine] and my brother have like the coolest relationship I've ever seen. They like, they're one of those people that you want to ultimately be like.'
'They sit around, and they knit, and they cook on their days off, and they've got these two amazing little girls they've adopted and I'm obsessed with them,' he added.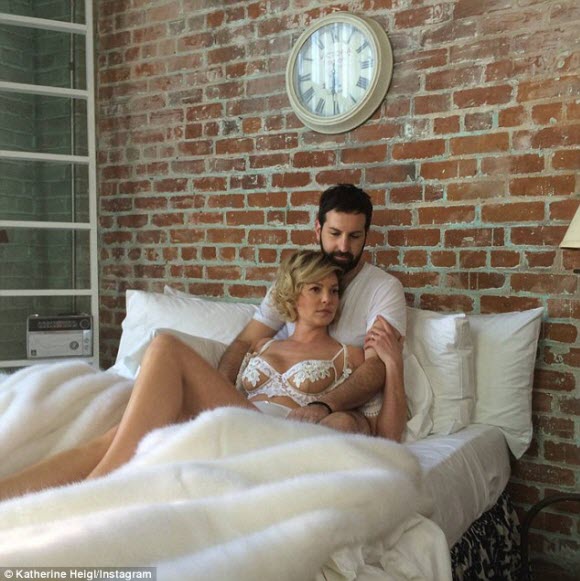 Source : Dailymail