We're used to seeing model Shanina Shaik strip down to her lingerie when she models for Victoria's Secret. But on Monday, the 25-year-old left little to the imagination when she posed topless in her latest social media snap.
Sharing the image to her Instagram account, where she counts more than 667,000 followers, the Australian star poses in a mirror and covers her modesty with her hand.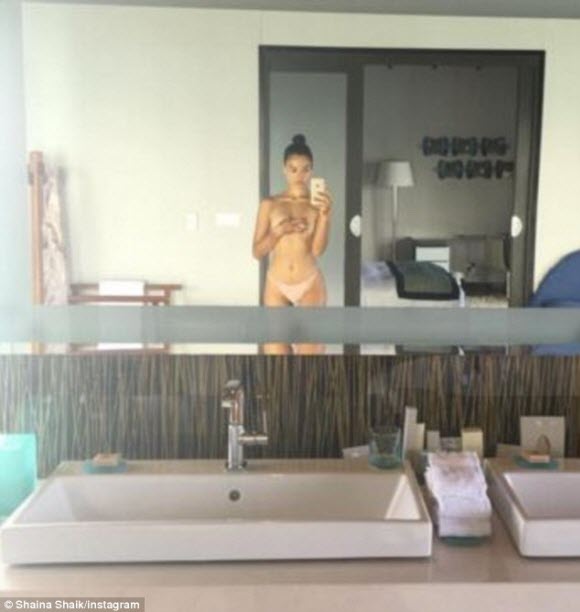 In the picture, Shanina appears to be wearing nude bikini briefs and showcases a golden tan.
The clotheshorse – who hails from Melbourne – appears to be makeup free and wears her dark brunette locks pulled off her face and pulled into a tight bun.
She appears to be standing in a hotel room in the snap she captions: 'I'm ready for summer.'
The post comes after the New York-based beauty revealed on Snapchat on Sunday that she had sprained her ankle while taking her pet pooch Choppa for a walk in New York.
She didn't let the injury deter her from working out and said online that she would still do some ab exercises.
'No working out for me today. I sprained my ankle,' Shanina said.
'Woke up, took Chops for a walk and hmm. But you know what, I can do a lot of ab work, so it's not that bad.'
She is believed to be in South Africa at the moment for work, having revealed on Snapchat that she was flying out on Monday morning for the destination.
'The amazing thing about my job, it can take you anywhere in an instant,' she said in the clip, noting she would also miss her fiancé DJ Ruckus while away.
Source : Dailymail