Alina Baikova proved just what caught his eye as she enjoyed a sunny day on Miami Beach in Florida on Tuesday.
She was spotted cosying up to Heidi Klum's ex Vito Schnabel last week.
The Ukrainian model, 28- who happens to be pals with Heidi, showed off her clothes horse physique in a skimpy ensemble she soaked up the rays with a pal.
Making the most of her enviable washboard stomach, the black triangle top was embellished with lime green multi straps, showcasing her model proportions.
She teamed it with a skimpy thong, showing off her pert posterior and endless legs.
And Alina was joined by hunky male model Ben K Bowers, who helped her adjust the bikini before they topped up their tan.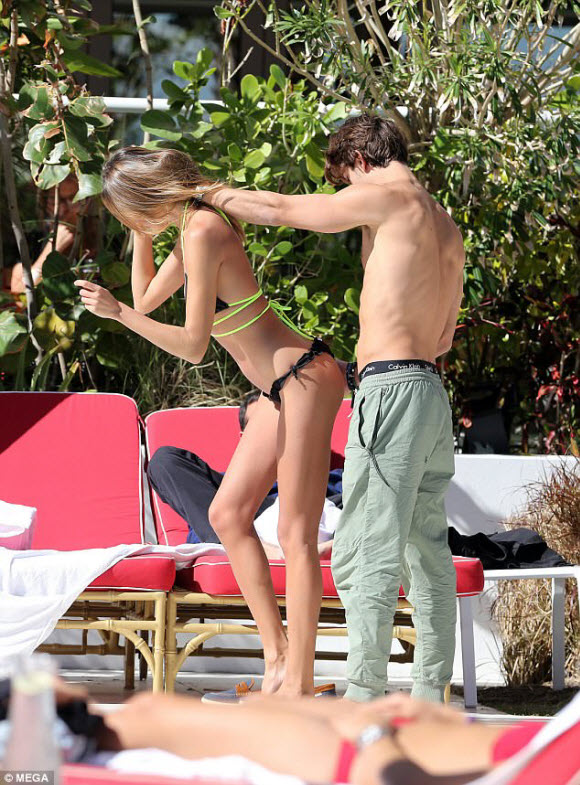 Last week Vito was spotted chatting to the model on Miami beach, sparking rumours of a romance.
Heidi, 44, enjoyed a three year relationship with Vito, 31, before they announced their split in September.
However in June eyebrows were raised when he was pictured kissing a mystery brunette.
Vito was spotted in an embrace with the woman in the early hours of in London. This comes while Klum was in New York filming new episodes of America's Next Top Model.
Schnabel sent a statement to People: 'The claims that have been made are a misinterpretation of an entirely innocent situation.
'There is nothing more to this than I was simply saying goodnight to a family friend and we went on our separate ways.'
In September, The America's Got Talent judge, who has four children with singer Seal, confirmed to People magazine that the pair split, saying 'I believe that it is important to take time to pause and reflect.'
Vito was arrested for possession of psychedelic mushrooms at the Burning Man festival just three weeks before the supermodel broke up with him, court documents reveal.
The son of film director Julian Schnabel was charged with felony distribution and manufacture of a controlled substance.
The arrest report says Schnabel was in possession of psilocybin, the active chemical found in hundreds of species of psychoactive mushrooms.
Heidi was previously married to singer seal from 2005 to 2014, and the couple share four children.
Source : Dailymail