Plus size model Ashley Graham posted a gorgeous photo of herself in a tiny black bikini on Instagram yesterday while enjoying a vacation in Bali.
Ashley made her name by being the first plus-sized model featured on the cover of the Sports Illustrated Swimsuit Issue.
She showed just why she's one of the most famous stunners in the world.
She posed with her tongue out and holding up two peace signs while posing in the two piece featuring bottoms with flowers embroidered on it.
Just days ago she proved where she got her sensational looks and fabulous physique from, as she and mother Linda, 53, happily showed off their bikini bodies via Snapchat on Monday.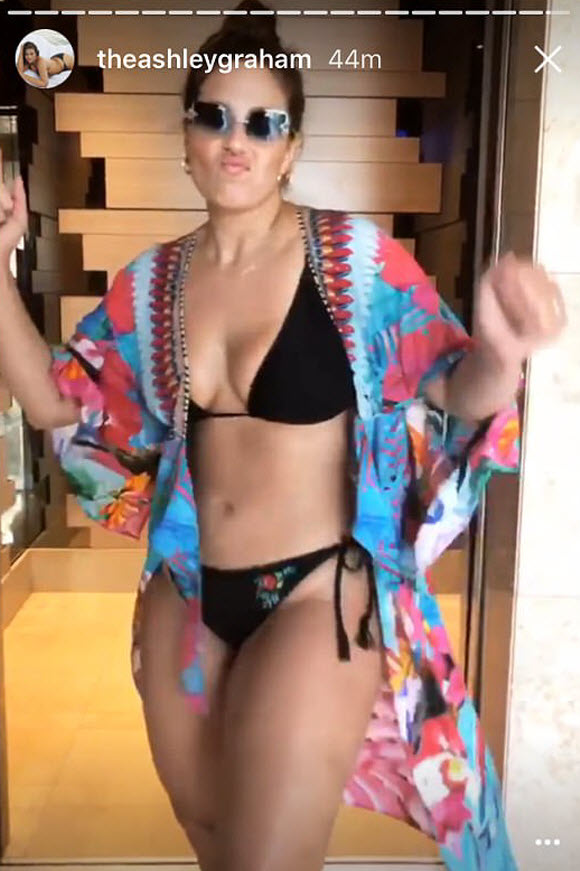 While Ashley poured her famous curves into a black two-piece, her mama opted for a tropical-themed red and white number which served to flatter her figure.
The mother and daughter looked like they were having a blast as they were pictured poolside on their exotic getaway.
Ashley's bosom popped out of her low-cut bikini top while her skimpy black bottoms hugged her voluptuous hips.
The Sports illustrated swimsuit beauty added a Panama hat with a black band as she splashed around sexily in the pool at The Mulia & Mulia Villas, where they are currently staying.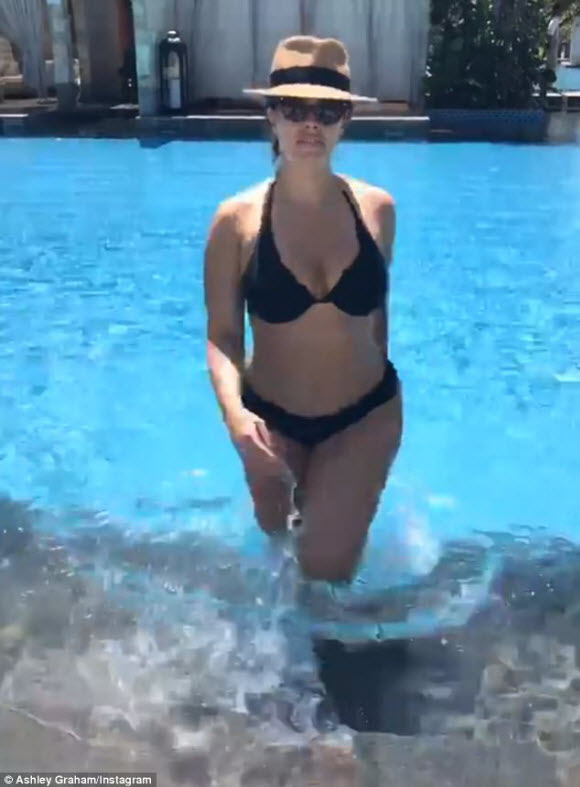 Linda's swimwear was a little more conservative with fuller bottoms and a less revealing top that encompassed her cleavage.
The age-defying beauty wore a wide-brimmed flippy straw sun hat and a pair of sunglasses.
She was all smiles as she spent time with her famous daughter.
Later, Ashley had fun goofing around on Snapchat adding a funny filter to a selfie.
Ashley's mom has always supported her daughter's dreams, even when she moved from Nebraska to New York City to pursue a modeling career.
At one point, Ashley was so fed up with struggling to book jobs and being told she needed to lose weight, she was read to give up, but her mom wouldn't let her.
'I think I hit bottom around 18. I was disgusted with myself and told my mom I was coming home,' she told Tracee Ellis Ross during an interview with V Magazine in May.
'And she told me, 'No, you're not, because you told me that this was what you wanted and I know you're supposed to do this. It doesn't matter what you think about your body, because your body is supposed to change somebody's life."
'To this day that sticks with me because I'm here today and I feel that it's okay to have cellulite,' she noted.
Source : Dailymail