Former Dragons' Den star Theo Paphitis charmed the pants off the crowds today as they gathered to applaud the opening of his first store in Northern Ireland.
It was bottoms up for shoppers as they were treated to champagne on arrival, as well as being given the chance to win £100 gift cards this week, while the entrepreneur cut the ribbon at his Belfast outlet.
The retail magnate revealed he has been busting to open in the city for the past two years and despite getting his knickers in a twist over a few hold-ups he's delighted his online customers can finally enjoy the Boux Avenue in-store experience.
Theo said: "It took forever before we actually managed to get a deal done but eventually we got here. But better late than never.
"The hold-up was finding a location and making it into a commercial viable deal because at the end of the day there's no point opening shops for the sake of opening shops.
"The whole point is to employ people, make money, grow, give a service to the community and be part of it.
"And it was very difficult here making it viable, rates are quite expensive. Business rates are the highest in the country.
"It's got to be a viable solution. Actually not just that but there was limited space, very limited space. But we got here."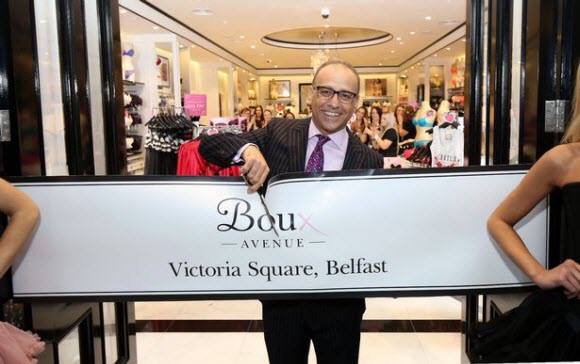 he 56-year-old is confident his outlet's broad appeal will ensure it's a hit with the discerning shopper.
He added: "The great thing about Boux is whether you are 18 or 80 quite honestly there's something for everybody. And it's certainly a place where a mother and daughter can shop and there's very few places in the fashion world where you can do that.
"It's about you and the experience when you come to Boux Avenue. Boux Avenue means you. So it's about things you enjoy, the service that you will get, the changing rooms, the experience.
"And when you buy something you'll have a great experience buying it and when you put it on that's how you are going to feel. And that's the whole Boux Avenue experience."
Now he has his lingerie line tied up in Belfast, Theo hinted that more of his brands could be making their way here.
He revealed: "Never say never. The great thing about getting our backsides into gear is we are now experiencing how brilliant the place is.
"So it's certainly an area we will look at now for some of the other brands, now we have the infrastructure and the first toe in the water as they say. So it's looking good."
However, there's one area the straight-talking businessman was ready to tackle with a no frills approach – telling the men of Northern Ireland to up their game when it comes to treating the lady in their life this Valentine's Day.
Theo warned: "Men beware. Pull your finger out. Don't just pop into the local sweet shop and buy a box of chocolates, it's not going to work.
"Quite honestly the UK has been appalling compared to its European counterparts.
"In the rest of Europe going to a lingerie shop for a guy and buying a present is a normal thing to do at Christmas, Valentine's and birthdays.
"Here we just go to the sweet shop and buy a box of chocolates. As much as we all like chocolate, it probably doesn't have the same effect.
"So gentlemen go out there, pop into Boux Avenue and while I can't guarantee total success you will be a long way there."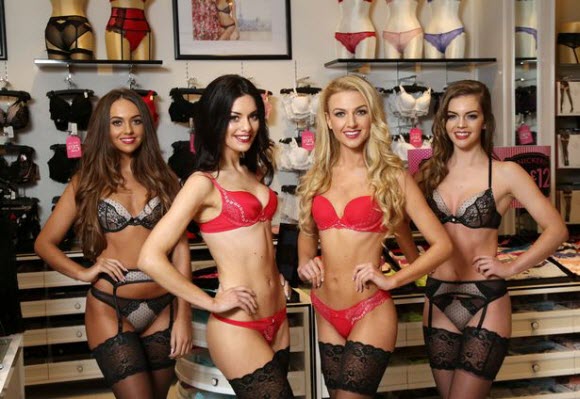 The smarty pants multi-millionaire was also keen to encourage our budding entrepreneurs to strive to succeed and shared a few brief words of wisdom.
He added: "There's lots of reasons why you shouldn't be doing lots of things and people put you off quite easily but to be successful is about understanding what you are doing and that means doing your homework.
"That means understanding the business you intend to go into and knowing more than the next boy, girl, man, woman. That way you can skew the odds in your favour.
"Just like Dragons Den, people say to me, 'Where do these people come from?' They turn up, ask you for money and don't know their numbers, don't know their figures.
"Well that's the great British public and that's the great British business public. That's why 50% of all businesses fail.
"Irrespective of whether we are in a recession, in a growth period, whether the pound is strong or weak – there's an opportunity there. You've got to cut your cloth and that's by doing your homework."
Source : belfastlive