Stunning model Elle Macpherson looked amazing while stripped down to a pink bikini as she strolled across the sand in Tulum, Mexico.
The Australian beauty, 53, displayed her athletic tum and lithe legs in a pink bikini and white sarong combo.
ELLE MacPherson looked to be defying the laws of ageing as she sauntered across the beach in Tulum, Mexico on a recent holiday.
She listened to music as she strolled on the wet sand, carrying a sun hat and her personalised phone.
Earlier this year Elle's personal trainer Nicola Addison gave an insight into Elle's fitness regime and it is certainly paying dividends.
Squatting, planking and walking are all must-do's, while Nicola encouraged people not to shun carbohydrates.
She said: "It is a myth that eating carbohydrates after 4pm makes you fat. Eating excess calories makes you fat!
"Try and space four hours between breakfast and lunch and six hours between lunch and your evening meals making protein the base of all meals."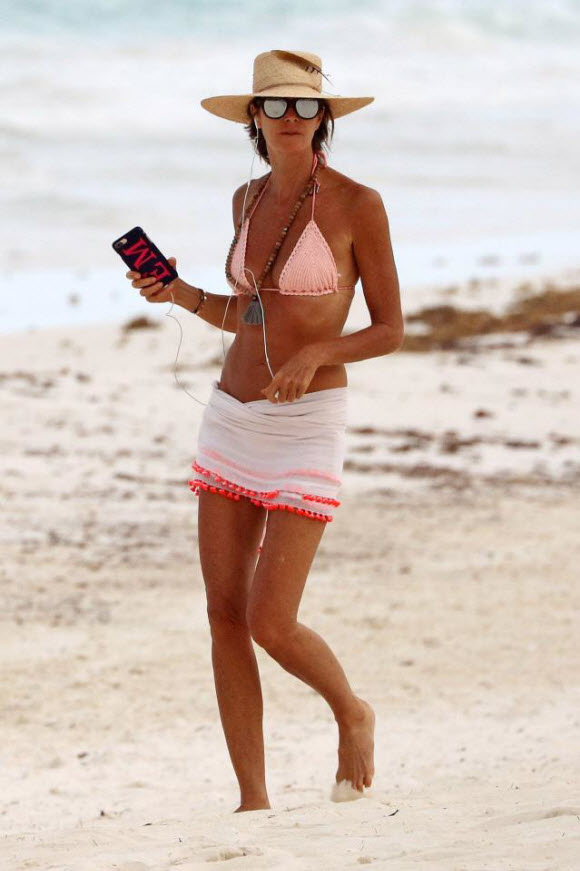 Elle split from her billionaire husband Jeff Soffer in June.
A source told Page Six: "She has left their house in Indian Creek in Miami with her kids and is looking for her own house in Miami.
"He has been linked to some other women, but insists they are just friends."
Source : The Sun