We spend way more time pondering our shoes than our bras. And yet that little piece of fabric helps shape and lift while improving the look of every top, jacket, dress and outfit we own. But here's the thing: None of us is ever sure we're wearing or buying the right bra. Standard advice has always been "go to a store and get fitted by an expert." Sure, maybe back in the pre-COVID days. But now many of us shop for bras online — or would like to try. Here's how to bust out of your rut with 10 tips.
1. The best bra fitter is your mirror
It's tough, but take a good look at the bra you've been living in before you shop online. If your breasts are overflowing the cups or getting squished or flattened; if your bra cups are wrinkled or gaping; if the band is or straps are always hooked and hiked to the limit; if your bra accents back fat or feels scratchy or stiff; if wearing your bra causes neck or shoulder aches … it's the wrong bra! Your lingerie drawer may be packed with cute, pricey bras, but if they're not working for your breasts, body and wardrobe it's time to toss or donate and go shopping.
2. DIY measurements are simple
Store fitters seem to know mysterious bra secrets that we don't. But really, finding your correct size takes no more than a sewing kit tape measure (use a length of ribbon or string and a ruler if you don't have a tape). Start by wearing your usual bra and check tape placement in the mirror as you go. Measure the band size first by wrapping the tape under your bust where the band sits. Keep it level all around and taut (but not too tight) and round up to the nearest whole number. Next, wrap the tape around the fullest part of your bust. Round to the nearest whole number. Get your cup size by subtracting the band size from the bust size; each inch equals one cup size. If the difference in inches is 1 inch, you're an A; 2 inches you're a B; 3 a C; 4 a D; 5 a DD or E; 6 a DDD or F; 7 a G; 8 a H. Remember, this is just a general guide. Breast size after age 50 can fluctuate from weight gain or loss, bloat, hormonal ups and downs or even exercise (especially upper body weight training and swimming!). Don't be surprised if your size is different than what you expected.
3. Trust online quizzes to solve problems
Don't depend solely on bra measurements. Digital bra Q&As that analyze everything from breast shape and spacing to what's wrong with your old bras are a great partner to measurements. They can diagnose bra problems and help you find better solutions. One of the most popular bras for women age 50-plus now are so-called T-shirt bras like the Paramour Women's Peridot Lace Trim T-Shirt Bra in Mink ($22, target.com), the Soma Intimates Embraceable Perfect Coverage Bra in Mochaccino or Warm Amber ($44, soma.com) or the Lively The All-Day T-Shirt Bra in Toasted Almond or Jet Black ($45, wearlively.com, not pictured). Not all T-shirt bras are labeled as such, but all have smooth but shapely cups that are foam lined or molded. This makes a confident base for everything from tees to silky blouses and clingy knits or sweaters, and prevents nipple show-through. The cups may be underwire or be wire-free, and coverage varies from full cup to subtly sexy (but still practical) demi cups.
4. Know your "sister-size" bras, too
Finding a new bra can be confusing. Your measurements are a great guide, but our bra size isn't necessarily set in stone. Sometimes bras you're eyeing simply don't fit well in your measured size. Perhaps the cups work fine but the band is too tight or too loose, or the band is OK but the cups are too small. This is where "sister sizes" can come into play. They jiggle the numbers and numerals to give you an equivalent size for a better fit. The general rule: If you need to go up a cup size, go down a band size; if need to you go up in the band go down in the cup. For example, I'm a 32C, but when the band on a new bra feels loose, I try a 30D, or if the band feels too tight, I try a 34B. For those women with one breast larger than the other, fit to the larger cup and add an insert (called a "cookie" or "cutlet") to the smaller cup, or try a bra with removable pads and remove the pad for the larger breast. For in-between cup sizes (like when C is too small, D too roomy) try the ThirdLove bra brand, which offers half sizes — a real industry breakthrough.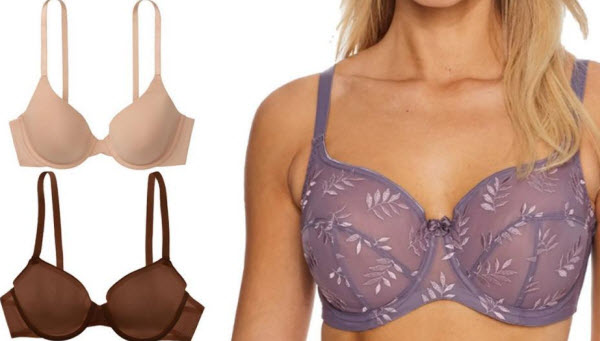 5. Be guided by what you like and don't like
Women 50 and older have decades of bra-wearing experience — good and bad. Not everyone is looking for the same thing. Always factor in your personal likes. Maybe you like a bra with a little less cup coverage like a demi or balcony bra. Maybe you prefer a front closure. Do you prefer cups that are lined or unlined? Premolded bras or seamed for extra shape or lift? An underwire or wireless bra? Perfectly smooth or a little fancier? Do you want a racerback or shoulder straps? Wide, thin or cushioned straps? A basic neutral color or trendier hue like blush pink or plum? Select a new bra with a combination of information and indulgence.
6. Test-drive new bras at home before removing tags
Sometimes you measure accurately and buy the right size and style bra, but something is off. Check the fit in the mirror. The right bra should fit perfectly on the loosest band setting, which is where you always start a new bra (only tighten the hooks as the bra stretches with washings and wear). The band should hug your ribcage and do most of the hold-up work … not the straps. Lift your arms over your head like you're reaching for something. If your breasts slip out under the band your band size is too large. If you can slip one or two fingers under the band, it's just right. Look at yourself sideways in a mirror. Your nipples should be midway between your shoulders and elbow for lift. The center of the bra should lie flat between your breasts — not standing away from your body, and the cups should hold your breasts with no excess pouring over the cup edges or sides (even in a demi or balcony bra style). Last, check the fit under a fitted T-shirt and your lowest top. If the cups look fake or pointy and if the bra shows at the neckline, it's a return.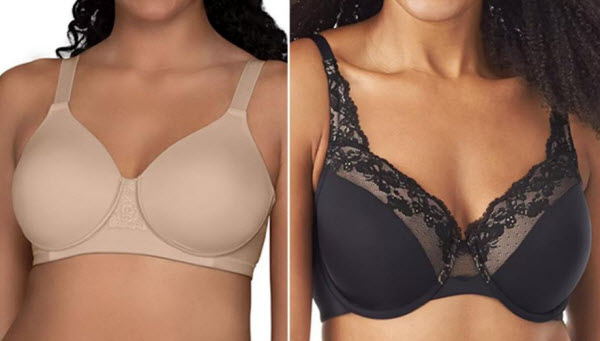 7. Full-bust, full-figure, full-coverage, minimizer and plus-size bras are different
Retail sites now offer a large selection of bras in a wide variety of styles and price points for bigger busts and voluptuous bodies of every size and shape. However, the lingo for site categories is really all about body proportions — not weight. Full-figure bras are for curvy, robust shapes with a larger (DD+) cup and a larger (38+) band. Plus-size bras are sized for those who wear plus-sizes and a bra with a band size of 38+ but not necessarily a larger cup. So, to recap: All full-figure bras are plus-size but not all plus-size bras are full-figure. For example, a 40F would be a full-figure, plus-size bra, but a 40B would be a plus-size bra. Full-bust bras are designed for women with a small band size and a relatively much larger chest (for example, a 32DDD). Minimizer bras are designed to compress and reposition breast tissue and reduce breast volume (some claim by an inch), and they are found in larger-cup bras. Full-coverage bras can be any bra size and refer to styles with cups that completely contain the entire breasts. Yes, there's some overlap, and with all-inclusive sizing becoming the new normal expect these labels to change. Search by bra size and stay tuned.
8. Comfy bras should still shape and support
Some of us have gotten into a bad habit over the last couple of years of wearing very soft "lounge" bras as all-the-time bras. While the stretchy straps, cups and bands are delicious to wear, don't expect them to deliver the support of regular bras. They're more for hanging out at home — not for wear under serious tailored or dressed-up clothes. They sort of function like support socks and provide the aah feeling usually associated with taking off a bra at night. However, certain brands and styles — such as the Bali Comfort Revolution Easylite Seamless Wireless Bra DF3491 in Nude, Warm Cocoa or Black ($48, kohls.com), the True & Co True Body Lift V Neck Bra with Soft Form Band in Mink ($58, trueandco.com, not pictured) or the Spanx Bra-llelujah! Lightly Lined Full Coverage Bra in Very Black or Chestnut Brown ($68, spanx.com) — have taken the comfort concept to another level with styles that provide more shape and oomph for mature breasts and sizable breasts, given features like foam cups or contour seaming for separation that blur the boundaries of work and weekend.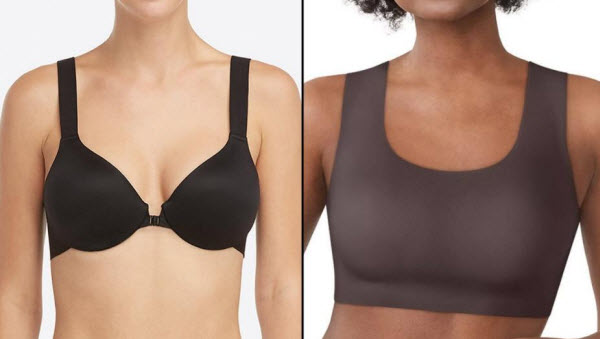 9. Buy a smart strapless bra
Those of us who want to wear a cold shoulder or off-the-shoulder sweater now and a strapless, spaghetti strap or one-shoulder dress when the weather heats up need a bra that won't let us down. Be wary, some offer very little help for mature busts. The most useful strapless styles are sold as "convertible" bras with optional shoulder straps — with some capable of switching to a racerback, X-back or asymmetrical configurations. Instead of straight-across bandeaus that do nothing, head for a bra with a curvy top-line, amply sized cups that are lightly lined for shape, and silicone edges to help it stay put instead of slipping and sliding. Skip the restricting full shapewear bodysuit or corset.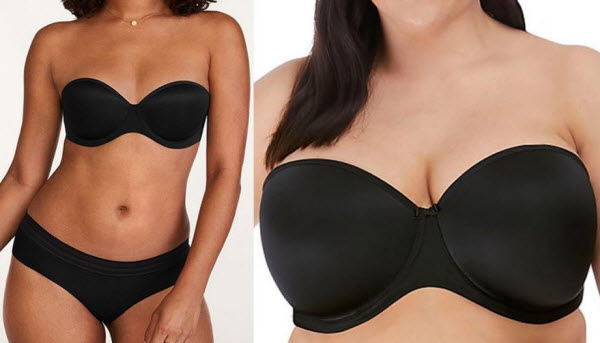 10. Browse specialty bra sites
While major department stores from Target to Macy's have seriously expanded bra selections, try specialized sites, too. Whether you end up buying a familiar brand or discover a new-for-you bra label, the info on lingerie sites can be a game changer. Full disclosure: While writing this column, my own DIY testing on five sites updated my usual size 32C bra to a 32D (and for one brand, a 34D). Here are my top go-to sites for women age 50-plus:
Source : aarp.org By : Lois Joy Johnson