French maid refers to a strongly modified style of servant's dress that evolved from typical housemaid's black and white afternoon uniforms of 19th century France (and their later use by stereotypical soubrette characters in burlesque dramas and bedroom farces).
The designs of the French maid dress can range widely from a conservative look to revealing. It is often used in cosplay, sexual roleplaying, and fetishism. Depending on design details, some forms can be classified as lingerie.
Wear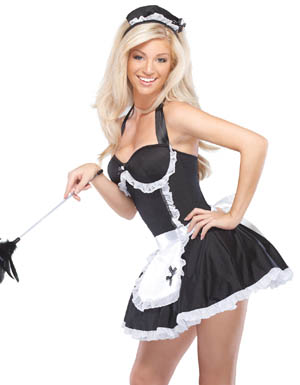 The costumes are frequently worn to costume parties, and also used in drama/theater. They are sometimes worn for sexual roleplaying or by BDSM practitioners, either on brief occasions, or as a routine form of servitude to the dominant partner.
Among cross-dressing female-dominated men, there is also an extensive Sissy subculture with men roleplaying as submissive "sissy maids" wearing a feminine French maid costume.
French maid costumes also feature in mainstream media from time to time. Notable films include:
Joanne Whalley in The Man Who Knew Too Little (1997)
Colleen Camp in the murder mystery spoof Clue (1985)
In Friends with Money (2006), Jennifer Aniston dresses as a French maid for her boyfriend

Aniston played the maid seductress again in a guest role on the 3rd episode of the 3rd season of the NBC TV series 30 Rock.

On the Desperate Housewives series, Lynette (Felicity Huffman) wears a French maid outfit she bought at a lingerie store to spice up her marriage.
Lumiere's girlfriend in Disney's Beauty and The Beast is depicted in enchanted form as a feather duster with a resemblance to a French maid