TV presenter Helen Skelton thrilled her fans when she showed off her amazing figures in a series of stunning Instagram photo posted today.
The 34 year old put her ample assets on full show in the busty, floral two piece as she took a dip in a sun-soaked swimming pool.
Helen Skelton, who hit headlines as she presented the BBC's swimming coverage in a thigh-skimming ensemble, shared one super sexy snap with her 63,000 followers, sliding into the water from the edge as she failed to hide her shock at the temperature.
Her generous cleavage was impossible to miss as she jokily captioned the upload: "Take a nice goto of me in the pool I said. This is what I got. #goodjobilovecandid #outdoors #summer #frenchlife #makingthemost of it #itwascold #coldwatermakesubreathein."
The former Countryfile favourite showcased her enviably toned midriff and slender curves in the photo, just four months after she gave birth to her second son in April this year.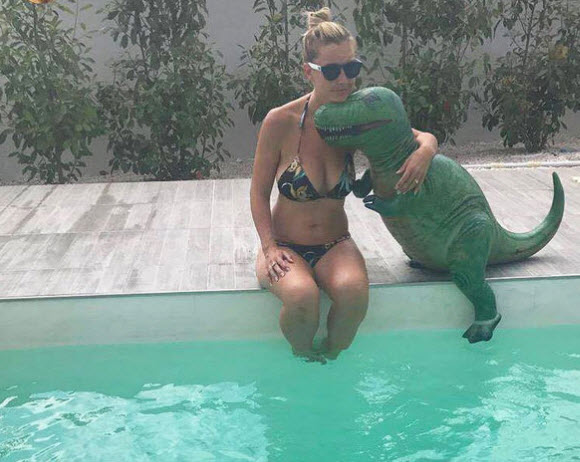 Another eye-popping shot posted on her Instagram story saw Helen cosying up to an inflatable T-rex, dangling her feet into the pool as she perched on the side with her unusual pal.
The blonde beauty wore her hair pulled back into a messy bun on the top of her head, with her hiding her eyes from the stunning sunshine behind a pair of black aviators.
Recently, the star has been enjoying a fun family holiday in France and has kept her fans updated with regular social media uploads.
Earlier this month, Helen shared another scantily-clad image as she stripped down to a striped bikini, jumping off a rock into the sea.
Waving her arms in the air, she let her best assets take centre-stage in the energetic shot as she leapt through the air.
Source : Express