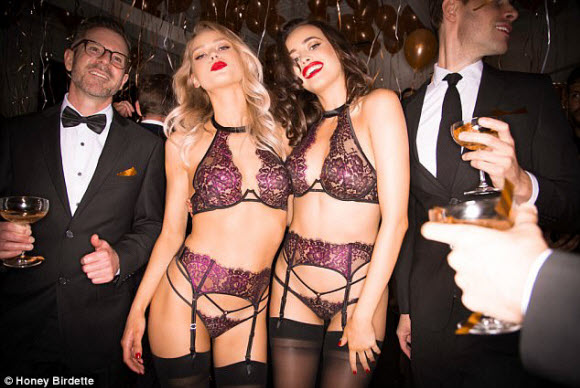 Australian boutique

lingerie

chain, Honey Birdette, is known for its racy collections and risqué campaigns.
And true to their signature style, the label launched their new Christmas campaign with a bang at a wild office-party themed shoot at their Sydney headquarters.
The eye-popping campaign features New York-based Australian model, Sarah Stephens and Norwegian beauty Nina Wedvich, who 'party the night away' alongside champagne towers, confetti cannons and attendees. 
But since it's launch, the company has been defending itself against claims the video and accompanying shoot is 'offensive' to women. 
Described as showcasing their 'raciest collections yet', the campaign includes alluring and playful images of the models donning lace lingerie and high-shine sheer foil pieces.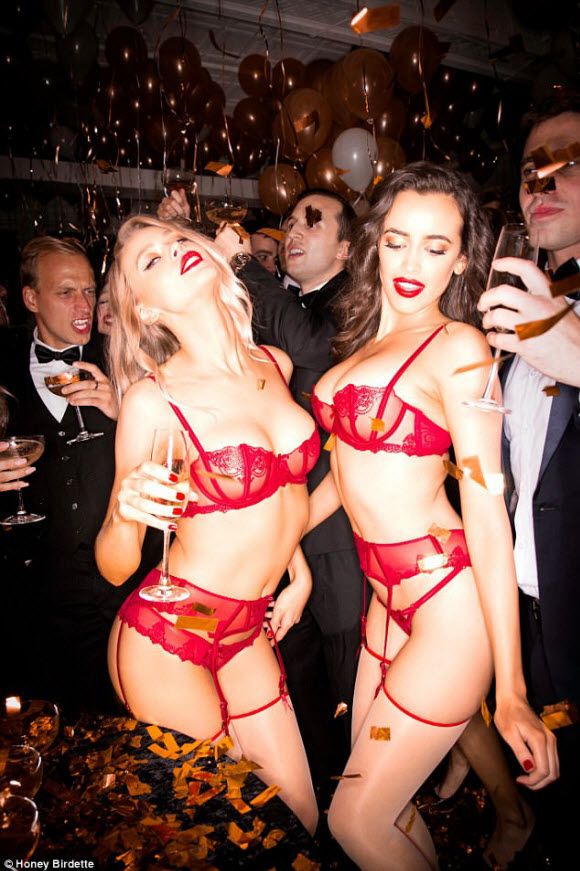 The form-fitting pieces were inspired by the holidays in monochrome hues, red, gold and fuchsia and worn with stockings their hosiery range.
The campaign video follows the models as they sip champagne, dance and party under hundreds of balloons alongside fellow scantily clad and suited up guests. 
Throughout, the models donned an array of intricately designed and eye-popping pieces – from lace bodysuits and suspenders to ivory lace sets and black Shibari-inspired sets worth $300.
Led by Founder and Managing Director Eloise Monaghan, the first boutique opened in 2006 with a unique offering of high-end lingerie and premium bedroom accessories.  
While they are proud to be the 'most talked about' lingerie brand in the country, it's not always positive, with the label constantly defending themselves against those who claim their campaigns are too provocative or 'offensive'. 
'The advertising is ignorant and honestly kind of stupid. It's pretty, fun and exciting, everyone looks like they're having a great time which is what i'm sure the point was. But to overlook the obvious issues was a serious mistake. the men are all fully dressed, really?' One critic wrote of the campaign on Instagram. 
'This is some degrading s**t to women in the workplace. We are still fighting to close the wage gap, male co-workers already sexualise and dehumanise women in the workplace, patronising them for their looks and behaviours at work,' another added.
'Some women don't attend their work parties for fear of being sexually harassed. This is disgusting, but really not surprising TBH.' 
But many disagreed.  
'LOVE this campaign you absolute goddess. Next time I'm coming to the party. Thank you for empowering women to dress sexy without fear of 'consequences' and to celebrate our badass bodies,' one hit back. 
Founder Eloise also responded: 'There's a disturbing conservative theme out there but we will keep doing what we do! Women can embrace their sexuality without fear of assault. How ridiculous.'
It's not the first time Honey Birdette has had to defend a campaign, with one of the ads from their 'Issy' campaign deemed 'highly sexual' and banned from stores after a flood of complaints.
The image, which showed two women in lacy black lingerie, was reviewed by the Australian Ad Standards Bureau as it was one of seven ads displayed on digital billboards in stores and therefore visible to children in shopping centres.
As a result it was found to be in breach of Section 2.4 of the Code which states that 'Advertising or Marketing Communications shall treat sex, sexuality and nudity with sensitivity to the relevant audience'. 
The Ad Bureau said that the 'cut of the bras the women are wearing means that their nipples are visible through the lace'.
'Depiction of nipples in an image in a store window is not appropriate and does not treat the issue of sex, sexuality and nudity with sensitivity to the relevant broad audience which would include children,' they wrote of the image. 
'Overall the Board considered that the image entitled "Issy" did not treat the issue of sex, sexuality and nudity with sensitivity to the relevant audience.'
As a result, the signage was changed.
Speaking to Daily Mail Australia at the time, Honey Birdette creator Eloise Monaghan said the image in question was 'beautiful' and they plan to simply 'keep on doing what we're doing'.
'What's so threatening about a female nipple as opposed to a male nipple?' Ms Monaghan told FEMAIL. 
'This whole thing is a step backwards for society – this collection is our best-selling collection and the fastest selling collection ever and we sold 2,500 units within the first three hours.
'People have nipples, wow. It's not like there are tassles on them, they are covered and we faded them as much as possible but unfortunately we are a target.' 
Ms Monaghan hit back at any suggestion that the ads 'objectify' women.
'We are here to empower women and we are going to continue to advertise lingerie and empower women moving forward,' she said. 
'Yes, some parents did complain in addition to specific groups but I hardly imagine a four-year-old is walking past saying "look Mum there's a nipple, I'm offended".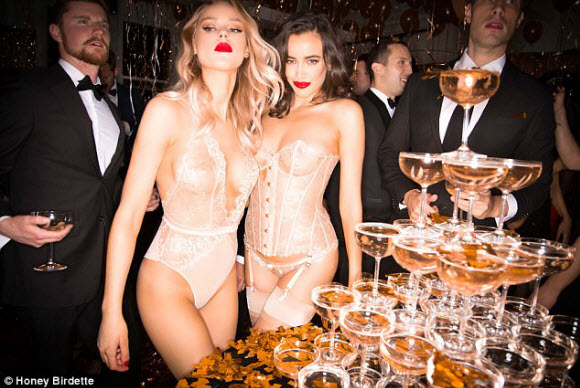 'I've even had leasing agents say they weren't comfortable with our store because it was too focused on female sexuality – that got me fired up and now we are going to start looking to launch in California as well. 
'We need to wake up, it's frightening how conservative society is becoming. I will continue to fight for me and my team.'
One complainant said the ad in question was not appropriate in shopping centres frequented by minors because 'it is pornography'. 
'I complained to centre management and they said there was nothing they could do (not even get signs removed),' they wrote. 
'This is not the first time I have seen posters like this on display in this shop. In fact last year my complaint for exactly the same reason was upheld. Why are they allowed to continue to expose minors to their inappropriate marketing? We should not be repeatedly subjected to this marketing ploy.'
Another wrote: 'The images were highly sexual in nature and nipples were also visible on some images. This is displayed in a public mall and was visible to my children. The store attendant also said that it was an adult only shop and under 18s are not allowed in, but are allowed to view their images from the front of the store.'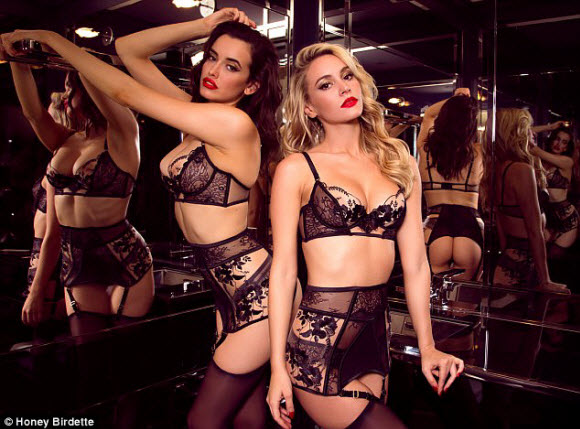 'Our stores are all about making women feel safe and sophisticated and are not overtly sexualised,' they wrote.
'I believe in increasing women's power in society. We are a chain store for women by women. 95% of our 140,000 plus customers are women. Please be assured that we put a lot of time and effort into ensuring that it is not offensive whilst also representative of our brand.
'We focus test it with a wide range of people to ensure it is sophisticated. I hope this helps you understand that to market and advertise lingerie, a certain level of skin needs to be exposed, however we do this in a way that empowers women rather than demean them.'
Source : Dailymail