Irina Shayk delights her shirtless boyfriend Bradley Cooper in skimpy white two-piece as they indulge in romantic kiss onboard boat in Italy.
They've been dating since April last year but Victoria's Secret model Irina Shayk and her actor boyfriend Bradley Cooper still appeared to be very much in love during their romantic break.
The beyond stunning couple were pictured on-board a boat in Maddalena, just off the coast of Sardinia's Costa Smeralda, where they lavished one another with affection and indulged in a loving kiss.
Irina, 30, looked incredible in a skimpy white bikini which showed off her incredible gym-honed figure as she enjoyed the warmth of the sunshine, at times holding her hair back with a red headband.
The small briefs highlighted her peachy posterior as she frolicked with her man and lay down with him to sunbathe.
At one point, she showed him something on her face while giggling and later threw caution to the wind as she jumped into the water, creating a splash as she did so.
Slicking her hair back with the sea water, the brunette beauty looked trendy with an oversized pair of sunglasses which framed her pretty features.
When she became too hot, she threw on a white sunhat to protect herself from sun damage, matching her bikini perfectly.
No doubt her beau Bradley, 41, was rather enthralled by her beauty and could barely keep his eyes off her as they enjoyed their holiday together.
The shirtless hunk, who used to date Suki Waterhouse, appeared to be perfectly relaxed as he lay next to the catwalk queen while topping up his tan.
As his golden glow intensified as the day went on, Bradley popped on a backwards baseball cap in white which at least provided a little shelter.
Later on, a friend could be seen taking a snap of Irina as she showed off her model moves while posing at the end of the vessel.
Bradley and Irina have been enjoying some fun time away and just before their boat trip, they enjoyed some time in Lake Garda, where Irina was pictured wearing a tin foil hat as she sunbathed.
No doubt she was trying out a beauty trick with her leave-in conditioner under the foil, to make sure her locks remained glossy.
Neither Bradley or Irina have spoken publicly about their relationship, but it appears to have become serious, after the model met her boyfriend's mother – with whom he is very close – last September.
The Joy actor then took Irina's mother, Olga, along as the couple went to see Beyonce's concert at the Rose Bowl in Pasadena, in May, where he was spotted holding on to both Olga and Irina's hands as they walked.
They were also recently seen attending the Wimbledon tennis championships, where Irina's rep confirmed she had been suffering from a bout of hayfever, which explained why she had reportedly looked tearful while sitting with her beau.
Irina is just the latest in a long list of famous beauties Bradley has dated following the end of his four month marriage to Jennifer Esposito, which ended in 2007.
The actor has also dated Renee Zellweger and Zoe Saldana, and has been romantically linked to Jennifer Lopez and Isabella Brewster.
Commented on his marriage in a 2011 interview with Howard Stern, Bradley said: 'It just wasn't right. It's interesting… things happen!'
Meanwhile, Irina dated Portuguese footballer Cristiano Ronaldo for five years before splitting in early 2015.
{myFlickr}feed=photoset, photoset_id=72157670850924131, gallery=lightbox{/myFlickr}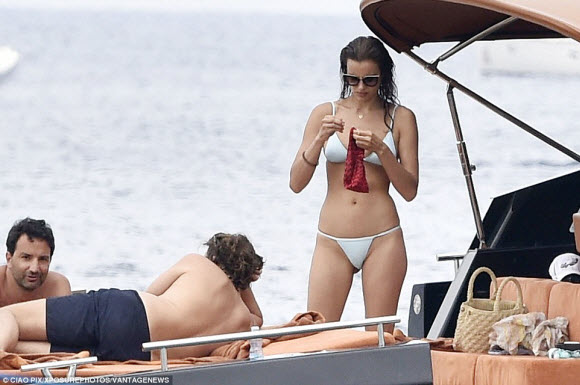 Source : Dailymail