Jessica Michibata seems that she was soaking up every minutes of her first pregnancy as she frolicked on the beach in Hawaii since 2 days.
She recently confirmed she was pregnant with a baby girl,some 20 months after separating from husband Jenson Button.
The Japanese model, 32, proudly displayed her growing baby bump in a peach string bikini as she posed in the crystalline waters of Mokulua Island and joyfully threw her slender arms up into the air for a cute Instagram snap.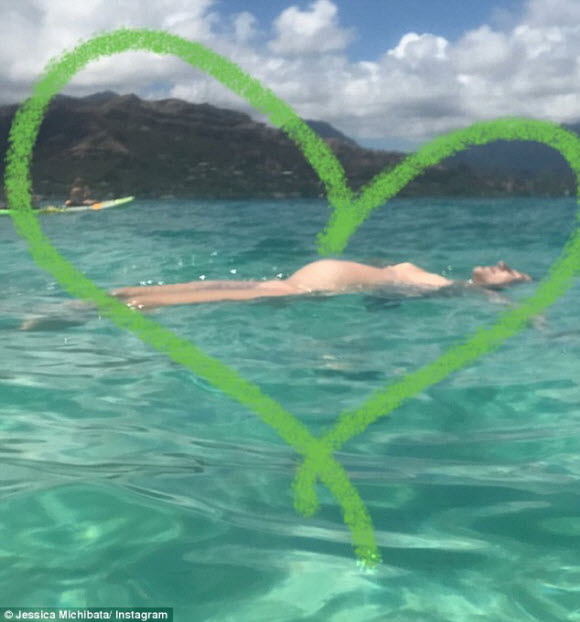 Showing her already immense love and devotion to her unborn daughter, the beauty shared a serene shot where she was floating in the azure waters,showing off her blooming bump, which had a heart drawn around it.
Although the identity of the father of Jessica's baby remains unknown, she has incredibly open about her pregnancy journey, sharing candid snaps of her baby bump to her 261,000 followers.
In another fun snap she donned a black bikini for a stroll across Hendry's Off Leash Dog Beach in picturesque Santa Barbara.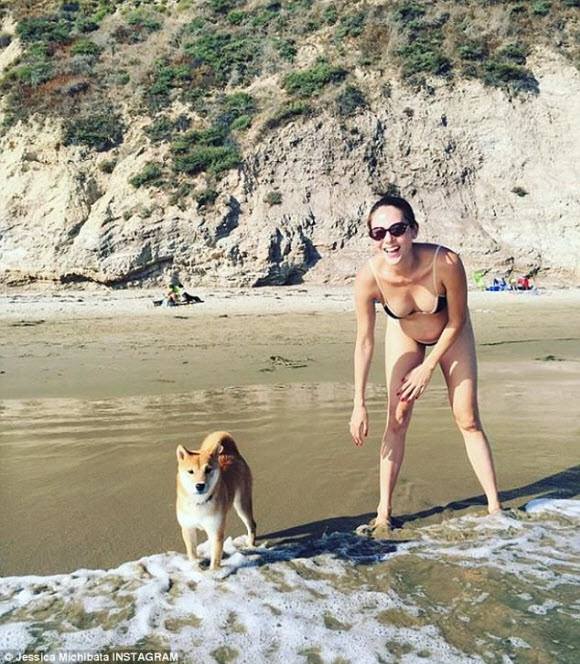 The identity of the father of Jessica's baby remains unknown. MailOnline has contacted her representatives for comment.
Taking to Instagram, Jessica shared a snap of herself as she frolicked in the surf alongside her beloved pooch Mochi, who she admitted was enjoying his 'first day at the beach.'
Seemingly in high spirits, the striking model beams for the camera as she poses with the pet, her eyes shielded behind a pair of heavily tinted sunglasses.
Jessica was making her latest appearance shortly after confirming her surprise pregnancy.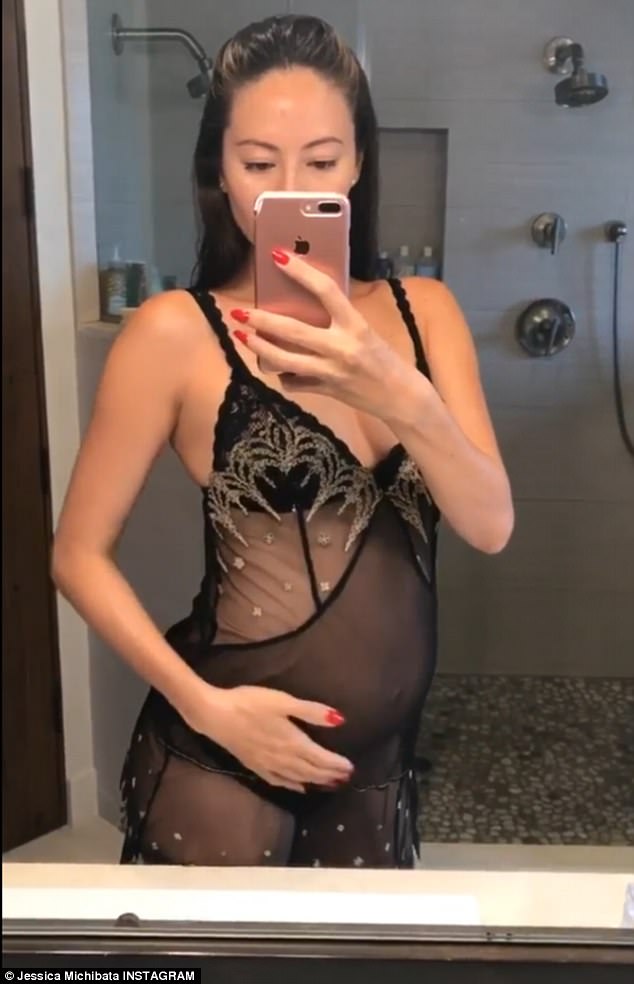 Sharing an image of her baby bump in a recent Instagram post, looked every inch the proud mother-to-be as she posed in a semi sheer negligee.
The Japanese model, who was in a relationship with Jenson, 37, for seven years, tenderly cradled her beautiful baby bump as she took a mirror selfie while clad in the racy black and gold number.
Keeping the focus on her bump, the stunning star partially obscured her striking features with her phone, but showed off natural fluttery lashes, with her glossy brunette tresses swept up into an elegant half up-do.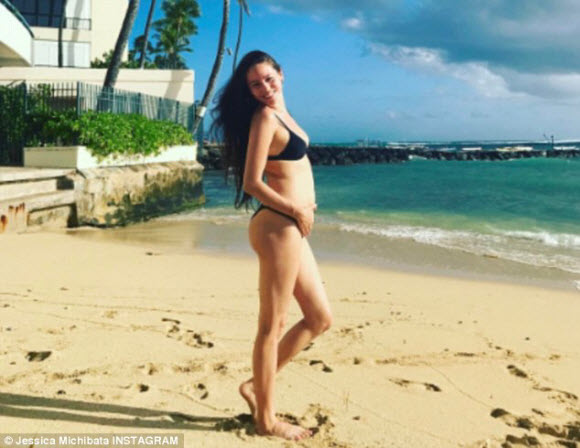 She teased a glimpse of her ample cleavage and toned legs in the negligee, and added a pop of colour with a scarlet manicure.
The star accessorised with diamond stud earrings.
Jessica excitedly revealed her baby news on Instagram last month, sharing a joyful snap showing her holding a 'baby girl' cake and captioned 'So grateful for my #babyshower #itsaGIRL'
Other sweet snaps show the bikini-clad brunette beauty lovingly cradling her blossoming bump on the beach with the caption 'Feeling summery and blessed' with another swimsuit snap under a waterfall entitled 'Can't wait to take my baby for hike again!'
Last month the clotheshorse showed off her growing belly in a lycra crop-top and and skintight leggings as she got in a gym workout, writing' Feeling better and started to exercise again'
Further sweet snaps show Jessica enjoying a prenatal massage and displaying her rounded bump while enjoying a pool day with her pooch in Hawaii.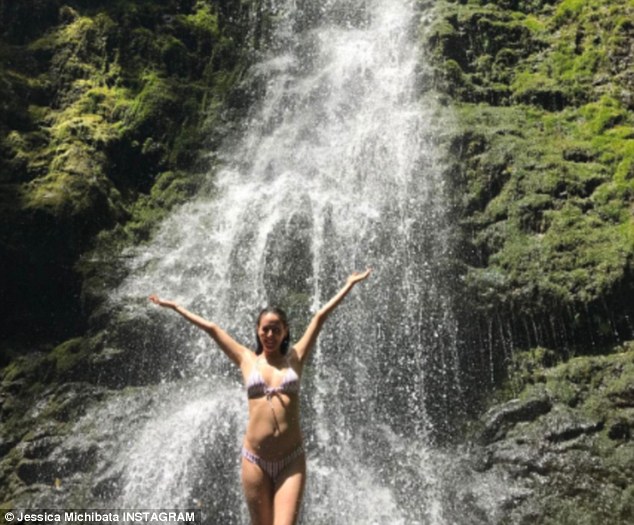 Jessica and Jenson – who tied the knot in a lavish Hawaiian ceremony in December 2014 called time on their relationship just one year later but remain on good terms.
A spokesperson for Jenson told MailOnline at the time: 'Jenson and Jessica have decided to go their separate ways and it is very amicable. There is no one else involved.'
Jenson and Jessica first met in 2008 in a hotel bar in Tokyo and began dating eight months later.
Their relationship experienced ups and downs and they split for a short time in 2011 before the McLaren star proposed on Valentine's Day 2014, with a ring worth £250,000.
Unlike conventional married couples, Jenson revealed the pair did not live together throughout their marriage due to their busy careers.
'We don't see each other any more than before we were married,' he admitted in an interview with Mail On Sunday in 2015.
The TAG Heuer model shared a modest flat with her mother in Tokyo, while the sportsman's home is in tax haven Monaco.
'Jessie still works a lot in Japan,' he went on to explain. 'She enjoys her job, she models, she had a television show and has done a Japanese film.
'She enjoys working, which is great, but it obviously means that we don't see each other very often.'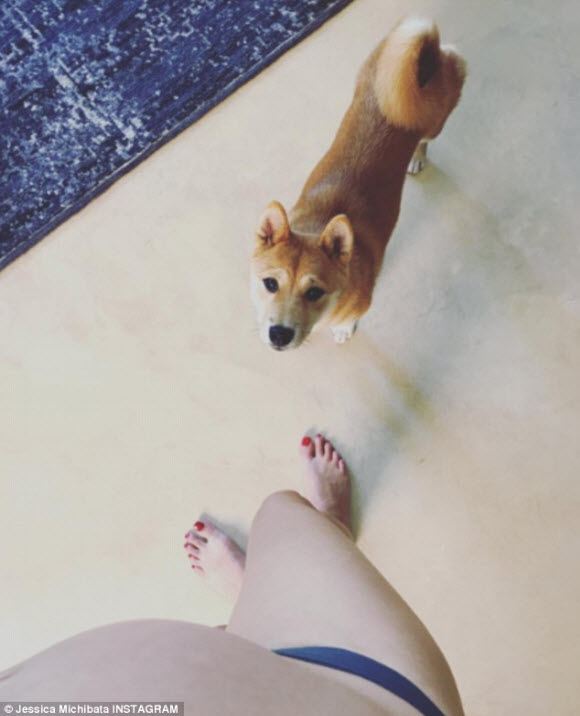 Jessica – born to an Argentine father and a Japanese mother – had often been seen supporting her husband from the sidelines as he took part in the world's biggest races.
Jenson has since gone on to find happiness with former Playboy model Brittny Ward, 27, who he started dating three months after the split.
The star, who has formally retired from F1 racing, is currently enjoying a sunsoaked break on the Amalfi coast with his girlfriend, with the pair seen packing on the PDA as they smooched and hugged one another.
Source : Dailymail