Jezebel, the lingerie brand know for its cutting-edge, sexy style is showing off a little more romance this spring.
While the brand's sexy side packs an even bigger punch—with new and unique silhouettes and an unexpected color way—girlie-girls will rejoice in the brand's exploration of more flirty and feminine styles.
"This is the most introspective collection we have developed," says Creative Director, Willy Mrasek. "It's the most broad expansion into different elements and aspects of lingerie, be it casual or sophisticated."
Read on to learn more about both sides of Jezebel's Spring 2018 collection and a look at some of the most popular items.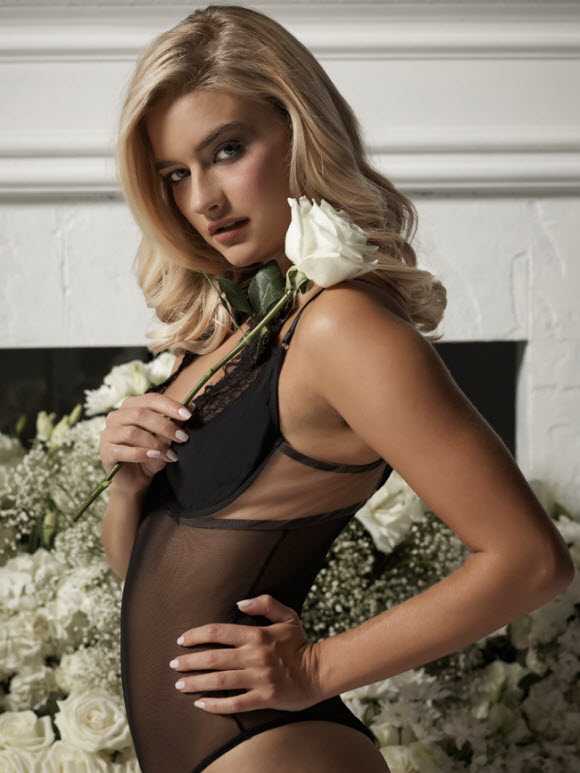 If roses must be red, Jezebel wants your Valentine's Day lingerie to be black. This holiday the brand is pushing the boundaries further by introducing more black bodysuits in sensual fabrics such as lace and mesh.
"We're excited about our bodysuit exploration," says Mrasek. "It's our play on a more modern approach to Valentine's Day. It's always been about red and pink but we wanted to have more fun with her and make her sexy, happy and more sultry."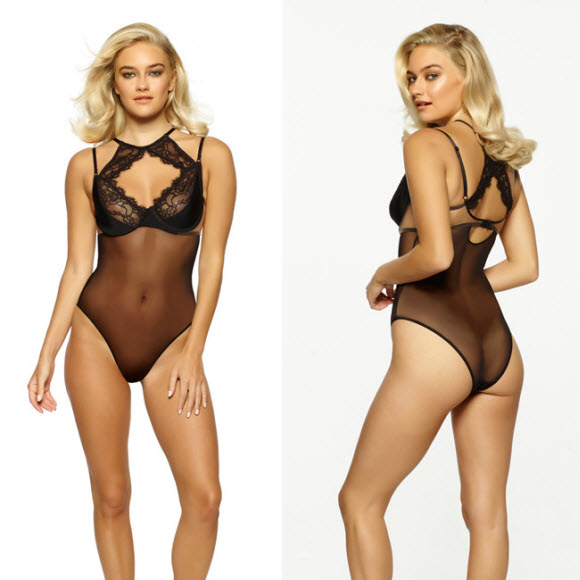 Mrasek adds that the focus on bodysuits is also a boon to shoppers, many of whom don't know what size to buy for their partner. "These come in small through extra large," he says. "Since the advent of online shopping we know that men are shopping for gifts and it's easier than buying a bra and panty set."
Shipping for 12/25, the Ashely bodysuit features a detailed lace cut out neckline and mesh fabric bodice, while the Basic Instinct bodysuit is a more simplified design which features black micro and nude mesh insets that create an illusion look.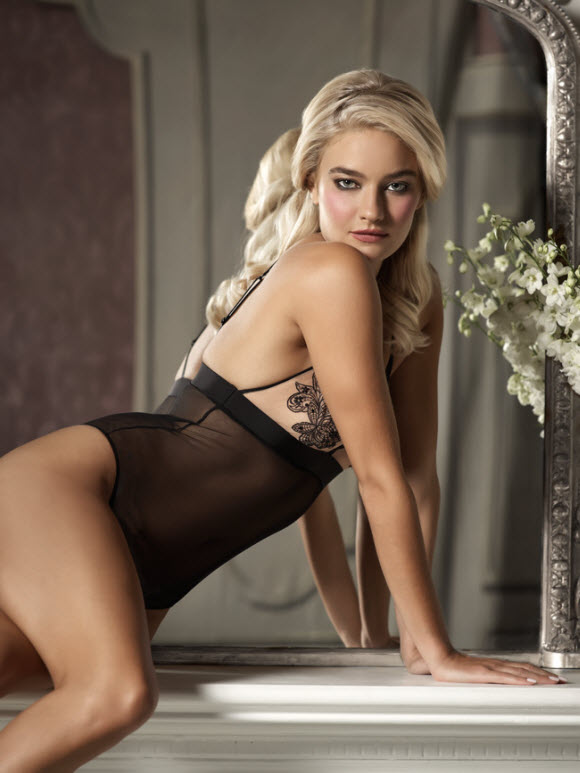 Set for a 1/25 delivery, Kirara is an attention getting mesh bodysuit with Venise appliques on the cups.
"It's a really strong statement for Valentine's Day," adds Mrasek. "We want to keep it sexy. 'Look good, feel good,' is still our mantra."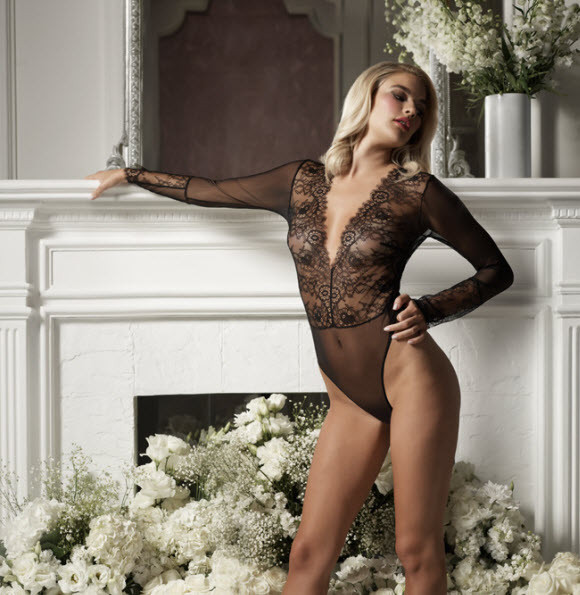 As the season moves forward, Jezebel fans can expect more fashion forward designs, with bodysuits still playing a major role in the collection. Dossa, which ships for 3/25, is a long sleeve mesh bodysuit that features a delicate eyelash lace bodice and sleeves. Mrasek says it can easily be paired with jeans to evoke the innerwear as outwear trend.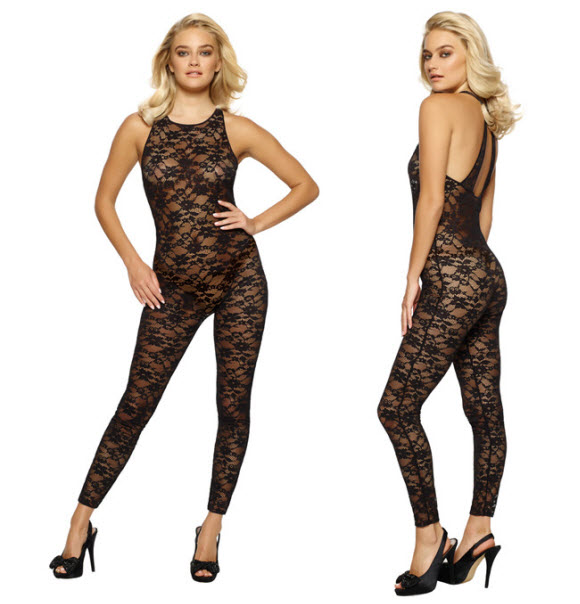 Foxy, which ships for 5/25, further plays on the brand's provocative and playful style with the inclusion of a lace cat suit. "We're hearing from more conservative retailers that they are pushing the boundaries," Mrasek says. "We love it and want to play along with that." The group also includes a lace slip with garters and a deep-plunge lace teddiette with a flared leg.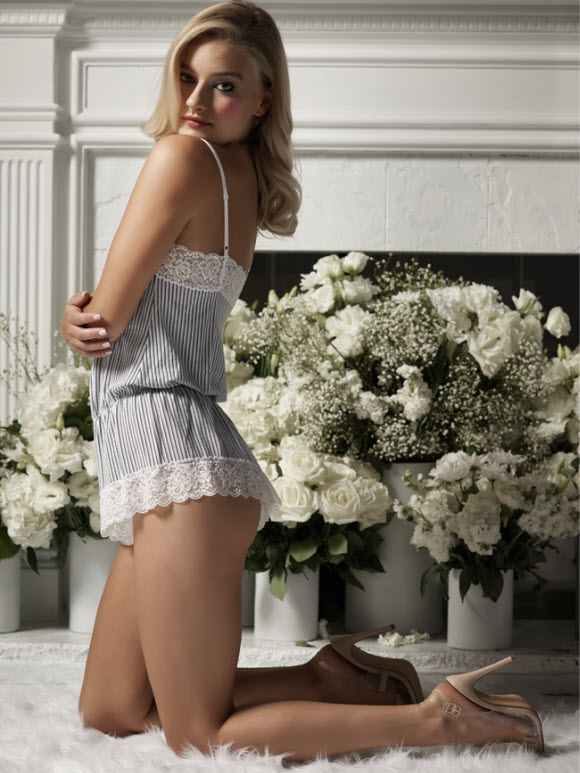 To balance the suggestive styles, the brand is offering several romantic groups that will appeal to their customers more feminine attitudes. "Women have different sides and we respond to that," says Mrasek. "This was a whole response to the complexity and uniqueness of every women. She has a sexy side and she has a casual side. We give her the opportunity to explore that."
For this collection, the brand surveyed customers, particularly their collegiate audience, to learn about their sleepwear habits. "What is she wearing, what is she looking for, what is her comfort level," says Mrasek. "The Amil group is all about keeping her comfortable while still staying true to the Jezebel DNA—flirty and feminine."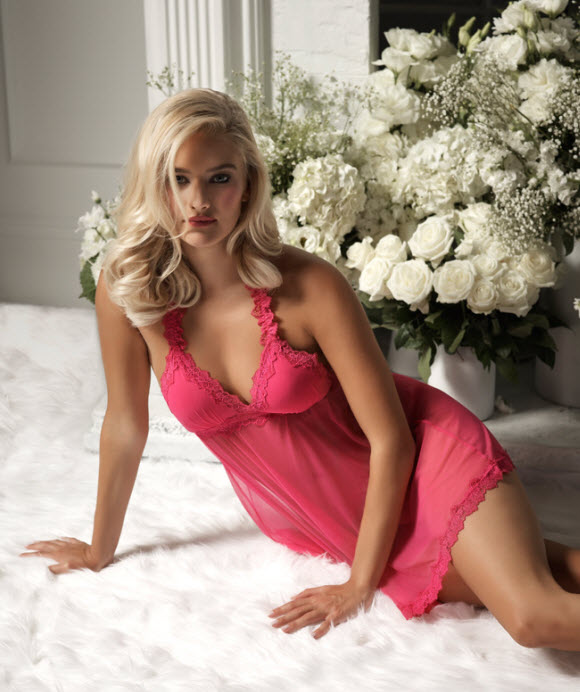 The Amil group, which ships for 4/25, is a more traditional sleepwear line that includes a modal keyhole back chemise and a lace trim modal romper. The group comes in Black, Beetroot Purple and Blue/Black Stripe to please a wide array of tastes. In the Spring 2018 catalog the Amil group appears right next to the Foxy collection. Mrasek says they did this to play up the range of the brand and encourage women to explore a side of themselves they haven't before. "As they shop they can see different things," he says. "If she has a playful, provocative or romantic side, we can help create that element for her and awaken something she didn't know she had."
More traditional colors that appear in the spring line include sea foam blue, lavender and blush pink. And classic babydoll silhouettes, such as Ruffles Galore (set for a 1/25 delivery) and Lauryn (set for a 3/25 delivery) feature feminine ruffles and bows. "It really resonates with the sweet side of our customer," says Mrasek. "This collection has a great message, and as they shop they can see different things—we have playful, provocative, romantic. We wanted to create that element for her and awaken something she didn't know she had."
Source : Lingerie Journal