Plus Size Swimwear has become an essential part of every voluptuous woman's wardrobe.
The problem however, is that selecting the right one can be incredibly tricky. Not only can the wrong one be embarrassing, it may be incredibly painful! Avoiding ill fitting swimwear shouldn't be left to luck; fortunately, there are several steps you can take to ensure that your swimwear is the perfect fit.
Initially, your best bet is to browse the web and get a feel for current styles and see what appeals to you. Whilst some plus size swimwear will look great on a size 18, it may not work so well for bigger, or even smaller sizes, but this is down to you knowing your individual body shape and what you feel comfortable wearing. Likewise, two women of the same dress size may look entirely different in the same swimsuit, especially if they have curves in different places.
Plus Size Swimwear also comes in all varieties of colors. What looks good on you will depend on a several factors such as your complexion and skin colour. For example, if you have black hair, you would look striking in pearl white swimwear, just as you would in bright red. Likewise, paler skin tones tend to work better with floral prints and patterns (Floral plus size swimwear also has the advantage of 'smoothing' any unwanted curves!). Red heads and women with auburn hair, will look great in either olive colored or pink swimwear. Just make sure that whatever you pick, you are comfortable wearing it as a personal preference.
One very important, and often overlooked aspect of buying swimwear is planning and buying ahead of time. Not only can buying out of season present you with a plethora of end of line bargains from the season just gone, but you will also find that you generally have more choice. This always beats buying in the middle of summer and finding yourself stuck in the nightmare of everything that you like being out of stock! Likewise, if you tend to shop in the malls, you will avoid that massive queue for the changing rooms of the swimwear department.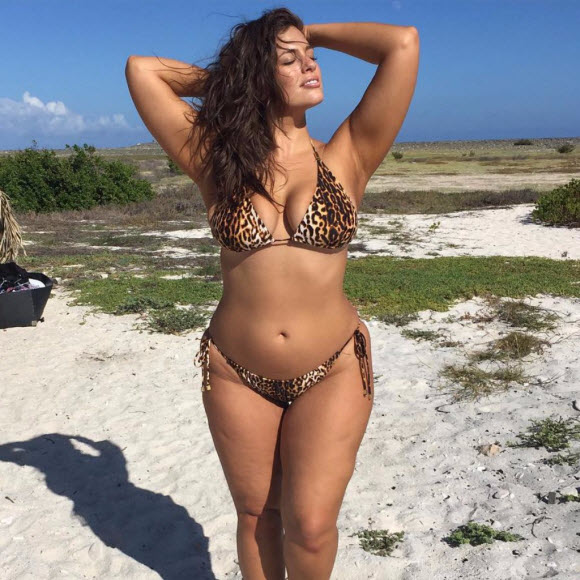 When you try on plus size swimwear ask yourself the following four questions to guarantee a happy purchase:
1) Does this Swimwear Fit Properly? 
Whilst a swimsuit should be somewhat revealing by nature, is it covering the parts of your body that it was intended to cover? You should also use a mirror to see how it looks on you from all angles.
2) Does it feel comfortable? 
Move around and make certain that you are comfortable enough to move around whilst wearing it. Bend and twist a little to make sure that the swimwear fits correctly on you and doesn't dig in. You should also check the support provided by the swimwear, especially in the bra area.
3) Can you breathe properly? 
Plus Size swimwear, despite being made for the larger frame can often be quite restrictive; naturally, you should check you can breathe fully, especially whilst engaging in physical activity.
4) Do you see any extra rolls on your physique? 
Rather than trying to hide your stomach, you should try to emphasize your bust area. If you are concerned about how your stomach looks in the swimsuit, try opting for a two piece Tankini. This will also give you the option of buying a slightly larger pair of bottoms or top depending on your shape.
Above all, remember that the best swimwear for a plus size frame is one that you feel the most comfortable in, regardless of what rules you choose to follow.