Biting, Stabbing Under-wires.
I think everyone knows the solution to this common problem already!
Yes – Have those wires replaced! Your local tailor or bra repair/adjuster can do this easily.
Under-wires that dig into soft underarm tissue.
Piercing under-wires can become very uncomfortable; and often downright painful.
The main Cause for this "digging" is usually wearing the wrong bra for your body.
Get properly fitted at a bra-retailer. Have your fitter suggest, and show you some bra styles that really work for your body type, size and shape. Certain brands are perfect for some women; while on others, they are never quite right. Look for bras with shallower wires i.e. a less-defined U-shape, for a more relaxed fit.
Some solutions you might try are:
Gently nudge the wire closer to center of bra within its casing. Tack down the wire casing so the wire can't float as far up under the arm.
Remove the separate wire stays from the bra's side seams; for often it is that metal stay, rather than the wire itself presenting the problem.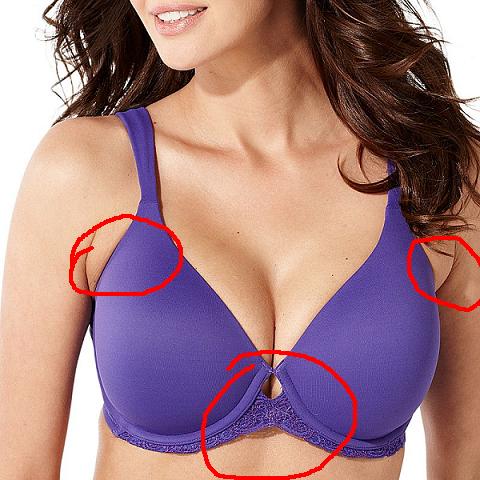 Under-wires that dig into the breast-bone at the center front.
Wire pressure at the center, between the breasts, might also be caused by wearing wrong style or shape for your body. Some women have ribcages that protrude slightly; and very little body fat to provide cushioning from the curved-in wire on balconette and demi-bras. Bras that are cut lower in front, like a plunge styles, are a better choice here. A bra fitter would suggest the brand that carries the best style choices for you.
Some solutions you might try, are:
Choosing

bras

with wires that are lower in the center front – like a plungestyle. Stay away from balconettes and Demi's that have deep U-shape cups. Plunge bras are lower in front.
Alteration: Have the center front padded from the inside with soft fabric, this will soften the amount of pressure and provide some cushioning.
For a quick-fix, pick up some moleskin from the foot-care section of the drugstore. This soft felt-like fabric provides a smooth cushioning, and has a peel-off sticky backing which you can easily position and apply yourself.
The bra that rides up at the back.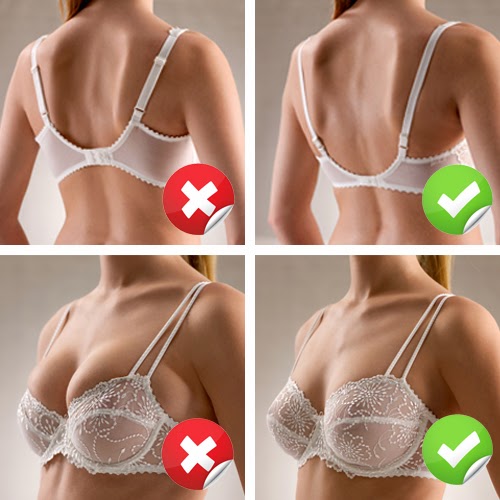 When your bra's band is too large, it will by nature, ride up in the back. This in turn, forces the cups to fall lower in the front: tempting you to shorten the straps to compensate. This is a losing battle; and often occurs when the bra is the wrong size, or the band has been stretched from repeated use or improper laundering. The only real solution for that bra is to reduce the band size.
The band can be resized by a bra repair/adjuster. A portion of the band is cut out, and the hook closure re-attached. Your bra will fit like new again!
Sliding Bra Straps.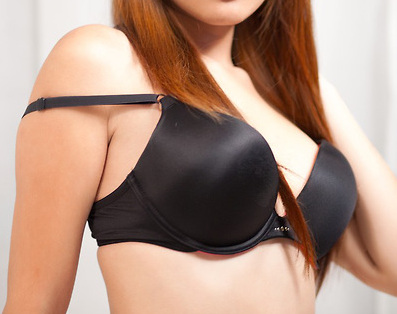 When that errant bra strap migrates down your shoulder, making its presence known, and spoiling the look of your outfit, you just wonder – "Why can't anyone make a bra that fits me?" Not only does it spoil your look; the insecure feeling is distracting and annoying.
There a few reasons why these straps don't stay in place. Some of them are: the straps are set too far apart, the wearer has sloping shoulders, or the bra band is too large. Let's look at some of the causes and possible solutions.
The straps are set too far apart.
This could be a style issue or a size issue. If this tends to be a recurring problem; you might try avoiding balconette and Demi bras. These bra fashions tend to have wide-set shoulder straps by design, to provide a wider open neckline.
It could also be due to sloping shoulders, or the bra's band being too large.
Here are some solutions you might try.
Alteration
Have the straps moved closer to the back's center. This is fairly simple to do, if the back's band is straight; otherwise it requires extensive structure modification.
Center Back Clip
Look for a specially-designed center clip. This clip is attached to the bra straps at the back, bringing the straps together in the center. This is an effective solution which is fairly simple to use. Extensive use over a long period of time will compromise the bra's structure though; since the straps are being stretched, stressed and distorted.
A Hide-a-strap converter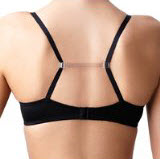 This is an elasticized band that wraps around both straps at the back, cinching them closer together. It is very effective; however it can be quite difficult to apply by yourself while the bra is being worn; and is therefore not a practical solution for daily wear.
Silicone Shoulder Pads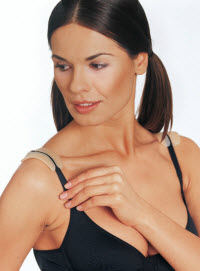 Silicone shoulder pads sit beneath the bra's shoulder straps and fold over; encasing them. They are great for women with fuller and heavier breasts (F-H), since they broaden the "footprint" of the strap and ease up on the deep shoulder intents caused by the strap's constant pressure on the shoulder. The only downside of these Silicone pads, is their high visibility under slinky and spaghetti-strap fashions.
Strap-Stay!
A miraculous little strip that attaches to the underside of the bra's strap. It remains concealed beneath the strap, keeping the strap in place with its non-slip surface. Strap-Stay! can be worn with any bra that has flat elasticized straps; but will not work with smooth spaghetti strap styles. Its comfort and convenience make it a staple for any lingerie wardrobe. Not all bra problems can be fixed without replacing that bra; but many can. It is always important that you are wearing the correct size and style for your individual figure. Our bodies do change; with weight fluctuation, exercise and lifestyle, child-bearing and age. With the many size and style options available today, there is no need to be miserable in your bra.