Lingerie (UK /ˈlɑːndʒ.ər.i/ or US /ˌlɑːndʒ.əˈreɪ/) are fashionable and typically alluring undergarments.
Lingerie may also refer to undergarments including flexible, stretchy, sheer, or decorative materials like Lycra, nylon (nylon tricot), polyester, satin, lace, silk and sheer fabric. However, certain cotton or synthetic undergarments can also be considered to be lingerie.
The term in the French language (French pronunciation: [lɛ̃.ʒʁi]) applies to all undergarments for either gender. In English it is applied specifically to those undergarments designed to be visually appealing or erotic.
Etymology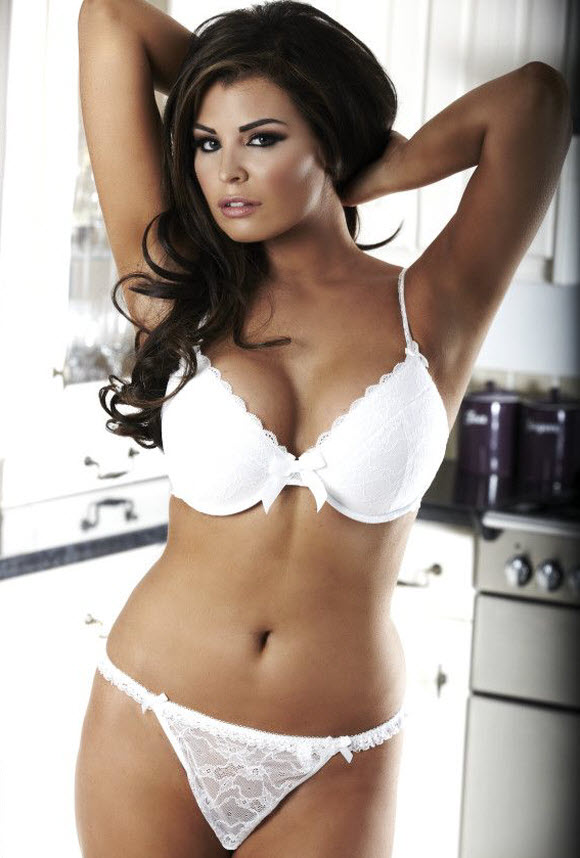 The word derives from the French word linge, "washables"—as in faire le linge, "do the laundry"—and ultimately from lin for washable linen, the fabric from which European undergarments were made before the general introduction of cotton from Egypt and then from India. It is commonly pronounced in English with a faux French pronunciation, such as UK /ˈlɒnʒəriː/ or US /lɒnʒərˈeɪ/ in the doubly non-French American pronunciation. The true French pronunciation is [lɛ̃ʒʁi].
Origins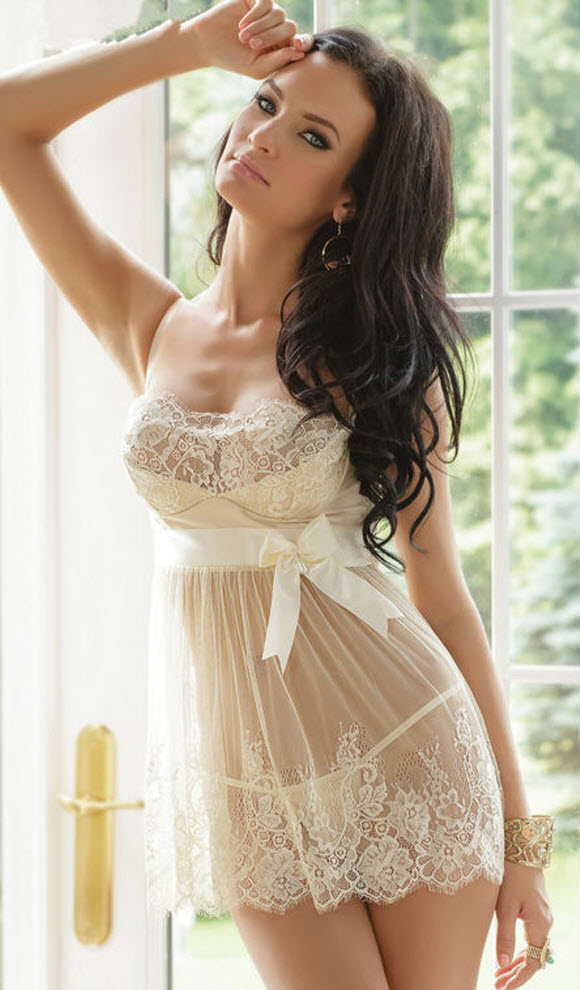 The concept of lingerie as a visually appealing undergarment was developed during the late nineteenth century. Lady Duff-Gordon of Lucile was a pioneer in developing lingerie that freed women from more restrictive corsets. Through the first half of the 20th century, women wore underwear for three primary reasons: to alter their outward shape (first with corsets and later with girdles or bras), for hygienic reasons, or for modesty. Before the invention of crinoline, women's underwear was often very large and bulky. During the late 19th century, corsets became smaller, less bulky and constricting, and were gradually supplanted by the brassiere, first patented in the 20th century by Mary Phelps Jacob. When the First World War broke out, women found themselves filling in men's work roles, creating a demand for more practical undergarments. Manufacturers began to use lighter and more breathable fabrics.
As the 20th century progressed, underwear became smaller and more form fitting. In the 1960s, lingerie manufacturers such as Frederick's of Hollywood begin to glamorize lingerie. The lingerie industry expanded in the 21st century with designs that doubled as outerwear. The French refer to this as 'dessous-dessus' which basically means innerwear as outerwear.
Market structure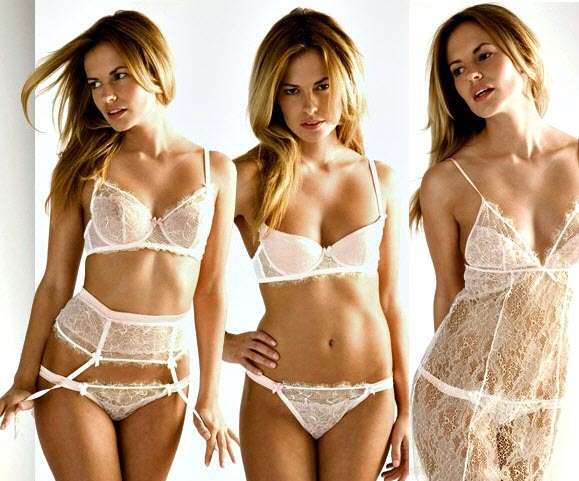 The lingerie market at the turn of 21st century was driven by the advent of modern technologies and fabrics that help in designing innovative products such as laser-cut seamless bras and moulded T-shirt bras. Designers are putting greater emphasis on rich-looking fabrics, laces, embroideries and brighter, more daring colors.
The global lingerie market in 2003 was estimated at $29 billion, while in 2005, Bras accounted for 56 per cent of the lingerie market and briefs represented 29 per cent. The world's largest lingerie retailer, Victoria's Secret, operates almost exclusively in North America, but the European market is fragmented, with Triumph International and DB Apparel predominant.
Also predominant are French lingerie houses, including Chantelle, Aubade and Simone Pérèle, each with a long history and a commitment to innovation and French style.
Since the mid-1990s, women have had more choice in bra sizes; the focus has changed from choosing bras in an average size to wearing bras that actually fit perfectly. In the UK, for instance, the media is fuelling an awareness campaign about the need for each woman to have a proper bra fitting before every purchase.
Typology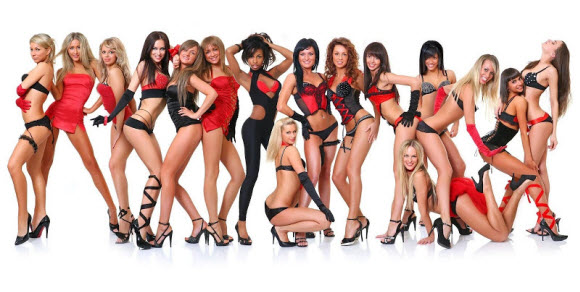 Babydoll

, a short nightgown, or

negligee

intended as nightwear for women. A shorter style, it is often worn with panties. Babydolls are typically loose-fitting with an empire waist and thin straps.

Basque

, a tight, form-fitting bodice or coat.
Bedjacket, worn over a nightgown or negligee for warmth and modesty.

Bikini

, a style of panty with fuller coverage in the back and a higher leg.
Bloomers, baggy underwear that extends to just below or above the knee. Bloomers were worn for several decades during the first part of the 20th century, but are not widely worn today.

Bodystocking

, a unitard. Bodystockings may be worn over the torso, or they may be worn over the thighs and abdomen. They are typically used by women in order to appear slimmer.

Bodysuit

, a leotard-like undergarment, usually skintight or formfitting. Another form of shapewear.
Bodice, covers the body from the neck to the waist. Bodices are often low cut in the front and high in the back, and is often connected with laces or hooks. Bodices may also be reinforced with steel or bone to provide greater breast support.

Boy shorts

, a style of panties, so named for their resemblance to male shorts.

Brassiere

, more commonly referred to as a bra, a close-fitting garment that is worn to help lift and support a woman's breasts

Camisole

, sleeveless and covering the top part of the body. Camisoles are typically constructed of light materials and feature thin "spaghetti straps."
Camiknickers, camisole and knickers joined as one garment. Most commonly referred to as a teddy and, most recently, as a "romper."

Cheeky

, a term used to denote that the garment exposes the bottom part of the buttocks.

Chemise

, a one-piece undergarment that is the same in shape as a straight-hanging sleeveless dress. It is similar to the babydoll, but it is fitted more closely around the hips.

Corset

, a bodice worn to mould and shape the torso. This effect is typically achieved through boning, either of bone or steel.
Corselet, or merry widow, combined brassiere and girdle. The corselet is considered to be a type of foundation garment, and the modern corselet is most commonly known as a shaping slip.
Corsage, similar to a corset. While corsets are commonly constructed of bone or steel, the corsage utilizes elastic.
Drawers, a pant-like garment worn during the 19th century for modesty and warmth. Some drawers were split-leg, in that the crotch seam was left open.

French maid

, a form of ladies' fantasywear. One of many popular costumes used as lingerie.

G-string

, or thong, a type of panty, characterized by a narrow piece of cloth that passes between the buttocks, and is attached to a band around the hips. A G-string or thong may be worn as a bikini bottom or as underwear by both men and women.
Garter/Garter belt/Suspender belt (British), used to keep stockings up.

Girdle

, a type of foundation garment. Historically, the girdle extended from the waist to the upper thigh, though modern styles more closely resemble a tight pair of athletic shorts.
Granny panties, a nickname for panties that are high waisted and cover the buttocks considerably.
Hosiery, close-fitting, elastic garments that cover the feet and legs.
Jersey nightshirt, a long, loose T-shirt made of cotton, polyester, nylon, or diaphanous chiffon. Another name for a babydoll or camisole.
Knickers, an alternative word for panties.

Negligee

, a dressing gown. It is usually floor length, though it can be knee length as well.
Nightgown, or nightie, a loosely hanging item of nightwear, may vary from hip-length (

babydoll

) to floor-length (peignoir).
Nightshirt, a shirt meant to be worn while sleeping. It is usually longer and looser than the average T-shirt, and it is typically made of softer material.

Panties

, underwear that come in all shapes, fabrics and colours, allowing you to have lots of coverage or barely any coverage at all.
Peignoir, a long outer garment which is frequently sheer and made of chiffon or another translucent fabric
Petticoat, an underskirt. Petticoats were prominent throughout the 16th to 20th centuries. Today, petticoats are typically worn to add fullness to skirts in the Gothic and Lolita subcultures.
Pettipants, a type of bloomer featuring ruffles, resembling petticoats. Pettipants are most commonly worn by square dancers and people participating in historical reenactment.

Robe

, a garment worn to cover the body. A robe may be floor-length, knee-length, or shorter, and it is commonly worn over and as lingerie.
Slip, typically worn underneath clothing. Originally, slips were worn to prevent underwear from showing through thin clothing and to help clothing to hang properly on the body. Slips are found in both full and half styles, and are typically made of smooth fabric like silk or satin.
Spanky-pants, Spankies, or Spanks, a type of shapewear most commonly worn by cheerleaders. Spanks help to create the illusion of a slimmer figure, and are often worn as shorts, tanks, or girdle-like bodices.
Stockings, another term for hosiery.
Stringbody (

sv

), a tight, benlöst full body garment whose lower tail consists of a narrow piece that goes between the buttocks. The garment has been developed from the much older

bodysuits

. (Tr.)

Tanga

, a type of

panty

featuring full back and front coverage, but string-like sides that are typically thicker than those found on a string

bikini

.
Tap pants, a type of short typically made of lace, silk, or satin.
Teddy, an undergarment that resembles the shape of a one-piece bathing suit because it is typically sleeveless, and sometimes even strapless.
Torsolette, a shorter version of the corselette. It is very similar to the Basque, and is sometimes called a merry widow. The Torsolette may also feature detachable garters.
Undergarment, a garment which one wears underneath clothes. Also known as "underwear."
Unitard, a one piece, skin tight garment. Though not typically worn as lingerie, a unitard is considered a type of shapewear.