Stunning Lucy Mecklenburgh showcases her perky posterior in barely-there lingerie as she flaunts gym-honed physique in sizzling shoot.
She turned a career in reality TV to a wildly-successful fitness and fashion empire.
So Lucy Mecklenburgh was naturally quick to show off the phenomenal results of her militant gym regime as she wowed in a stunning and revealing new shoot for lingerie giant Boux Avenue.
The 25-year-old former TOWIE star slipped into a host of sexy ensembles to help highlight every angle of her figure – particularly her perky posterior and washboard stomach.
Lucy, who soared to fame in the 2010 inaugural series of the ITVBe show, ensured she put on a show-stopping display as she pulled her very best poses in front of camera in a garden-style setting.
In perhaps the raciest image from the smouldering shoot, the Essex native glanced over her shoulder as she sported an entirely sheer body with an intricate cross-over back. Her squat-achieved derriere was undoubtedly the focal point of the image as she stood with one leg jutted out.
The front of the sheer-backed number boasted a strip of floral material extending into triangle cups and a delicate strap – perfect for exhibiting her cleavage alongside her dainty shoulders and toned arms.
Lucy's incredible body does not come easy, as she previously admitted to Hello! magazine, prior to bikini body season hard work is undertaken: 'You have to eat clean and train one to two times per day. If you're going to do it in a short amount of time, you have to prepare to work harder. You have to be very strict.'
Proving herself to be red hot, the brunette beauty later slipped into a stunning crimson and nude set complete with a racy waspy, lacy knickers, a suspender belt and cleavage-enhancing bra. She added nude stockings to the look to help emphasise her endless legs.
Lucy, who formerly boasted her favourite body part was her minute 24-inch waist, got saucier in a black lace bralet and cut out knickers, where she made the most of her washboard stomach.
The brunette beauty formerly dated her TOWIE co-star Mario Falcone and Olympian Louis Smith and the latest shoot undoubtedly left her former loves kicking themselves. As she giggled coquettishly into the camera, she highlighted her figure in a monochrome lace body.
With an underwired cup, delicate bow detailing and lace accents, the sexy image was flawless. Another set was inspired by the same look yet featured a bralet and high-waisted knickers – giving a retro feel.
Far from being just the body of the brand, one shot focused on her flawless bone structure and perfectly made-up face, while she also exhibited her bouncy blow-dry worked into her shoulder-tickling tresses.
While Lucy has never been full-figured, she admitted that some holiday pictures shocked her into rebooting her lifestyle three years ago as she was stunned that she developed cellulite on her derriere.
She explained to Hello! magazine that before her health kick she was eating badly and not exercising: 'Then pizza for lunch and I was putting on pounds every week. I knew I wasn't big, but I also knew that if I carried on that way, I'd put on more weight and get more cellulite.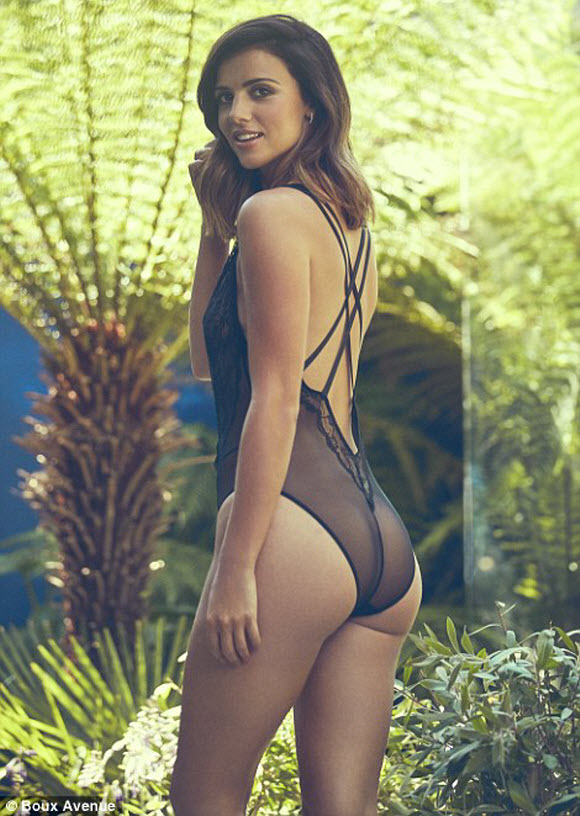 Source : Dailymail