Designed to provide support to the breasts when wearing various styles of tops, a convertible bra is a great option to wear as we mix and match the outer clothing.
What is convertible bra?
This is the type of brassiere that has removable straps with various detach points. You can wear the straps classic, halter, one strap, criss cross or racerback depending on your outer top. The idea of convertible bra is that you just need one bra to match different kinds of clothing you wear on top, instead of multiple bras of different strap styles.
If you think about it, convertible bra will also help you save money from collecting various bra styles, even with its normally higher price.
There are types of classic bras with removable straps that will go fine with any kinds of tops when the straps are removed, you may wonder. It is right. Strapless bra will do for racerback or halter styled shirts. But the question is whether it gives enough breast support to the wearer. For smaller breasted women, this may not be an issue. But women with C-cups or larger will find it hard to keep their breasts in place with strapless bra as they move. Therefore, the existence of underwire and bra straps – no matter how small their contribution is to breast support – is important. At least you won't be feeling that your boobs are effortlessly bumping around when you walk.
With this kind of bra, this side of the problem is tackled as we still get to have the straps and we are also able to manage how the straps are going to be styled. If you are wearing a one-sleeved shirt, one strap style is best to use. You have criss cross styled top on the back? Then wear your convertible bra the same criss cross way that the top covers the underwear. How versatile is it?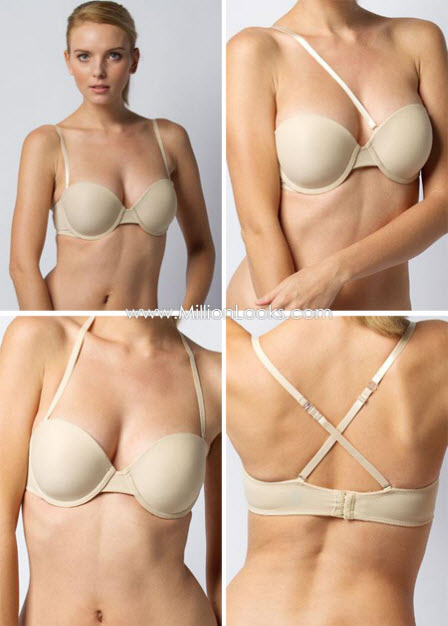 Now, to get one good quality of convertible bra is a different matter. As always, pay attention to your right measurement. Ill-fitting bras will only cause pain in the future no matter what the style of the bra is. So always get it right. Measure your breasts again before purchasing in case the old measurement changes. As our body grows, our breasts grow with it too.
Secondly, check the material of the convertible bra you are checking out. Moisture-wicking fabric will help the bra absorb your sweat more. However, that material alone is often not enough, especially when you are an active woman that perspires a lot. In this case, choose a convertible bra that breathes. This kind of bra has padding with pores to facilitate better air circulation to the breast area. The perforations make it possible for sweat to easily get out and for air to easily get in. This way, the drying process will be much quicker and you will be left drier and more comfortable all day long.
Now you can wear your sexy top without worrying that your bra would be seen through. With a convertible bra, there is more freedom in wearing different styles of outfits and at the same time having the same level of breast support.