As a former Victoria's Secret Angel she is no stranger to posing in skimpy swimsuits.
And Miranda Kerr proved her beach babe credentials once again on Monday as she frolicked in the waves while taking part in a photoshoot in Malibu.
While it was certainly hot and sunny along the Californian coastline the 33-year-old model raised temperatures even more as she showed off her stunning physique in a flattering black bikini.
She wore her brunette locks loose and accessorised with a shell pendant necklace and some bracelets.
The Australian-born star ran along the water's edge while clutching some swimming goggles.
Her makeup was perfectly applied with shimmery blusher creating a glowing sunkissed look.
In-between takes Miranda was spotted wrapping up in a white robe as she made wardrobe changes.
Later she switched into a floral print two-piece as she ran along the beach with some handsome male models.
During the shoot she was also spotted in a cropped swim top and black briefs as she posed in the sand with the waves lapping at her legs.
She also sported silver reflective sunglasses as she gazed at the camera.
For added affect a member of the crew threw water on the mother-of-one as she knelt in the sand.
Miranda has been dating Snapchat founder Evan Spiegel for almost a year and the couple were spotted enjoying a dinner out in Nobu Malibu on Friday.
The model, who shares son Flynn with ex Orlando Bloom's recently explained how she met the businessman, who she's been linked to since September 2015.
'We met at a dinner in LA for Louis Vuitton and became friends,' she told the Sydney Morning Herald. 'We were really good friends for a long time before we started dating.'
She added: 'We've just been having fun together and sharing our time amongst friends and family.'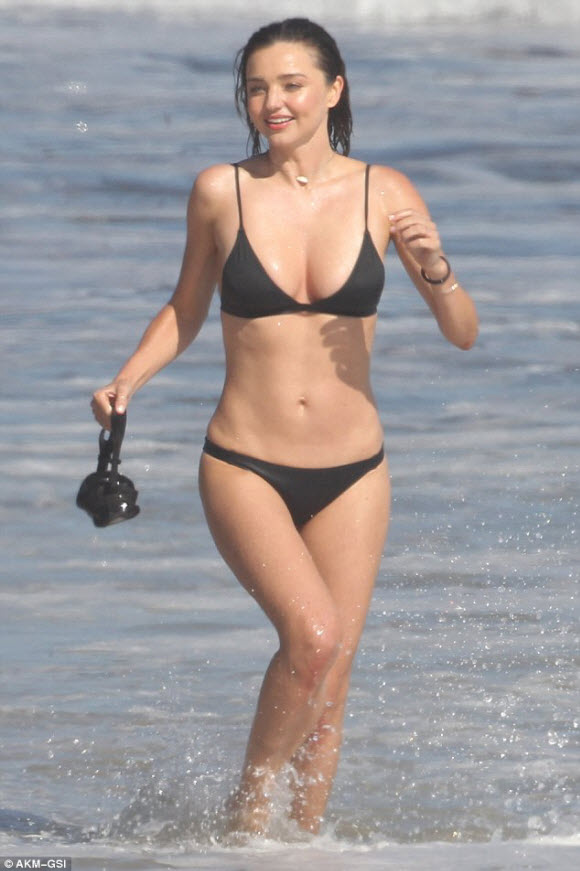 {myFlickr}feed=photoset, photoset_id=72157671175058786, gallery=lightbox{/myFlickr}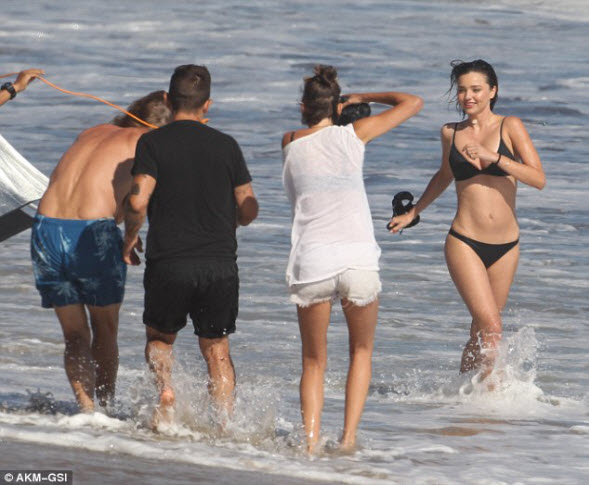 Source : DailyMail