Paris Hilton certainly dressed the part to have fun at the wild Burning Man festival in the Black Rock Desert in Nevada this weekend.
But on Saturday the 36-year-old DJ may have gone a little too far when she taped her breasts to cover her nipples in a see-through black top.
The pinup added a full skirt that was sheer and had a floral print for a Mad Max meets Coachella look.
The Beverly Hills resident added a bondage style strap over her top and dirty black platform boots.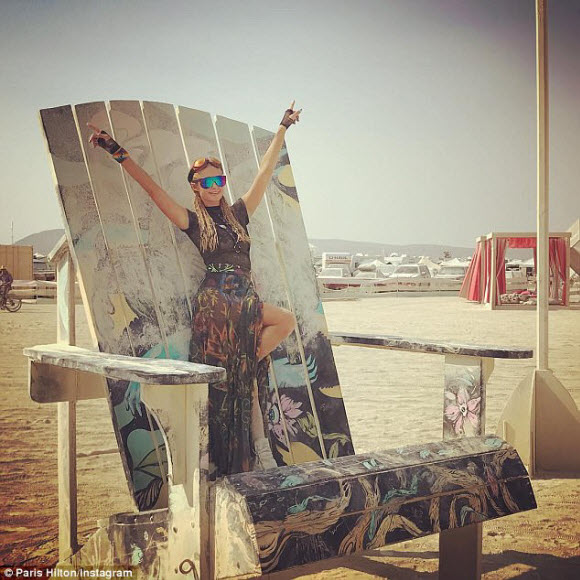 She also had all the right accessories with lace gloves, dark glasses and old-fashioned fighter plane goggles.
The beauty was standing outside a truck on the densely packed desert earth.
Par for the course for the week which encourages creativity and individuality, Paris showed off sexy colorful and decorative costumes.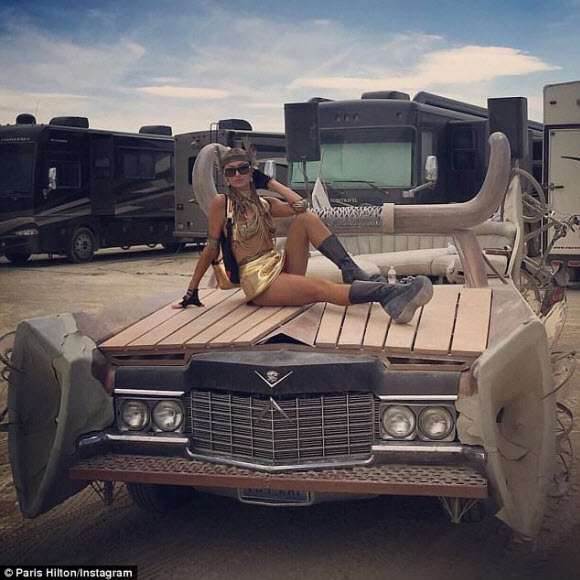 She captioned the photo, 'Can't wait to be back on the Playa tomorrow!'
The five photos posted on Tuesday seem to be throwback's from last year's festival where Hilton was seen wearing similar outfits.
With her hands reached toward the sky amid a dusty plume, the television personality was seen showing off her slender body in a green fringed micro skirt and hot pink fringed tank top.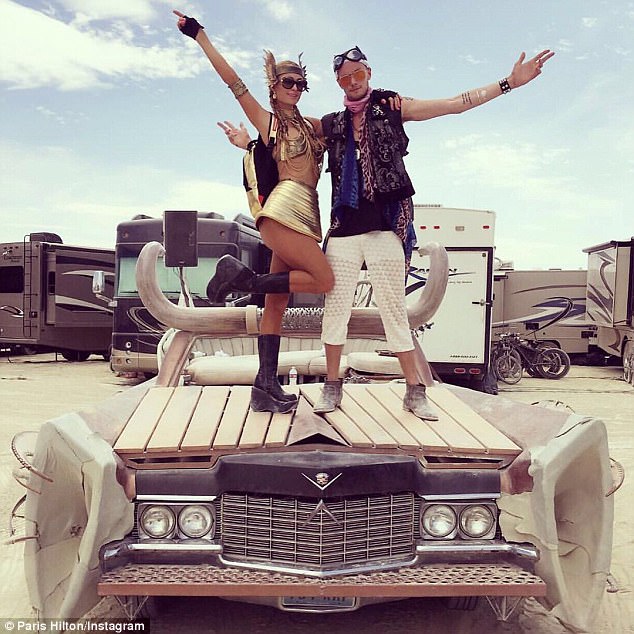 A fuzzy neon rainbow stole was carefully draped over Hilton's tanned shoulders as she smiled into the sunlight.
In another image, Paris showed off her impressive form and endlessly long legs in an all-gold ensemble.
The Simple Life star sported a tiny gold bikini top, metallic gold skirt and golden chains draped over her neck.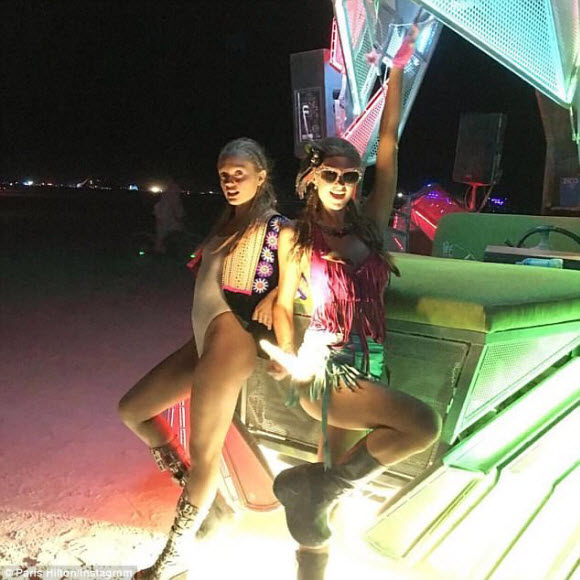 Hilton also shared a few photos in costume with Matt Bellamy and his 27-year-old model girlfriend Elle Evans.
Paris was last seen arriving at Los Angeles International Airport on Monday evening after a trip to Ibiza with her boyfriend Chris Zylka
Founded in 1986, the 'experiential and radical' Burning Man festival takes place every summer in the Black Rock Desert.
The festival closes on September 4 after the burning of the Man, a massive temple built out of scrap wood, lighting up the night sky on Sunday.
Source : Dailymail