She describes herself as a 'Business, Brand and Boss' in her new role as the host of America's Next Top Model.
And Rita Ora was certainly showing off her winning credentials in her latest ad campaign for Tezenis lingerie, looking incredible in the first look clip for the new Miami bra.
The 26-year-old singer is smoking hot as she shimmies around in a sexy lace garment, teasing her incredible figure.
The plunging lingerie highlighted her ample cleavage, with pretty chain necklaces drawing attention to her decolletage.
Rita enthused on social media: 'I love working with this team they are so supportive and passionate.
'I could not choose a better team to work on this project with!'
'Thank you all for your support and I'm so excited for you to see it, March 3rd.'
During an interview on Watch What Happens Live last month, Rita spilled the beans about her famous exes Calvin Harris and Rob Kardashian.
The RIP singer said she only had 'positive' things to say about her ex Rob, who has become a first time father with now ex-fiancee Blac Chyna.
At the end of 2012, Rita and Rob's seven month relationship came to an abrupt end when the reality star took to Twitter sharing a number of unsubstantiated allegations claiming she had cheated on him and he was 'disgusted'- while she maintained a dignified silence.
Proving she held no grudges when asked about ex Rob's baby news, the natural beauty responded: 'Nothing but positive energy from me — congratulations to the family'.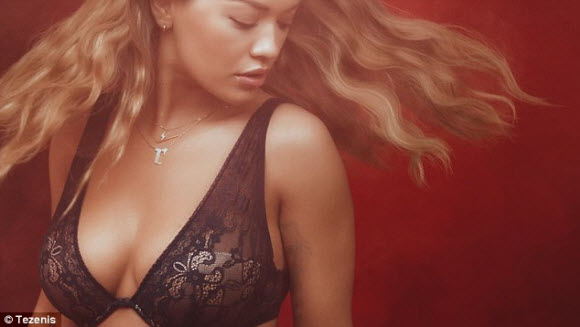 And the songstress felt the same way about ex Calvin Harris, who she split from in 2014 after a year of dating.
Rita was reportedly left devastated when the 33-year-old Scottish DJ dumped her via Twitter without warning her beforehand – but now admitted there are no hard feelings between them.
When pressed on her relationship with Calvin, she revealed: 'We're good friends. Everybody uses social media how they want. I choose not to, so that's just my personal way to express myself, but everybody does their own thing.'
Source : Dailymail