A sports bra is a bra that provides additional support to female breasts during physical exercise. Sturdier than typical bras, they minimize breast movement, alleviate discomfort, and reduce potential damage to chest ligaments.
Many women wear sports bras to reduce pain, and physical discomfort caused by breast movement during exercise. Some sports bras are designed to be worn as outerwear during exercise such as jogging. Larger breasted women may be prevented from taking part in sports or exercise when their breasts move excessively.
Design and history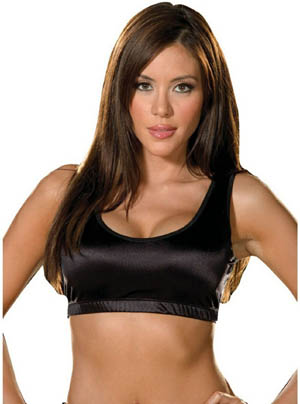 The first commercially available sports bra was the "Free Swing Tennis Bra" introduced by Glamorise Foundations, Inc. in 1975. The first general exercise bra, initially called a "jockbra", was invented in 1977 by Lisa Lindahl and theater costume designer Polly Smith with the help of Smith's assistant, Hinda Schreiber. Lindahl's sister, Victoria Woodrow, complained about her bad experience exercising in ordinary bras, having experienced runaway straps, chafing and sore breasts. During the course of Lindahl and Smith's exploration for a better alternative, Lindahl's husband suggested that what they needed was a jockstrap for women's breasts. In the costume shop of Royall Tyler Theatre at the University of Vermont, Lindahl and Smith actually sewed two jockstraps together and nicknamed it a "jockbra". It was later renamed a "jogbra". One of their original Jogbras is bronzed and on display near the costume shop of the theatre. Two others are housed by the Smithsonian and another by the New York Metropolitan Museum of Art.
In 1990 Playtex purchased Jogbra from Lisa and her partners. This was followed by research by Christine Haycock, associate professor of surgery at the University of Medicine and Dentistry of New Jersey. She measured breast movement of women running on treadmills. Sought out by bra manufacturers for her expertise, she advocated wide bottom bands for extra support and firm straps that minimized breasts bounce. Renelle Braaten, a Montana hairdresser, struggled to contain her double-Ds while playing racquetball and volleyball. Unable to interest mainstream bra manufacturers, she collaborated with freelance apparel designer Heidi Fisk, and founded Enell Incorporated. After considerable lobbying, she persuaded Oprah Winfrey in 2001 to try her bra. This led to very positive reviews in O: The Oprah Magazine, a 2001 appearance on The Oprah Winfrey Show, and a huge surge in orders.
Sports bras can either encapsulate or compress breasts. Bras that encapsulate breasts have molded cups, while compression-type bras restrict movement by flattening the breasts. Encapsulation-type bras generally are more effective at reducing discomfort, but some women prefer compression designs that enhance their perception of modesty.
The most common sports bra is basically designed like a tank top with the bottom half cut off. Other designs use gel and water pads, silver fibres, and air bags. A stitchless bra was made by Wacoal, was molded, compressed, and shaped. A compressed bra is designed to push the breasts against the chest to reduce movement and bounce. Other bras are knitted in circular patterns, giving varying stretch and support. A common design uses a stretchable, absorbent fabric such as Lycra designed to reduce irritation by drawing perspiration away from the skin.
Sports bras are also worn by women after certain surgical procedures. In those situations, a front-closing sports bra with a compression, seamless cup is recommended for healing and comfort. Certain fabrics such as Lycra have been found to help reduce swelling and help "even-out" a bustline that has been altered by a surgical procedure.
Sports bras are also manufactured for men with large breasts to enable them to take part more comfortably in physical activity. Some descriptions used euphemistically to describe bras for men are chest binders, compression vests or shimmels.
Another problem arises from the shoulder straps of standard bras. Standard well-fitting bras are constructed in the form of a "square frame", with all dimensions adjusted for each woman in a normal standing position, with arms to the sides. When a woman performs an activity which requires her to lift her arms above the shoulders, the frame is strained because it is anchored by the chest band, putting direct pressure on the shoulder trapezius muscles. This may result in neck and shoulder pain, numbness and tingling in the arm and headaches. To avoid such problems the bra's shoulder straps are usually crossed at the back, or the bra is worn halter-style.
Levels of control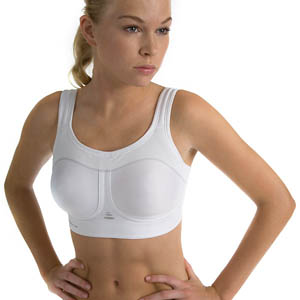 Different physical activities require different levels of breast control. Yoga, walking and gardening require only "light" control; bicycling, power walking and hiking require "moderate" control; tennis, soccer and jogging requires "firm" control; and running, intense workouts, boxing and horseback riding requires "maximum" control.
Exercise discomfort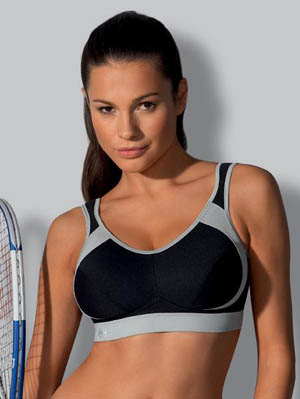 About 50 percent of women report some pain or discomfort in their breasts during exercise. This varies considerably in intensity and may depend on what they are wearing. In an Australian study 3 women (17-21, cup sizes B and C) were photographed exercising bare breasted, again wearing two different bra models, and a fourth time wearing a specific sports bra. As expected, breast motion was reduced by bras, and the sports bra was the most effective. The women reported less discomfort with bras and especially with the sports bra. However not all sports bras are created equally and a woman should be properly fitted.
During 2007, scientist Dr. Joanna Scurr of the University of Portsmouth conducted a motion study of seventy women while running. They represented the widest range of breast sizes ever studied, including women with cup sizes DD, E, F, FF, G, H, HH, J and JJ. Glamour model Jordan, whose bra cup size is F, is six cup sizes smaller than Dr Scurr's biggest breasted subject. Scurr found that breasts move in three planes of motion during exercise. vertically, horizontally, and laterally, in an overall figure-8 motion. Unrestrained movement of large breasts may contribute to sagging over time. Motion studies have revealed that when a woman runs, more than 50% of the breast's total movement vertical, 22% side-to-side, and 27% in-and-out. The 2007 study found that encapsulation-type sports bras, in which each cup is separately molded, are more effective than compression-type bras, which press the breasts close to the body, at reducing total breast motion during exercise. Encapsulation bras reduce motion in two of the three planes, while compression bras reduce motion in only one plane. Previously, it was commonly believed that a woman with small to medium-size breasts benefited most from a compression-type sports bra, and women with larger breasts need an encapsulation-type sports bra.
The work of Joanna Scurr has criticised this belief and has shown that this is not the case.
In 2010 Scurr, White and Hedger conducted a study on the effect of breast support on the movement of the breast during the running gait cycle. The aim of this study was to investigate the multi-directional breast displacement, velocity and acceleration with and without breast support during running and also to establish the correlation with breast comfort. 15 D cup participants were used and all regularly participated in exercise. Using treadmill running in three different bra conditions, (No bra, t-shirt bra and sports bra) they concluded that breast displacement and velocity were reduced as breast support increased and that no particular direction of breast movement showed a stronger relationship to breast pain. Further to this they found that breast discomfort was most closely correlated to breast velocity.
A later study in 2011 by Scurr et al looked at supported and unsupported breast displacement with the aim to quantify multi-directional breast displacement across varying activity levels and in varying breast support conditions. The study used 21 D cup participants and activity levels varied from treadmill walking to maximal treadmill running. Maximum displacement was found in the right breast during the unsupported condition at 15km/h, this showed an overall displacement of 15.8cm. Results also showed that breast displacement was reduced as breast support increased by up to 59% in an encapsulation bra versus no bra. Results also showed that there was a significant increase in breast displacement as treadmill speed increased up to 10km/h. The results of this study concluded that at higher speeds of activity, vertical breast displacement was highest, however side-to-side and forwards-backwards movement still accounted for half of the total breast displacement. Therefore this means that sports bra design should primarily concentrate on vertical displacement factors but not totally ignore other planes of motion. The study also suggested that as no evidence was found that breast support requirements change as running speed increased. Designs should look into sports-specific sports bras that will account for the individual variances of breast displacement in different sports.
Further research at the University of Portsmouth by Debbie Risius has shown that sports bras may also need to account for differences linked to age as well as size. Her research has shown that younger women's breasts experience more up and down motion whereas older women(45+) experience more side to side and in-out movement of the breasts. This suggests that standard sports bra may not be suitable for all ages of women. Therefore designs must be adapted to create bras for older women that will support the specific movement shown by the breasts. This may encourage more older women to participate in sport and to feel more comfortable whilst doing so.
Some female athletes are concerned that a sports bra may interfere with breathing, but even though increased pressure on the rib cage has been demonstrated, no significant effect on breathing can be shown.