Vanderpump Rules star Stassi Shroeder looked fetching in a bikini while vacationing in Mexico on Tuesday.
Stassi Schroeder was showing the radio presenter what he was missing as she slipped into a fetching two-piece bikini while walking on the shore in Cancun, Mexico.
She was dumped by her boyfriend of four years, Patrick Meagher, just this weekend.
Stassi was supposed to go on the dream getaway with Patrick before he bowed out. The reality TV diva instead brought her friend Rachael O'Brien.
That same day the 29-year-old New Orleans native shared a selfie to Instagram where she said she was having her 'gratuitous Kate Upton moment.'
The reality TV darling looked sensational in her little outfit that consisted of a light blue, dark blue and white triangle bikini top that showed off her generous cleavage and a pair of tiny briefs.
The blonde was seen walking up the white sand beaches of the popular resort town. The looker wore her blonde locks in a high ponytail and had on little makeup.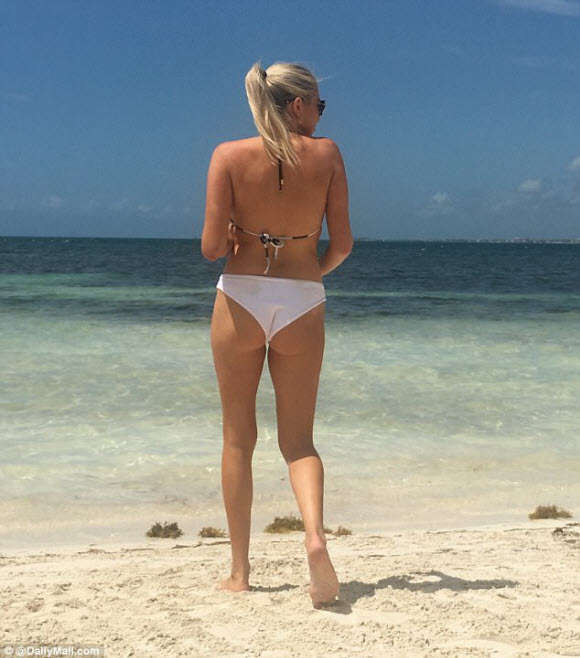 At one point she sat on the beach enjoying the sun as she cooled off with a drink.
The beauty's selfie was very candid as she did not smile or pose and looked dead into the camera. In the background her hotel room bed could be seen.
Her caption read: 'Just let me have my gratuitous Kate Upton moment.'
Upton is known for posing in bikinis for her job as Vogue model. She also showed off her ample chest and tiny waistline in the movie The Other Woman with Cameron Diaz and Leslie Mann.
These vacation photos surface just two days after Stassi was broken up with by her boyfriend Meagher, 38, a Sirius radio presenter. It was the couple's four-year anniversary.
'Broken up with on our anniversary after I planned a trip for us to Mexico,' the 29-year-old reality star – who boasts 1.3M social media followers – tweeted.
'Call me Carrie Bradshaw. @rachaelnobrien you're coming w me now.'
She then said she took her friend Rachael O'Brien on the dream vacation with her to 'close the shades & feed me oatmeal on the trip I planned.'
Stassi and Patrick have been off and on for a while.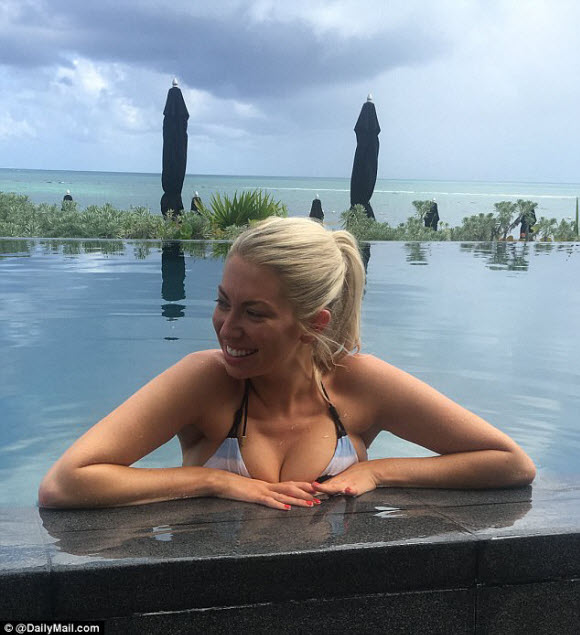 'I think he's a wonderful person… but right now, we do not mix well,' she told to ET in December.
'We fight. We fought way too much, it was way too up and down, we're both so stubborn. It's not like there wasn't enough love, that was there…I never experience just dating and being on my own and I said I want to give it at least a year of not having a boyfriend.'
It's nice to see Stassi have some much body confidence after she went through a breast reduction and lift in 2015.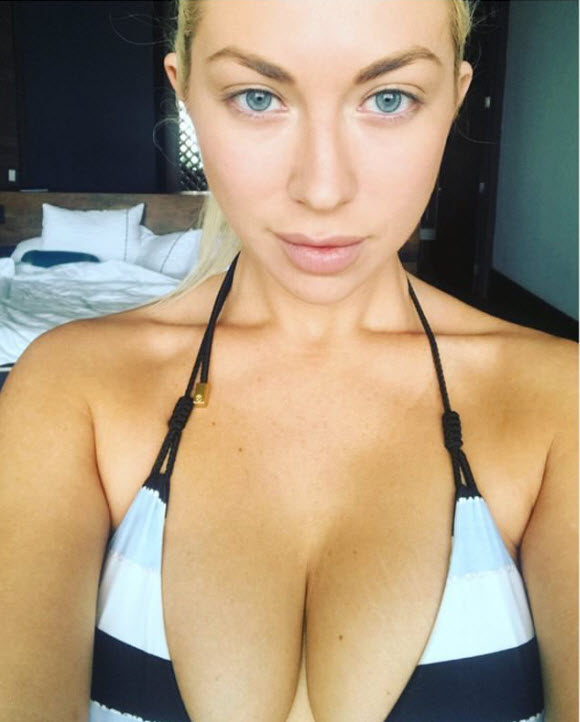 On Vanderpump Rules, Stassi showed off the results of her surgery, which reduced her cup-size to a D, as she posed for a raunchy photo shoot.
The outspoken fan favorite wore a sheer bodysuit as she reclined seductively on a bar chair.
'There's something liberating about just letting your boobs and vagina just hang out for everyone,' she told Bravo cameras afterwards.
In 2015, Stassi opened up about the surgery which 'butchered' her breasts on her podcast Straight Up With Stassi.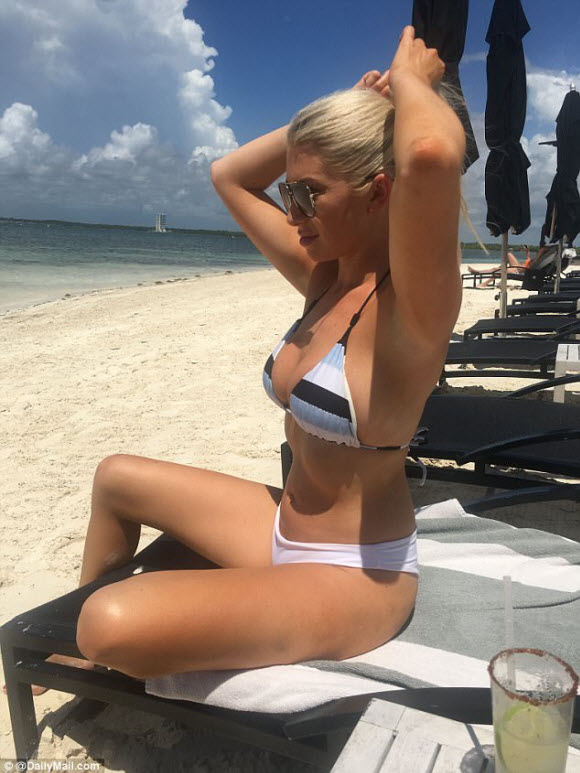 Explaining why she went ahead with the serious operation she revealed: 'Cause they're too big. It's back pain, and I started bleeding the other day when I was working out because of my sports bra, so I have scabs.'
The Bravo TV star added: 'It's too uncomfortable and they are so saggy, they look like two tube socks with change in them.
'I still want boobs. I don't want to have an identity crisis. I feel like if I took too much out I might not feel like myself. I want to continue to have boobs,' she said.
When she was considering the surgery she previously told ET about her 'National Geographic boobs' explaining, 'I've had them since I was 14-years-old, so they point down and they're like at my hips. I'm kind of over it so maybe I want to do that.
Stassi has also admitted to having a chin implant, Botox and her lips plumped up.
Source : Dailymail