Pop star Tallia Storm flaunted her long limbs and her sculpted abs in the high-waisted bottoms and cropped bikini top in marbella beach.
She's been trotting all over Europe this summer, having spent time in Paris and Ibiza.
And now, Tallia Storm's travels have taken her on a family trip to Marbella, where she was spotted frolicking on the rocks on Friday.
The 18-year-old singer looked pretty in a little black bikini, by Moschino, featuring the designer's name emblazoned across the front of it in large block lettering.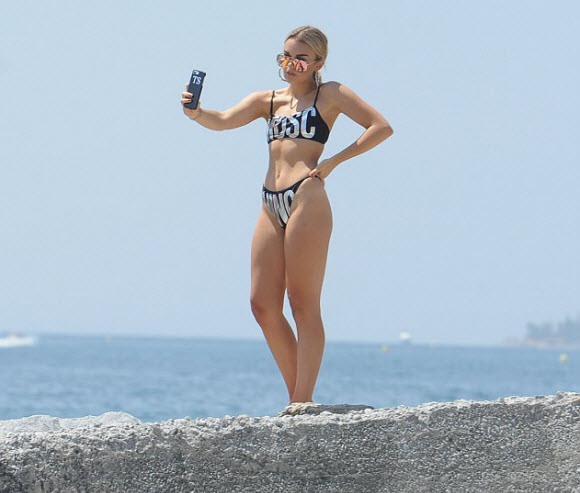 She swept her blonde locks back behind her head in a loose ponytail and glanced over the tops of her mirrored aviator shades for the selfie session.
She accessorized with over-sized gold hoop earrings, adding a little touch of bling to the beach ensemble.
She later threw a netted black beach dress over herself as she strolled along the shoreline.
She wore perilously high heels with this outfit and toted a metallic handbag for this little stroll.
She was also joined with her younger brother Johnnie.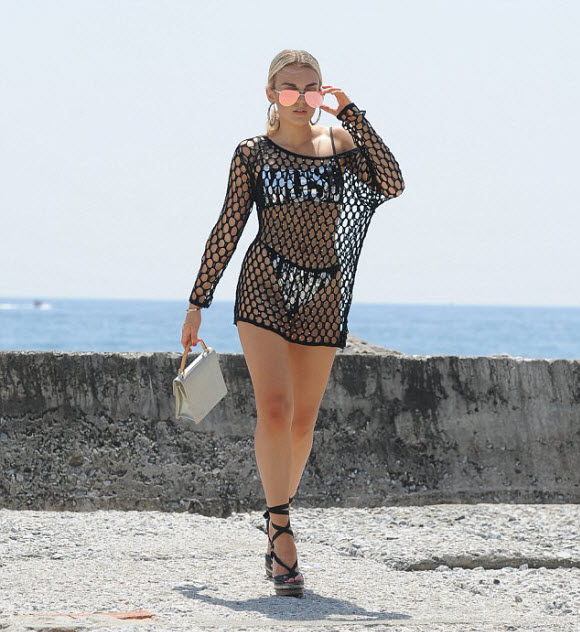 Tallia played the doting big sister as she held Johnnie's hand as they walked in the hot Spanish sun, before stopping to sit on the rocks and chat together.
Johnnie looked trendy in luminous yellow shorts and a bright pink T-shirt.
The singer, whose mother Tessa Hartman runs a PR company, was discovered by Elton John at the age of 13, when she was picked to perform with him in Falkirk.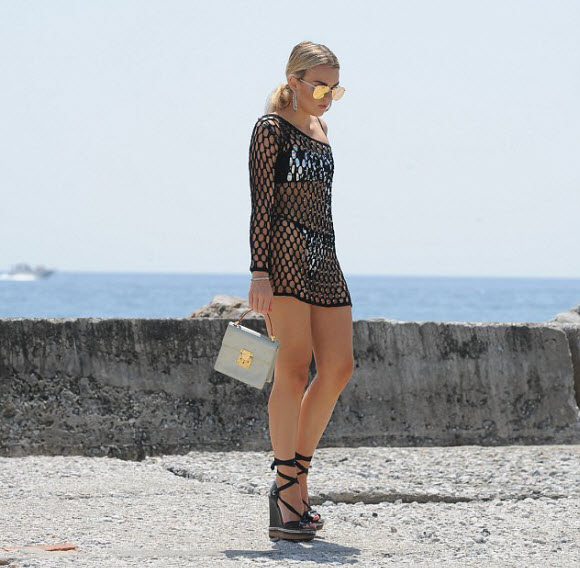 Tallia recently said that she had secretly dated David and Victoria Beckham's son, Brooklyn Beckham.
'We dated, it was puppy like,' she said. 'We kept our love all very private. We were only spotted together once. He came to see me perform. We kept it very private. It was real. We spent a lot of time together.
'His dad used to drop him off at my house and I'd go to his. I have nothing but respect for his mum and dad.'
Discussing the end of their romance, she added: 'It came to an end when I saw him in the papers with another girl. I was like, "Oh my goodness."'
Tallia is now channeling her heartbreak into songwriting, and revealed her new single, Still In Love, is all about her 'puppy love' with Brooklyn.
She said: 'My album is made up of a roller coaster of teenage emotions. My songs are real, raw and honest.'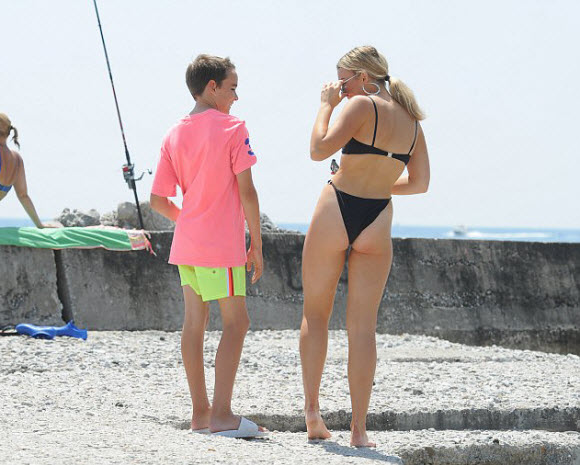 Insisting she is now 'so over' the relationship, the Scottish singer recalled the 'dramatic' moment Brooklyn, the son of David and Victoria Beckham, attempted to approach her backstage at this year's BRIT Awards.
She told MailOnline: 'I saw Brooklyn backstage at the BRITs. It was a really big night for me. He tried to speak to me but I'm so over it. He's very dramatic.
'I feel a lot of people saw the ice between us. Now I date men now not boys. It's true, lovers can't be friends.'
Source : Dailymail