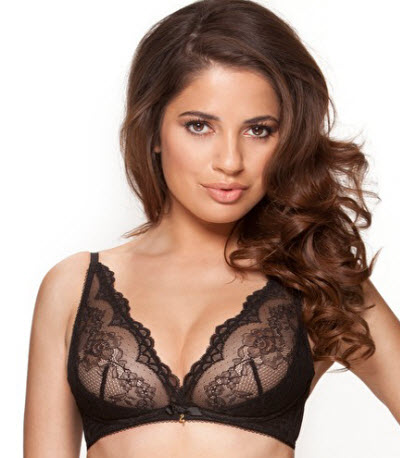 Non-wired Bras
Traditionally, all bras were non-wired bras, also known as wire-free or soft-cup bras. Rather than underwiring they use structured cups to give shape and support. Many women do not like the thought of having a wire in the bra and believe soft cups bras to be more comfortable. This style is so popular that the world's number one best selling bra is a non-wired style, the Doreen bra by Triumph. They are usually full cup in style, encasing the whole of the breast making them unsuitable to be worn with low cut tops. Comfort is key with soft cup styles, and they often have lots of other features that make them comfortable to wear, such as wide shoulder straps that don't dig in, and deeper back bands for support. Most sports bras are usually wire free.
If you choose a very structured style you will still be well supported but they can give your bust a slightly more pointed shape. The drawback with some soft cup bras is that they don't offer the same level of support as an underwired bra. Without underwires to support your bust, it's even more important that you have a correctly fitting bra. This means that your back band must fit you snugly; you should not be able to pull the back band more than an inch away from your body. If the back band is too loose the shoulder straps will be left to take the strain, which can lead to back pain. You may also find that your bust has a saggier appearance due to not being supported properly.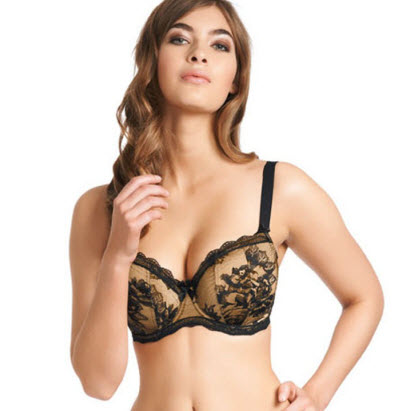 Underwired Bras
Underwired bras have a slim but strong wire running underneath and to the sides of each cup. Wearing an underwired bra will give you a more modern, rounded outline than a non-wired bra will. Because of the support from these wires, they also offer you a much bigger choice of styles; underwired bras can be push-up, strapless, multiway – you name it.
If you get an underwired bra where the cups are too small for you, you can end up with wires digging in at the armpit or side of your bust. This is why it is so important to wear the right size. If you are measured properly and get the right size, you should never experience any pain or discomfort unless they become old or damaged. In fact you will find them extremely comfortable. Underwired bras are definitely advised for ladies with a large bust, as you just won't get the shape and support you need from a wire-free style. They do need a little more care than soft styles though. Hand washing is recommended to prolong the life of your bra, but if you prefer to machine-wash them you may wish to wash them in a 'bra bag'. This is a net bag that stops the wires from damaging your machine should they come loose. You must never tumble dry them.
In Conclusion
What style to choose depends on your priorities. If you put comfort first and foremost, or are worried about wires, choose a soft cup bra. If you want a more modern, perky shape or have a large bust, an underwired bra is best. If you're still not sure, try on both styles and see which you prefer!