The adhesive bra is a term used to describe a few different designs that all work differently in how they adhere to your body, in the support of your breasts.
The adhesive bra is normally only available up to a C cup, mainly due to the fact that they are completely strapless and the only support is from the material under your breasts that sticks to your skin, any cup size larger than a C cup is normally to big to be supported properly.
One of the most popular types is the NuBra, which was developed in 2002. In essence it is two silicone pads, joined together by hooking system. These two silicon pads stick to the body underneath the breasts, according to NuBra these bras should stay adhered to the body for up to six hours with out any issues or loss of comfort. With out any shoulder straps or back straps, these types of bras are amazingly comfortable to wear.
adhesive strapless and adhesive silicones are the most ideal choices when wearing slinky and very revealing outfits. With just cups held securely by adhesives, they are almost impossible to detect under clothing. With the silicone's real-like look and feel, it would even be difficult to tell if a bra is worn – an excellent solution when you need to put on those off-shoulder dresses, plunging necklines and backless tops.
The adhesives that hold the cups are really strong and will stay on even hours of activities and is even water resistant. It is designed to be safely used on the skin regularly. Washable, reusable, easy to clean and maintain, the cups are truly wearable, convenient and practical. They come in a wide selection of shades to blend in with any dress and are even reasonably priced. The little extra cost versus regular brassieres is just a little price to pay for all the advantages you can get from wearing these adhesive bras.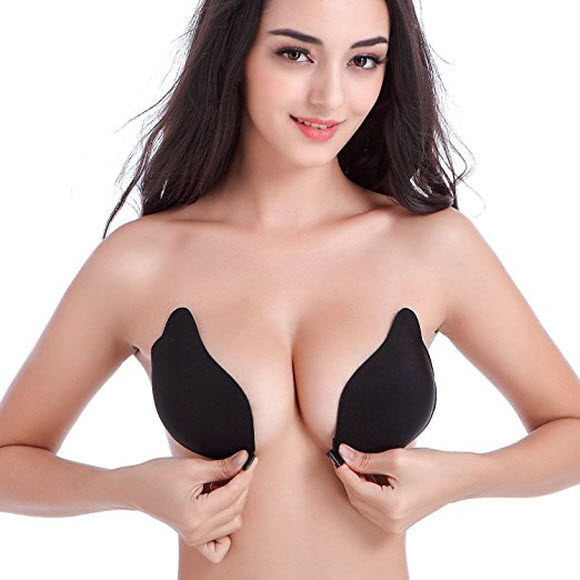 Earlier and original versions, such as the Braza Bra which is still available today, of the adhesive bra where material pads that actually stuck to the body, with adhesive tape. While they worked fine and did provide support for your cleavage, removing the tape was known to be a bit painful, also a lot of women with sensitive skin reported irritation during and after use of these products.
Very Important points to note when using adhesive bras:
Do not use the bra immediately after showering.
Do not use the bra if you are after applying any lotions, cream or oils to the area, till they have been fully absorbed by the skin, as these products will inhibit the adhesion of the bra to the skin.
Follow individual manufacturers instructions to the letter, if this is not done correctly many women have said they have had issues, likewise if the manufacturers instructions are followed to the letter no problems have been experienced.
Once applied correctly humidity or sweating normally has no effect on these bras.
Since these are completely user adjustable and positionable, they can give lift and in case of the silicone padded bra a larger look to the bra. These can be ideal breast enhancement bas for C cup or less, especially for special occasions when your outfit would benefit from a completely strapless bra, while still enhancing your cleavage.