Adriana Lima, the Brazilian-born supermodel and the longest running Victoria's Secret Angel says she is not planning to hang up her angel wings or her catwalkin' heels anytime soon.
In an exclusive Canadian interview, we spoke on the phone with the 35-year-old model who was about to attend a bash in Mexico to help launchBreathless Riviera Cancun Resort & Spa.
Yes, this model is working it, and not slowing down, even for someone her age – yes, 35 is considered "mature" in the supermodel world. But this year especially, she's proved that she's earned her staying power.
She stunned on the catwalk at Spring '17 Fashion Month, stealing the spotlight from some of the younger models-of-the-moment both at Bottega Veneta and Versace shows, and even got our vote as "best dressed" in a swoon-worthy, ab-baring Thierry Mugler ensemble at the amfAR gala.
Her focus now? It's prepping for the highly anticipated Victoria's Secret Fashion Show which is dropping sometime in November – sadly, she remained tight-lipped about the exact date of the event. Nonetheless, we got the scoop about her philosophy on beauty, life and Taco Tuesdays.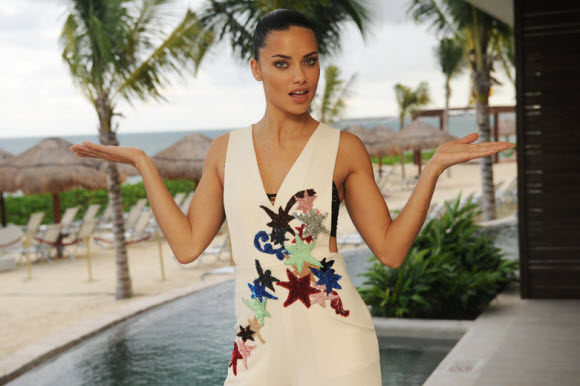 On modelling at a more "mature" age: "I am so happy that the fashion industry is not afraid to embrace a more mature woman. I believe these days women are aging so gracefully and beautifully. I'm 35-years-old now. I've been working so much even more than when I was younger and I feel very beautiful and even stronger…I believing having experience in the field helps to do a lot (more), taking pictures, making commercials, doing interviews. I feel more secure, too.
On how a supermodel approaches aging: "I honestly I don't think about it. I don't feel old at all. I enjoy my life, my work, I take care of myself..it's something not to think about. I think age is just a number, really, and it's not what makes you, you make yourself not the number you have."
On her definition of beauty: "Beauty comes in many different forms. It's about accepting you and being confident in who you are. Everyone is unique."
On the few things we can find in her bag when she's travelling:"Lip balm, telephone, my passports, my jump rope and sometimes my TRX."
On staying fit while on vacation/travelling: "This morning I went and worked out at the gym (here), and it's so well-equipped so it makes it easy for me to come here. I have my regular routine (boxing) that I have at home that I can do here. So it's wonderful to travel and have hotels like this. It makes you feel like home."
On her current must-have beauty product: "I'm obsessed with different oils for all over your body. You can use a coconut oil and I use my friend, Linda Rodin oils. She has a special oil for the face that I use when travelling."
On the one thing she has to do before the Victoria's Secret show:"I always have to apply perfume when do a show. I'm looking for one right now… but I like to change every year."
On our favourite Mexican food, tacos (and Taco Tuesdays): "I love tacos…Taco Tuesday? (How about) Taco Sunday…tacos everyday. I do love the traditional margaritas and tequilas too. Let's not forget the most important thing, the hot sauce."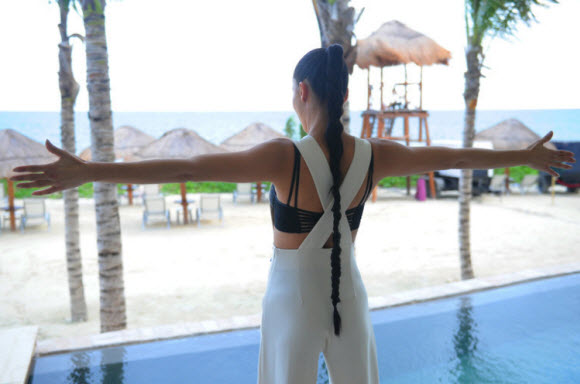 Source : canoe