Lingerie model Amber Tolliver has posed for underwear brands such as Aerie and Jockey, and once even had her scantily clad body plastered onto a Times Square billboard.
Yet the 5-foot-9 curly-haired beauty has had major issues finding a bra that fits her.
"I'm a 32E, and every time I would go to a store, it was the same issue," the 32-year-old Chelsea resident tells The Post. "The things that I really loved that were beautiful were never big enough for me. And the things that were big enough for me were like my grandmother's bras, and I was like, 'Well, this doesn't inspire me to a) want to buy it and b) put it on in the morning and feel great about myself.'
"I was like… 'There has to be a better option.'"
Well, she's made one.
In spring, Tolliver will launch Liberté, a lingerie line featuring flirty, feminine bras crafted from soft, moisture-wicking Italian fabrics, with sizes ranging from 32C to 38H. Available at LiberteNY.com, the brand will also feature a couple of thongs and briefs.
It's been a five-year process for Tolliver, who studied fashion design and marketing at Columbia College before pursuing modeling full-time. She and her small, four-person team have experienced production delays, thrown out countless samples and suffered creepy comments from potential male investors.
Yet, she calls the project her passion, particularly since so many women share her frustrations. According to a 2013 survey by the lingerie brand Intimacy, the average bra size in the US is a 34DD.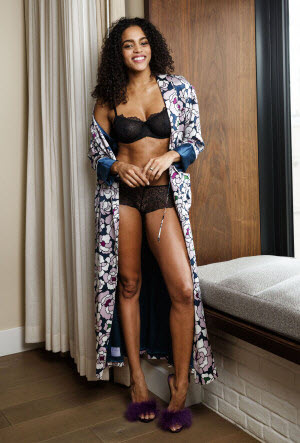 "I feel like it has to be perfect for all the women out there who are told that anything larger than a D just doesn't exist," she says. "I want to give women that freedom of 'No, I don't need to conform — here is a brand that is here to embrace me.'"
Tolliver has been self-conscious about her body her whole life. As a young tomboy growing up outside of Chicago, she first picked up a sewing needle because she couldn't find clothes that fit her tall, athletic frame.
"I was making my own sweatpants to play sports in because I couldn't find any," she says, laughing. Yet people began commenting on her height and told her she should try modeling. At 15, she went to an open call at Ford Models and was offered a contract on the spot. In 2008, she moved to New York City to pursue modeling full-time.
That's when she started to gain weight. She says she found herself "fighting tooth and nail" to maintain her size 2 figure, but in 2009 she switched to plus-size modeling. It was just as tough. Clients claimed she wasn't big enough, so she began gorging on pasta and wine every evening and stopped working out to fit the desired mold.
"I found myself being just as unhealthy as when I was trying to be a size 2," she says.
"I just let my body go into a natural state of existence, which leaves me around a size 6," says Tolliver, who is currently represented by Elite Models. "I'm not altering my body for my clients."
As a model who isn't quite "standard" and isn't quite plus, Tolliver books a lot of lingerie gigs, which tend to call for curvier bodies. And she's found that most brands offer either only tiny cups or too-big plus-sized brassieres. As a result, she's found herself uncomfortably squeezing into a skimpy top — or trying to fill out the bigger options by pinning the band or adding padding into the cups.
"I actually ended up learning a lot about how a bra should fit from having to do so many alterations on set," she says.
In 2013, she started researching bra patterns.
Even with her fashion experience, Tolliver soon realized that designing a bra — particularly one that had to support larger sizes — was way more complicated than sewing a dress.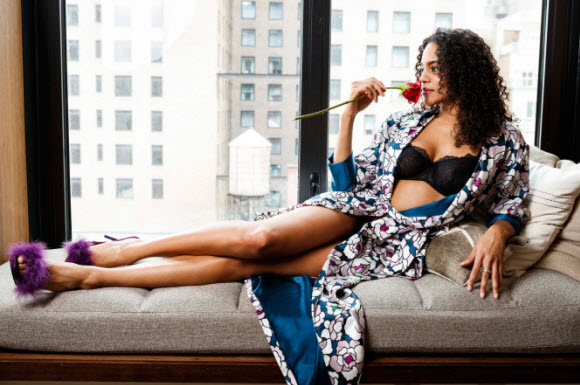 "It's a load-bearing object," she says, comparing it to architecture. "I had no idea how to create something that would be functional."
By 2015, she was talking with local manufacturers about turning her patterns into prototypes. But while she loved the design and production process, she found raising money dispiriting.
"Being a woman who is young, and a model starting a lingerie brand, I ended up being in conversations [with potential investors] that had nothing to do with business," she says.
"They would ask, 'Oh, are you wearing your pieces, can I see them?' Or, 'Can I be your quality-control manager? Can I shoot B-roll at your photo shoots?' Just these horrendous comments," she says. "It was exhausting and offensive."
After raising nearly $35,000 through Kickstarter last October, however, Tolliver is ready to shake up the lingerie industry, and make a lot of women happy.
"Beautiful lingerie shouldn't be reserved for a select few," she says. "For lingerie, it's important to have something aesthetically pleasing, because it can set the tone of the whole day… I want women to walk out the door with a feeling of being unstoppable."
Source : nypost