Ashley Graham channels her inner-Bond girl in a stunning gold bikini as she takes on body critics who accused her of losing weight.
The brunette beauty proudly flaunted her curves as she posed on the beach in a metallic two-piece bikini.
With her slicked back hair and sultry, barely-there make-up, the 28-year-old looked as fierce as a Bond girl.
She shared the photo with her 2.3 million Instagram followers, alongside the caption: "#beautybeyondsize #bts #myswimbody"
The body activist and plus-size model recently came under fire from fans who accused her of succumbing to industry pressures by losing weight.
The accusations came after Graham posted a selfie on Instagram in which she was dressed in a white crop top, matching skirt and Balmain leather jacket.
Fans blasted her "shrinking frame" and suggested that she was propagating the industry's standard of unattainable beauty and body 'norms'.
Responding in an essay for Lena Dunham's Lenny Letter newsletter, Graham highlighted how some fans were criticising her for exercising, despite the fact that she actually gained weight this year.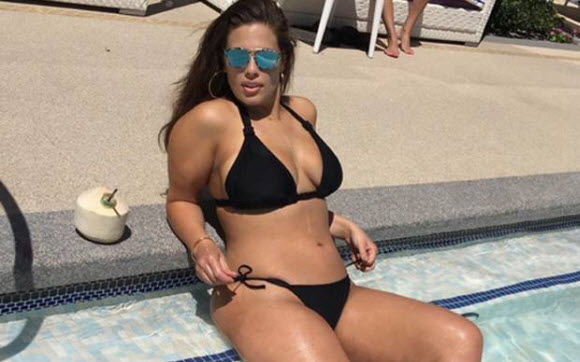 The size-16 model addressed the comments ranged from disappointment to anger, including: "You don't make plus-size dollars anymore, you make backstabbing dollars" and, "You don't love the skin you're in, you want to conform to Hollywood, you believe being skinnier is prettier," were two Graham highlighted in her essay.
She said: "Having been a model for sixteen years, I know my angles, just like we all know our favourite filters and lighting and our good sides. I pick the photos I like best.
"No matter how many empowerment conferences, TED talks, and blog posts are out there, women keep tearing one another down over physical appearance. Body shaming isn't just telling the big girl to cover up. It's trying to shame me for working out."
Graham will be hitting TV screens in autumn as she hosts the revamped version of America's Next Top Model, replacing long-time presenter Tyra Banks.
Source : independent