She put on quite a show for the Olympics Closing Ceremony.
Izabel Goulart revealed almost every inch of her stunning figure in a sexy carnival costume as the Rio games came to a close.
The Brazilian model looked spectacular in the bejeweled amethyst bikini, complete with magnificent pink plumage.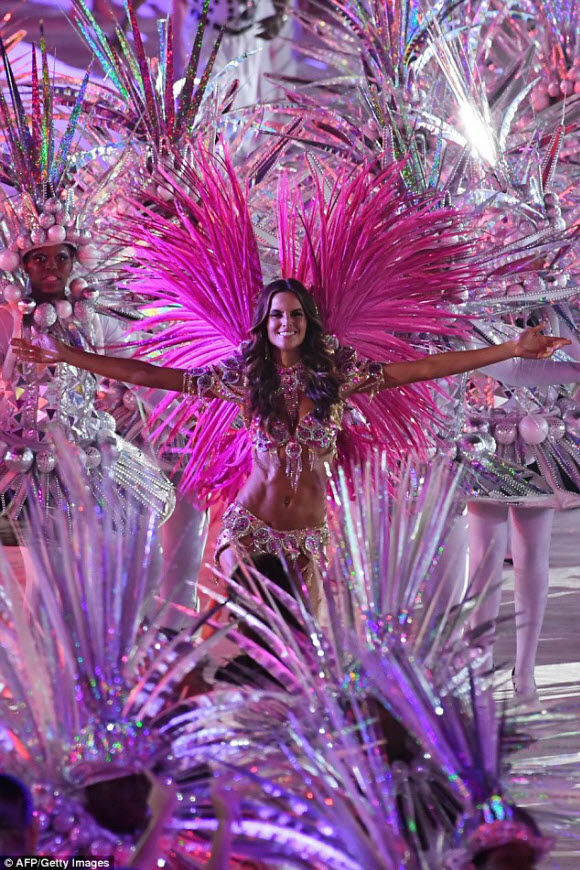 She danced her way into the Maracana stadium with Samba legend Renato Sorriso, holding her own against the 49-year-old 'street sweeper'.
One of the only bits of Izabel not showing was her nerves, even though she admitted the jitters right before hand.
'Literally there is five minutes left before I get on stage… I'm so nervous! Let's do this!', she screamed in a Snapchat just before heading out.
In her last Snap before heading out with the world watching, she did some last minute exercises to settle her nerves.
'Finding a way to relieve the anxiety minutes before the show … Why not some squats???' she suggested, doing just that.
The Victoria's Secret Angel had taken over Vogue Magazine's account on Sunday for the lead-up to the ceremony, sharing some behind the scenes pics and videos.
'At Maracanã ready for rehearsal!!' she captioned one beaming clip, wearing a high-vis vest and hard hat.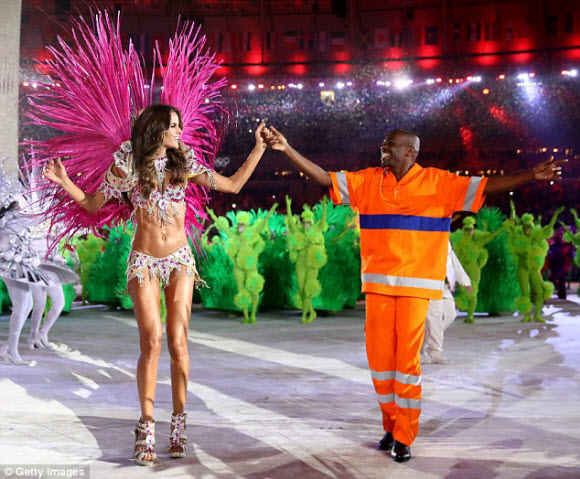 'Today is a very special moment not only for me but for all nations! I feel honored to be part of the Olympics Closing Ceremony in my home country.'
In a video clip she described it as 'definitely the most important rehearsal of my life.'
She also confirmed that her 'safety' outfit was not what she was going to be wearing for the ceremony.
As with everything the 31-year-old posts for her 3million followers, she translated into her native Portuguese as well.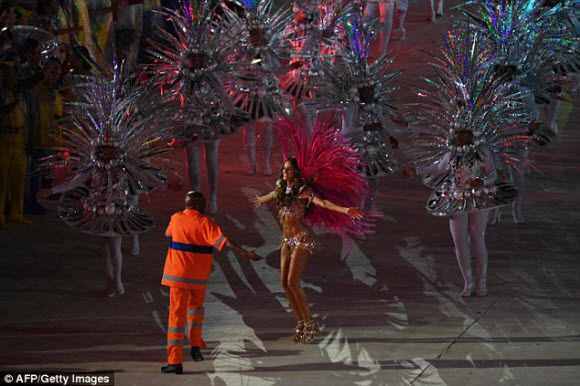 The beauty got a little emotional as she explained what it meant to her to be involved in her home country's hosting of what was a pretty successful Games.
'You want to know why this is crazy for me?' she said pointing up to the stands.
'Because at the opening ceremony I was sitting up there watching all the magic happen, but tonight I'll be part of this magic, so I feel so honoured to be here.'
Izabel has been the Brazilian equivalent to USA's Leslie Jones throughout the Olympics, hysterically supporting her home team whatever the sport.
On Saturday she posted a pic pitchside for the men's soccer final V Germany, which they eventually won 5-4 on penalties.
'Go Brazil!!!!! I wouldn't miss this match for nothing in the world!!!' she declared, wrapping herself up in a Brazilian flag.
Two hours later she captured her own euphoric reaction as Neymar scored the winning penalty, her eyes widening as she erupted with the Rio crowd.
'Yeahhhhh!! Olympic gold medal !! Congratulations to our golden boys!! So proud of our team!!' who wrote.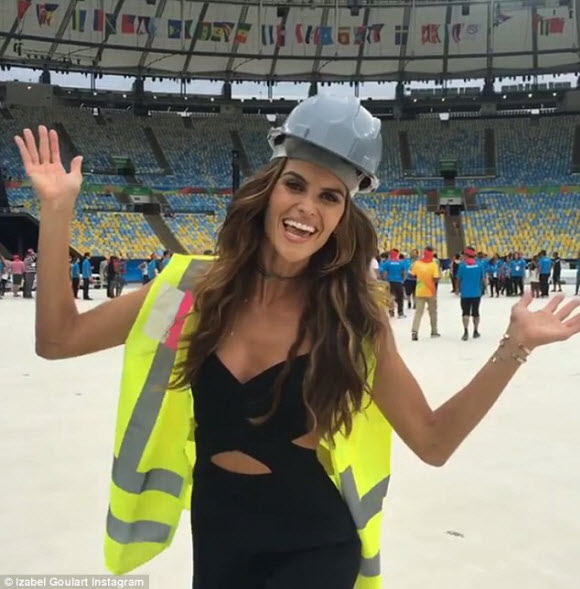 On Sunday Izabel played good luck charm once again as she was on hand to witness the men's volleyball team snatch another gold, this time against the Italians.
'Game on!! Men's Volleyball final!! Go Brazil!!' she captioned another gorgeous snap, this time representing in tight white pants and a yellow Brazil top.
The Angel found time to relax between the games as well, sharing a stunning video of her performing a headstand on her balcony.
'Positive mind! Positive vibes! Positive Life!!' she captioned it, as well as promising a 'big surprise' when she takes over Vogue Magazine's social media for the closing ceremony.
Source : DailyMail