Ashley Graham is once again dropping jaws in another stunning nude photo.
The 29-year-old model and body positivity activist is strutting her stuff in a nude photo shoot for Love Magazine. Her curves are the star of the show in the photo, where she's wearing nothing but a trench coat draped over her shoulders.
She's shown sitting in a chair while crossing her long legs and holding up her breasts with one arm.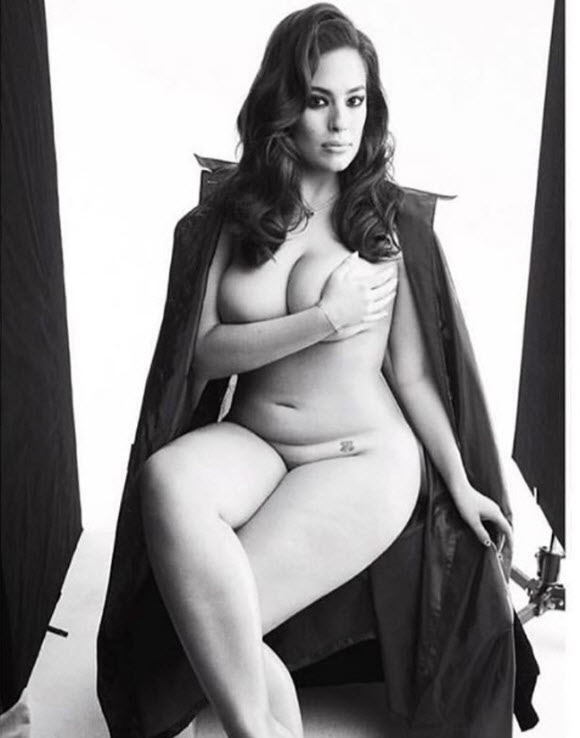 Graham's been one busy woman this summer: Not only did she bring the house down with a seductive rendition of Shania Twain's "That Don't Impress Me Much,"on Spike's Lip Sync Battle, but she also appeared on the ABC situational hidden camera series What Would You Do?, where she got emotional about body shaming.
Plus, we can't get enough of the model's sensual photo shoots these days; in June, Graham stunned for Glamour and in May, she stripped down for V Magazine, baring her curves and cellulite.
"I remember my first signs of cellulite, in middle school," she told V Magazine in an interview with Tracee Ellis Ross. "I remember telling my mom, 'Isn't it disgusting? It's so ugly.' She pulled her pants down and said, 'Look, I have it, too.' And I was like, 'Gasp!' She looked at me, then at it, and just rolled her eyes."
"She didn't tell me that it's beautiful or ugly," she continued. "She just made it a nonissue. It doesn't define my worth. If women like you and me continue to preach that, then I feel like younger girls are going to grasp it and they're going to be like, 'Who cares!'"
The Sports Illustrated Swimsuit model has always been vocal and passionate about body positivity. When the media started calling her "brave" for posing in showy swimsuits, she clapped back during a press conference for America's Next Top Model.
"Today they're calling me brave because I posted a photo of my cellulite," she said. "The majority of women have cellulite so I'm not going to hide behind Photoshop or retouching — so if the paparazzi gets my cellulite on my big ass, so be it and I'll post it."
We love Graham's healthy mindset just as much as we admire her healthy eating and fitness habits. She takes her health pretty seriously, hitting the gym multiple times per week (she lists kickboxing as her favorite workout) and eating a healthy diet. While healthy foods like green juice, fruit and quinoa bowls populate her daily diet, she also knows it's important to enjoy your favorite treats in moderation — and that's why we love her so much.
She says she usually kicks off the day with hot water with lemon, green juice and a piece of fruit. As the day goes on, she eats heavier foods, like a salad for lunch and chicken with veggies for dinner.
Graham is happy with her healthy eating habits, telling Good Morning Americathat she's so over yo-yo dieting to try and lose weight the unhealthy way.
"I've done every yo-yo diet you can imagine and none work for me. I'm at a comfortable weight and I know that I look good and, more importantly, I feel good so why am I dieting? I now know what works for me."
Source : popculture