1.Correct back size: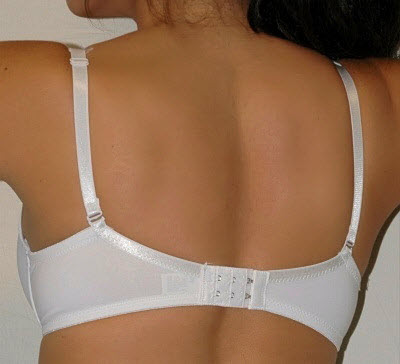 Most of the support actually comes from the back so this needs to be the right size. The band around your body needs to be firm but comfortable. The band running round your body should be horizontal. If the band at the back of the bra rides up then the band is too big and you should get a smaller back size. You should be able to run two fingers underneath the band all round, as well as underneath your arms at the side of the bra.
2. Flat wires at the front: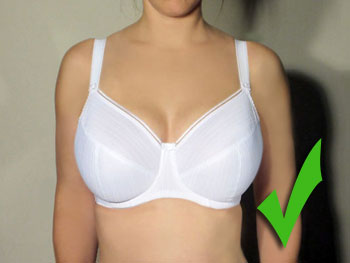 The wires at the front of your bra should lie flat against your rib cage. They should not dig in, rub or poke you. The wires should be lying flat between your boobs, check that they are not being pushed away from your body. If the underwire is digging in under your armpit then your cup is too small and you need a bigger size cup. The underwire should encase the breasts and must not dig in.
3. Wearing the right cup size: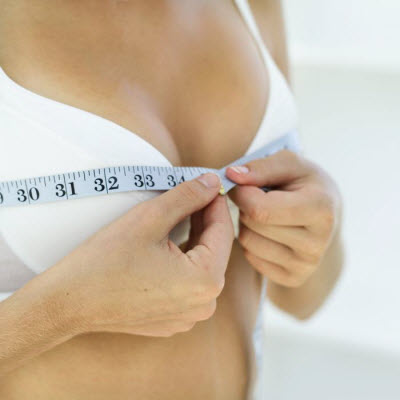 Your breasts should be enclosed within the cup and they should stay within the cup even when you lift your arms above your head. There should be a smooth line where the bra ends at the top of your bust and the cup fabric should not be wrinkly. Your breasts should not bulge or "spill" out of the top or sides of your cup even for styles designed to be low cut like the plunge or the balconette bra. If you have indents in the shoulders where the straps have dug in, then your bra is too big in the back and not big enough in the cup, making you pull the straps tighter for support. You need to get a bra that is smaller at the back with bigger cups.
When considering the purchase of a new dress or suit then it is always best to start with correctly fitting underwear. It is important that your bra feels and looks right to you.

If you find these tips useful , share it with friends