A bikini is a women's abbreviated two-piece swimsuit with a bra for the chest and panties cut below the navel. It was the first swimsuit design to reveal the navel.
The design is simple: two triangles of fabric on top cover the woman's breasts and two triangles of fabric on the bottom cover the groin in front and the buttocks in back. What distinguishes the bikini from other swimsuits is its brevity. The size of the panty can range from full coverage to a revealing thong or g-string design. It is often worn in hot weather and while swimming or sunbathing.
Illustrations of Roman women wearing bikini-like garments during competitive athletic events have been found in several locations. In modern times, the bikini evolved from the two-piece garment that was increasingly in use during the 1940s. Two French clothing designers introduced a new minimalist swimsuit design in 1946 on the French Riveria. Mechanical engineer Louis Réard borrowed the name for his bikini design from the Bikini Atoll, where post-war testing on the atomic bomb had begun on July 1, 1946, and his name stuck in the public consciousness.
French women welcomed the design but the Catholic church, some media, and a majority of the public initially thought the design was risqué or even scandalous. Contestants in the first Miss World contest wore them in 1951, but the design was then banned from the competition. Actress Bridget Bardot drew attention when she was photographed wearing a bikini on the beach during the Cannes Film Festival in 1953. Other actresses like Rita Hayworth and Ava Gardner also gathered press attention when they wore bikinis. During the early 1960s, the design appeared on the cover of Playboy and Sports Illustrated, giving it additional legitimacy. Ursula Andress made a huge impact when she emerged from the surf wearing what is now an iconic white bikini in the James Bond movie Dr. No (1962). Raquel Welch wore a deer-skin bikini in One Million Years B.C. (1966) that turned her into a sex-symbol. In An Evening in Paris (1967), Bollywood actress Sharmila Tagore was the first Indian actress to wear a bikini in a film.
The bikini gradually grew to gain wide acceptance in Western society, though it is still unacceptable in many conservative Muslim countries. in 2010, a British woman was arrested in Dubai after she wore a bikini through a fashionable shopping mall. The swimsuit has been designated as the official uniform for women's Olympic beach volleyball, sparking some controversy. After a number of Muslim countries objected, the Miss World contest won't include bikinis in its 2013 contest.
According to French fashion historian Olivier Saillard, the bikini is perhaps the most popular type of female beachwear around the globe because of "the power of women, and not the power of fashion". As he explains, "The emancipation of swimwear has always been linked to the emancipation of women." The bikini has boosted spin-off services like bikini waxing and the suntanning industries.
Etymology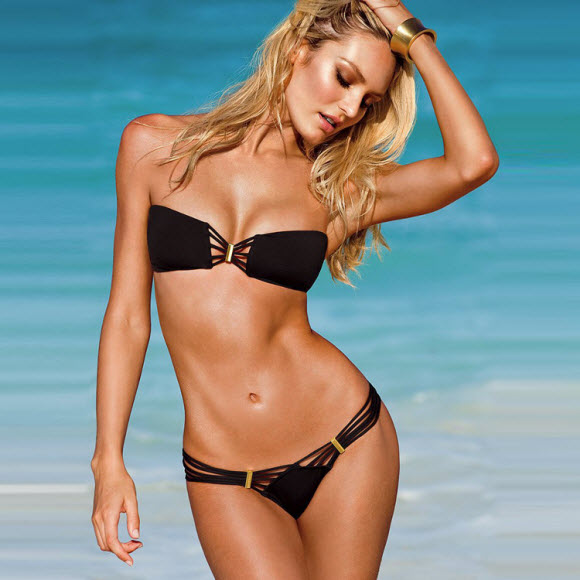 While the two-piece swimsuit as a design existed in classical antiquity, the modern design first attracted public notice in Paris on July 5, 1946. French mechanical engineer Louis Réard introduced a design he named the "bikini," borrowing the place name of the Bikini Atoll in the Pacific Ocean, where, four days earlier, the United States had conducted its first peace-time nuclear weapons test, part of Operation Crossroads. The island's English name is derived from the German colonial name Bikini, given the atoll when it was part of German New Guinea, which itself is transliterated from the Marshallese name for the island, Pikinni, ([pʲi͡ɯɡɯ͡inʲːii̯]), meaning surface of coconuts.
Réard named his design the "bikini" because he hoped its revealing style would create an explosive commercial and cultural reaction, similar in intensity to society's response to the nuclear test on the atoll. Réard's name stuck with the media and public.
Through inappropriate analogy with words like bilingual, bifocal and bilateral, which contain the Latin prefix "bi-" (meaning "two" in Latin), the word bikini was first misinterpreted as consisting of two parts, [bi + kini] by Rudi Gernreich when he designed the monokini in 1964. Later swimsuit designs like the tankini and trikini were also named based on the erroneous assumption that the "bi-" in bikini denotes a two-piece swimsuit. These new coinages falsely presumed that the back-formation [bi + kini] was purposeful.
History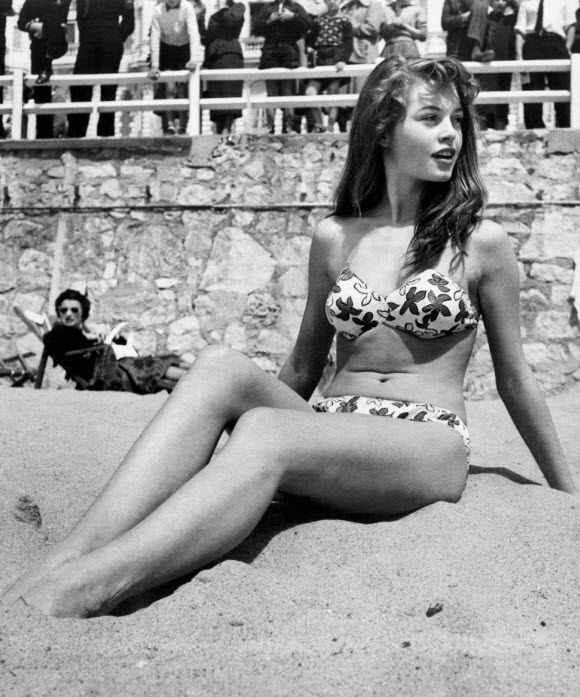 Origin
The origins of the bikini can be traced to antiquity, in Çatalhöyük and the Greco-Roman world. In the Coronation of the Winner, a mosaic in the floor of a Roman villa that dates from the Diocletian period (286–305 AD), young women appear in bikini-like garments playing sports including weight-lifting, discus throwing, running and ball-games. The mosaic, which is located in the Sicilian Villa Romana del Casale, features ten maidens who have been dubbed the "Bikini Girls". Other Roman archeological finds, particularly in Pompeii, depict the goddess Venus in a bikini. A statue of Venus wearing a bikini was found in a cupboard in the southwest corner of Casa della Venere, while others were found in the front hall. Another statue of the bikini-clad Venus was recovered from the tablinum of the House of Julia Felix, and yet another was unearthed from an atrium in the garden of Via Dell'Abbondanza.
Bikini precursors
In 1907, Australian swimmer and performer Annette Kellerman was arrested on a Boston beach for wearing a form-fitting one-piece swimsuit—a style that was acceptable beach attire only three years later. In 1913, inspired by the debut of women's Olympic swimming the previous year, designer Carl Jantzen made the first functional two-piece swimwear, a close-fitting one-piece with shorts on the bottom and short sleeves on top.
By the 1930s, necklines had plunged at the back, sleeves disappeared, and sides were cut away. Hollywood endorsed the new glamour with films such as Neptune's Daughter in which Esther Williams wore provocatively named costumes such as "Double Entendre" and "Honey Child". With new materials like latex and nylon, by 1934 the swimsuit started hugging the body and had shoulder straps to lower for tanning. By the early 1940s two-piece swimsuits were frequent on American beaches. Hollywood stars such as Ava Gardner, Rita Hayworth, Lana Turner, Elizabeth Taylor, Tina Louise, and Marilyn Monroe wore photographed wearing bikinis. Pin ups of Hayworth and Esther Williams in the costume were widely distributed.
The modern bikini
The modern bikini design was first introduced during the 20th century by fashion designer Jacques Heim, who owned a beach shop in the French Riviera resort town of Cannes. In May 1946, he began advertising a two-piece swimsuit that he named the "Atome," the world's "smallest bathing suit".The bottom of his design was just large enough to cover the wearer's navel. To promote his new design, Heim hired skywriters to fly above the Mediterranean resort advertising the Atome as "the world's smallest bathing suit."
Louis Réard, a French mechanical engineer, was running his mother's lingerie business near Les Folies Bergères in Paris. He noticed women on St. Tropez beaches rolling up the edges of their swimsuits to get a better tan which inspired him to produce his new design. Not to be outdone by Heim, he hired his own skywriters three weeks later to fly over the French Riviera advertising his design as "smaller than the smallest bathing suit in the world."
Réard's design was a string bikini consisting of four triangles made from only 30 square inches (194 cm2) of fabric printed with a newspaper pattern. When Réard sought a model to wear his design at its debut presentation, none of the usual models would wear the suit, so he hired 19 year old nude dancer Micheline Bernardini from the Casino de Paris to model it. He introduced it to the media and public in Paris on July 5, 1946 at Piscine Molitor, a public pool in Paris. It was a shocking swimsuit design that for the first time revealed the wearer's navel.
Heim's design was the first to be worn on the beach, but the name given by Réard is the one that stuck. Despite significant social resistance, Réard received more than 50,000 letters from fans. He also initiated a bold ad campaign that told the public a two-piece swimsuit was not a genuine bikini "unless it could be pulled through a wedding ring." According to Kevin Jones, curator and fashion historian at the Fashion Institute of Design & Merchandising, "Réard was ahead of his time by about 15 to 20 years. Only women in the vanguard, mostly upper-class European women embraced it."
Social resistance
sales did not pick up around the world as women stuck to traditional two-piece swimsuits. Réard went back to designing orthodox knickers to sell in his mother's shop. In 1950, Time magazine interviewed American swimsuit mogul Fred Cole, owner of Cole of California, and reported that he had "little but scorn for France's famed Bikinis." One writer described it as a "two-piece bathing suit which reveals everything about a girl except for her mother's maiden name." Modern Girl Magazine, a fashion magazine from the United States, was quoted in 1957 as saying: "it is hardly necessary to waste words over the so-called bikini since it is inconceivable that any girl with tact and decency would ever wear such a thing".
In 1951, the first Miss World contest, originally the Festival Bikini Contest was organized by Eric Morley as a mid-century advertisement for swimwear at the Festival of Britain. The press welcomed the spectacle and referred to it as Miss World, and Morley registered the name as a trademark. When, the winner Kiki Håkansson from Sweden, was crowned in a bikini, countries with religious traditions threatened to withdraw delegates. The bikinis were outlawed and evening gowns introduced instead. Håkansson remains the only Miss World crowned in a bikini, a crowning that was condemned by the Pope. Bikini was banned from beauty pageants around the world after the controversy.
Feminist groups published fliers against bikinis in the contest in 1970. The National Legion of Decency pressured Hollywood to keep bikinis from being featured in Hollywood movies. The Hays production code for US movies, introduced in 1930 but not strictly enforced till 1934, allowed two-piece gowns but prohibited navels on screen. The swimsuit was declared sinful by the Vatican and was banned in Spain, Portugal and Italy, three countries neighboring France, as well as Belgium and Australia, and it remained prohibited in many US states.As late as 1959, Anne Cole, one of the United State's largest swimsuit designers, said, "It's nothing more than a G-string. It's at the razor's edge of decency."
Rise to popularity
In 1952, actress Brigitte Bardot wore a bikini in Manina, the Girl in the Bikini (1952) (released in France as Manina, la fille sans voiles), a film which drew considerable attention due to her scanty swimsuit. During the 1953 Cannes Film Festival, she worked with her husband and agent Roger Vadim, and garnered a lot of attention when she was photographed wearing a bikini on every beach in the south of France. She continued to gain the limelight with …And God Created Woman (1956) (released in France as Et Dieu, Crea La Femme). Bardot portrayed an immoral teenager cavorting in a bikini who seduces men in a respectable small-town setting. Bardot's appearance in a bikini in the film received wide attention and the film was an international success.
Though a success in postwar France, Americans deemed the bikini too risqué until Hollywood stars like Rita Hayworth and Ava Gardner were photographed wearing them. Brian Hyland's novelty-song hit Itsy Bitsy Teeny Weenie Yellow Polka Dot Bikini became a Billboard No. 1 hit during the summer of 1960. The song tells a story about a young girl who's too shy to wear her new bikini on the beach at a time when bikinis were still considered risqué. In 1962, Playboy featured a bikini on its cover for the first time. Two years later, in 1964, Sports Illustrated editor Andre Laguerre couldn't find a story for the cover and and asked fashion reporter Jule Campbell to help find a model for the cover. She found Berlin-born fashion model Babette March and featured her on the cover wearing a white bikini wading in the surf on Cozumel, Mexico. The issue was the first Swimsuit Issue. It gave the bikini legitimacy, became an annual publication and an American pop-culture staple, and sells millions of copies each year.
Ursula Andress, appearing as Honey Rider in the 1962 James Bond film, Dr. No, wore a white bikini (also known as the "Dr. No bikini"). It is cited as the most famous bikini of all time and an iconic moment in cinematic and fashion history. Andress said that she owed her career to that white bikini, remarking, "This bikini made me into a success. As a result of starring in Dr. No as the first Bond girl, I was given the freedom to take my pick of future roles and to become financially independent."In 2001, Andress sold the Dr. No bikini she wore in the film at auction for £35,000 ($61,500).
In 1965, a woman told Time it was "almost square" not to wear one. In 1967 the magazine wrote that "65% of the young set had already gone over." Raquel Welch wore a deer skin bikini in One Million Years B.C. (1966) that made her an instant pin-up girl. Welch was featured in the studio's advertising as "wearing mankind's first bikini" and the bikini was later described as a "definitive look of the 1960s". In 2011, Time listed Welch's B.C. bikini in the "Top Ten Bikinis in Pop Culture".
The film An Evening in Paris (1967), is mostly remembered because Bollywood actress Sharmila Tagore was the first Indian actress to wear a bikini in a film. She also posed in a bikini for the glossy Filmfare magazine. The costume shocked the conservative Indian audience, but it also set a trend of bikini-clad actresses carried forward by Zeenat Aman in Heera Panna (1973), Dimple Kapadia in Bobby (1973), Qurbani (1980), and Parveen Babi in Yeh Nazdeekiyan (1982). In 1997, the Miss America Pageant allowed contestants for the first time to wear two-piece swimsuits.
Mass acceptance
By 1988 the bikini made up nearly 20% of swimsuit sales, more than any other model in the US. That year, Réard's company folded in France, four years after his death. The "-kini family" (as dubbed by author William Safire), including the "-ini sisters" (as dubbed by designer Anne Cole) has grown to include a large number of subsequent variations, often with a hilarious lexicon — string bikini, monokini or numokini (top part missing), seekini (transparent bikini), tankini (tank top, bikini bottom), camikini (camisole top and bikini bottom), hikini, thong, slingshot, minimini, teardrop, and micro. In just one major fashion show in 1985, there were two-piece suits with cropped tank tops instead of the usual skimpy bandeaux, suits that are bikinis in front and one-piece behind, suspender straps, ruffles, and daring, navel-baring cutouts. To meet the fast changing tastes, some of the manufacturers have made a business out of making made-to-order bikinis in around seven minutes.
By the end of the century, the bikini went on to become the most popular beachwear around the globe, according to French fashion historian Olivier Saillard due to "the power of women, and not the power of fashion". As he explains, "The emancipation of swimwear has always been linked to the emancipation of women", though one survey tells 85% of all bikinis never touch the water.Actresses in action films like Charlie's Angels: Full Throttle and Blue Crush have made the two-piece "the millennial equivalent of the power suit", according to Gina Bellafonte of The New York Times,According to Beth Dincuff Charleston, research associate at the Costume Institute of the Metropolitan Museum of Art, "The bikini represents a social leap involving body consciousness, moral concerns, and sexual attitudes." By the early 2000s, bikinis had become a US$811 million business annually, according to the NPD Group, a consumer and retail information company, and had boosted spin-off services like bikini waxing and the sun tanning industries.
Bikini variants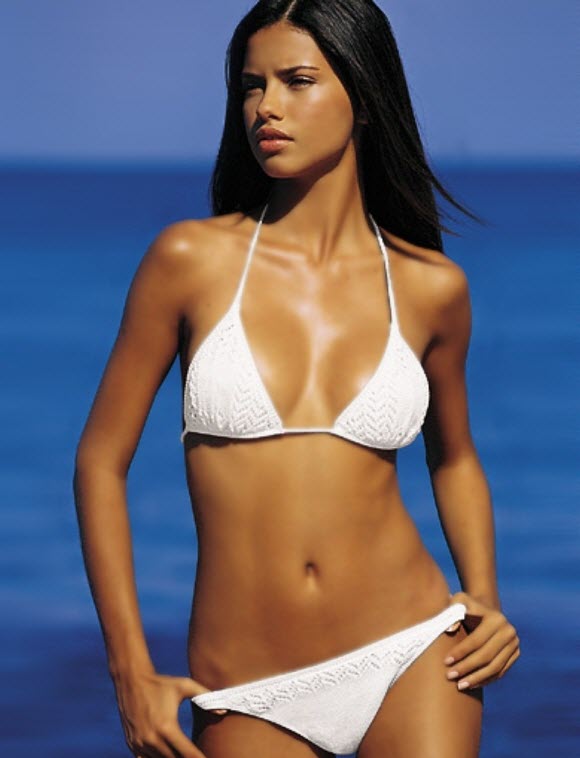 A bikini design today is characterized by its simple, brief design: two triangles of fabric that form a bra and cover the woman's breasts and two triangles of fabric on the bottom forming a panty cut below the navel that cover the groin in front and the buttocks in back. The amount of coverage can vary widely, from a string bikini with very little coverage to a full design with maximum coverage. A topless swimsuit may still be considered a bikini, although technically it is no longer a two-piece swimsuit.
The bikini has spawned many stylistic variations and an array of spinoff styles like the "monokini" (single, topless swimsuit), "seekini" (transparent swimsuit), "tankini" (tank top and a bikini bottom), "camikini" (camisole top and bikini bottom), "granny bikini" (bikini top and boy shorts bottom), and "hikini".
The "-kini family" (as dubbed by author William Safire), including the "-ini sisters" (as dubbed by designer Anne Cole) has grown to include a large number of subsequent variations, often with a hilarious lexicon — string bikini, monokini or numokini (top part missing), seekini (transparent bikini), tankini (tank top, bikini bottom), camikini (camisole top and bikini bottom), hikini, thong, slingshot, minimini, teardrop, and micro. In just one major fashion show in 1985, there were two-piece suits with cropped tank tops instead of the usual skimpy bandeaux, suits that are bikinis in front and one-piece behind, suspender straps, ruffles, and daring, navel-baring cutouts. To meet the fast changing tastes, some of the manufacturers have made a business out of making made-to-order bikinis in around seven minutes.The world's most expensive bikini was designed in February 2006 by Susan Rosen. The bikini, made up of over 150 carats (30 g) of flawless diamonds, was worth a massive £20 million.
Bikini tops
There are four fundamental types of bare-midriff bikini tops: the brassière, halter, bandeau, and vest. These styles are differentiated by the number of shoulder straps and the resultant number of edges to the garment. Some of these tops include a halter-style neck strap that offers more coverage and support, a strapless bandeau, a rectangular strip of fabric covering the breasts that minimizes large breasts, a top with cups similar to a push-up bra, and the more traditional triangle cups that lift and shape the breasts.
Bikini bottoms
Bikini Science identifies 30 different types of bikini bottoms that vary in style, cut and the amount of rear coverage they offer. The coverage ranges from full, as in the case of more modest bottom pieces like briefs, shorts, or briefs with a small skirt-panel attached, to almost none (full exposure), as in the case of the thong bikini.Skimpier styles have narrow sides, including V-cut (in front), French cut (with high-cut sides) and low-cut string (with string sides). In just one major fashion show in 1985 were two-piece suits with cropped tank tops instead of the usual skimpy bandeaux, suits that are bikinis in front and one-piece in back, suspender straps, ruffles, and daring, navel-baring cutouts. Subsequent variations on the theme include the monokini, tankini, string bikini, thong, slingshot, minimini, teardrop, and microkini.
Bikini underwear
Types of underwear worn by both men and women are identified as bikini underwear, similar in size and revealing nature to the bottom half of a bikini bathing suit. For women, bikini underwear can refer to virtually any tight, skimpy, or revealing undergarment that provides less coverage to the midsection than traditional underwear, panties or knickers. For men, a bikini is a type of undergarment that is smaller and more revealing than men's briefs.
Materials
Modern bikinis were first made of cotton and jersey. When DuPont introduced Lycra (spandex), it completely changed how suits were designed and who could wear them. "The advent of Lycra allowed more women to wear a bikini," said Kelly Killoren Bensimon, a former model and author of The Bikini Book. "It didn't sag, it didn't bag, and it concealed and revealed. It wasn't so much like lingerie anymore."
The fabrics and other materials used to make bikinis are an essential element of their style and crucial modifiers of swimsuit design. Bikinis have been made out of just about every material known.The use of cotton made the swimsuit more practical, and the increased reliance on stretch fabric after 1960 simplified construction; alternative swimwear fabrics such as velvet, leather, and crocheted squares surfaced in the early '70s.
Sports bikini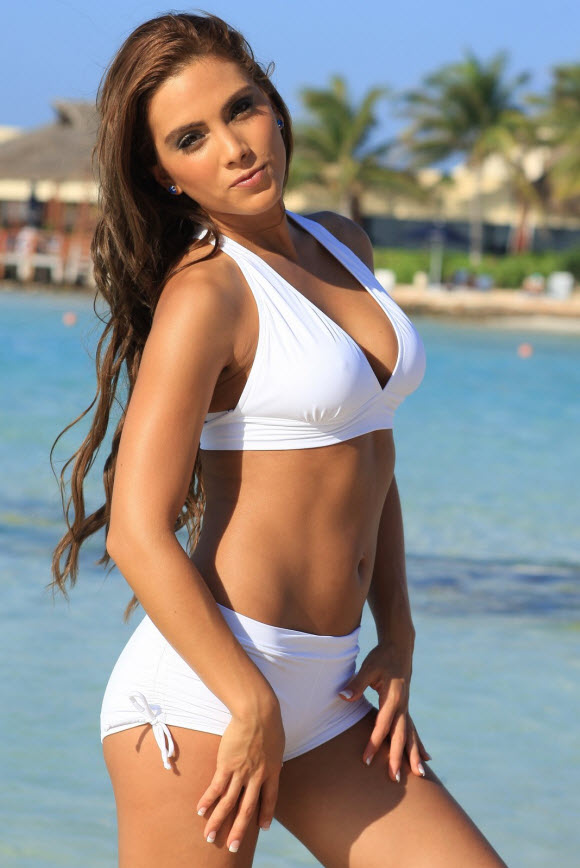 There is evidence of ancient Roman women playing Expulsim Ludere, an early version of handball.Skimpy bikinis have become a major component of marketing various women's sports, raising some objections. The bikini is an offcial uniform for beach volleyball, and is widely worn in athletics.
Beach volleyball
In 1994, the bikini became the official uniform of women's Olympic beach volleyball, with some sports officials considering it exploitative and unpractical in colder weather, Competitors such as Natalie Cook[ and Holly McPeak agree with the FIVB's statements that the uniforms are practical for a sport played on sand during the heat of summer, but British Olympian Denise Johns argues that the regulation uniform is intended to be "sexy" and to draw attention.
In 1999, the International Volleyball Federation (FIVB) standardized beach volleyball uniforms, with the swimsuit becoming the required uniform both for men and women. This drew the ire of some athletes. According to FIVB rules, female beach volleyball players have the option of playing in shorts or a one-piece swimsuit. Most players, however, prefer the two-piece bikini. In early 2012, the International Volleyball Federation announced it will allow shorts (maximum length 3 cm (1.2 in) above the knee) and sleeved tops at the London 2012 Olympics. Richard Baker, the federation spokesperson, said that "many of these countries have religious and cultural requirements so the uniform needed to be more flexible". At the time of the event, the weather at the evening games in London during 2012 was so cold that the players sometimes had to wear shirts and leggings. At the 2006 Asian Games at Doha, Qatar, only one Muslim country fielded a team in the beach volleyball competition because of concerns that the uniform was inappropriate. The Iraqi team refused to wear bikinis.
Dancers, sex appeal and bikinis worn by women players as much as athletic ability made beach volleyball the fifth largest television audience of all the sports at the Games at Bondi Beach in Australia in 2000 Olympics. Kimberly Bissell conducted a study on the camera angles used during the 2004 Summer Olympic Games beach volleyball games. Bissell found that 20% of the camera angles were focused on the women's chest and 17% were focused on their buttocks. Bissell theorized that the appearance of the players draws fans attention more than their actual athleticism. The popularity of Dead or Alive: Xtreme Beach Volleyball, a video game for Xbox, was attributed to the scantily clad women. In 2007, fans voted for contestants in the WWE Diva contest after watching them playing beach volleyball in skimpy bikinis.
During the 2004 Olympics, an exotic dance team from the Canary Islands entertained fans but drew some criticism from female competitors. During breaks in between points and matches, the group, wearing bikinis, raced on to the sand and danced to techno-pop music. Australian athlete Nicole Sanderson commented, "It's kind of disrespectful to the female players. I'm sure the male spectators love it, but I find it a little bit offensive."
Athletics
Often the women in athletics also wear bikinis, not much larger than in beach volleyball. Amy Acuff, a US high-jumper, wore a black leather bikini instead of a track suit, at Sydney 2000 Summer Olympics. Runner Florence Griffith-Joyner mixed bikini bottoms with one-legged tights in Seoul 1988 Summer Olympics, which earned her more attention than her record breaking in Women's 200 meters. Towns like Porto Seguro in Brazil has become an attraction for beach athletics in bikini for the tourists.
In the 2004 and 2008 Olympic Games, inclusion of bikini-clad athletes raised eyebrows. In the 2007 South Pacific Games, the rules were adjusted to allow players to wear less revealing shorts and cropped sports tops instead of bikinis. At the West Asian Games in 2006, organizers banned bikini-bottoms for female athletes and asked them to wear long shorts.
Other sports
String bikinis and other skimpy clothes are also common in surfing. During the Ocean Pacific Pro Surfing Championships in 1983 and in 1986 at Huntington Beach, a disturbance broke out when men tried to pull the bikinis off of women on the beach and at a bikini competition. In 2001, Vicky Botwright, then 16th seeded in women's squash circuit and dubbed as the 'Lancashire Hot Bot', was prohibited by Women's International Squash Players Association (WISPA) to wear her trademark outfit, a thong and a sports bra, in the British Open Championships. In 2004, Alexander Putnam competed in the London Marathon in a green thong and painted as a tropical tree to protest against logging in Congo.
Female bodybuilders in America are prohibited from wearing thong or T-back swimsuits if contests are being filmed for television, though they are allowed to do so by certain fitness organizations. The University of California 4-H program specifically forbids "string, thong or crochet" swimsuits for women. For men, the dress code specifies "swim trunks only (no shorts, cut-off pants, or Speedos)." A similar policy by Virginia FCCLA bans "skimpy bikini or thong type suits" for women and specifies "swim trunks" for men ("no speedos").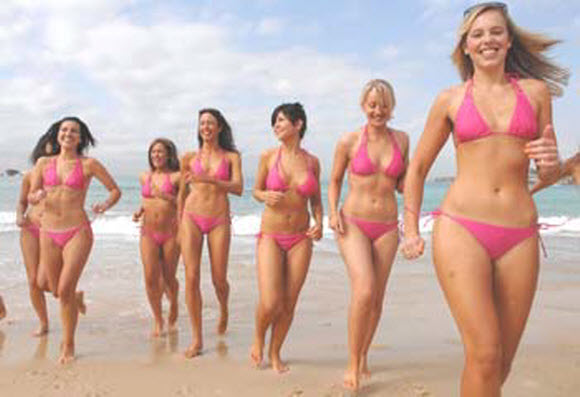 Cultural differences
Different cultures have varying opinions and values, including formal and informal dress codes, that influence when a girl or woman can or should wear a bikini. In Dubai during 2010, a British woman was visiting The Dubai Mall, fully dressed but wearing a low-cut top, when she was accosted by an Arabic woman who criticized her for wearing 'revealing clothing'. In anger, the British woman took off her clothes to reveal a bikini underneath and wore it through the five-star shopping mall. Dubai is a conservative Muslim country. Security guards at the mall detained the woman and called police who arrested the woman, charging her with public indecency. The charges were later dismissed.
In the Philippines, a picture of two female college students was posted by a friend on Facebook. The girls were wearing bikinis and one of them was also holding a bottle of liquor and a cigarette. In March 2012, St. Theresa's College in Cebu barred the students from attending their graduation ceremony. They cited a rule in the student handbook that bar students from posting photos that display "ample body exposure." The students filed suit complaining that had not been given due process and their freedom of expression had been violated. They won a temporary stay in a regional court.
In April 2004, responding to protests by followers of Buddhism, Victoria's Secret withdrew a bikini design that featured images of Buddha. Buddhists were again upset in 2005, when organizers of Miss Universe photographed bikini-clad contestants in front of Buddhist religious sites in Thailand.[ In May 2011, Barcelona, Spain made it illegal to wear bikinis in public except in areas near the beaches. Violators face fines of between 120 and 300 euros.
Bikini-related wardrobe malfunctions including wedgies, whale tails or bikini tops falling off have also stirred controversies.
Advertising standards
In June 2013, the British watchdog agency Advertising Standards Authority banned a commercial starring Pamela Anderson from the air after four viewers complained of offensive content. In the ad, Pamela and another woman are shown in business suits displaying a lot of cleavage, and then in a fantasy sequence, Anderson and her co-worker are wearing gold bikinis while writhing and splashing cream over each other. The watchdog agency agreed that the depiction of the women was "intended as a parody," but said it portrayed female workers as "sexual objects to be lusted after" and "was likely to cause serious offense to some viewers on the basis that it was sexist and degrading to women."
In Leesburg, Florida, an ad featuring a woman in a bikini provoked a shouting match between a resident and a city commissioner who felt the ad was too racy and would be confused with a scholarship pageant.
Age appropriateness
There is some controversy over what age is appropriate to both begin and stop wearing a bikini. A 2011 survey, conducted by Diet Chef in the United Kingdom, asked 2000 women when women should stop wearing certain kinds of fashion, including bikinis. The respondents surveyed felt that women should stop wearing a bikini at age 47. The Today Show posted a similar online survey on May 13, 2011 asking if women over the age of 47 should stop wearing bikinis. Sixty-seven percent of respondents voted for "No. Rock it if you've got it."
In June 2013, actress Gwyneth Paltrow, who also is interested in fashion, produced a bikini for her clothing line that is designed to be worn by girls 4 to 8 years old. She was criticized for sexualizing young children by Claude Knight of Kidscape, a British foundation that strives to prevent child abuse. He commented, "We remain very opposed to the sexualisation of children and of childhood…. is a great pity that such trends continue and that they carry celebrity endorsement."
Legal issues
In Atlanta, Georgia, a school administrator used a photo of a 17 year old student in a bikini without her permission to make a point during a school presentation to parents and students about the danger of social media. Chelsea Chaney, who was currently attending the school, had posted the relatively tame photo of her on vacation on her Facebook page, believing that it would only be visible to friends. The school's director of technology copied the photo from the girl's Facebook account and included her real name. He captioned the photo for his presentation, "Once it's there, it's there to stay." He was emphasizing that personally embarrassing photos that students post online can negatively affect them later in life. The family sued the Fayette County School District asking for $2 million for its unauthorized use of the picture as well as defamation and violation of her right to privacy. The suit alleges that the district violated federal law, state law and Chaney's constitutional rights. The Cheney family said that the district presentation suggested that "Chelsea is a promiscuous, abuser of alcohol."
Four women were arrested over the 2013 Memorial Day weekend in Myrtle Beach, North Carolina for indecent exposure when they wore thong bikinis that exposed their buttocks.
In Yaphank, Long Island, Robin Corrente suffered a second degree burn when she wore an old swimsuit that contained underwire in the bra cups. She sued the manufacturer, Fire Island swimsuit, Swimwear Anywhere, in New York Supreme Court.
Miss World pageant
The bikini was worn by the first winner of the Miss World contest in London in 1951, Kiki Håkansson of Sweden. Her actions were condemned by Pope Pius XII who declared the swimsuit to be sinful. Catholic-majority countries like Belgium, Italy, Spain and Australia also banned the swimsuit that year. Hakansson became the first and last Miss World to be crowned in her bikini.
Bikinis reappeared in later contests amid additional controversy. In the 1970s and 1980s the contest was regularly picketed by feminist protestors. The pageant disappeared for a while and in 1996, when the Miss World contest was held in Bangalore, India, dozens of Indian groups who opposed the event claimed that the contest degraded women by featuring them in bikinis. Social activist Subhashini Ali commented, "It's not an IQ test. Neither is it a charity show. It's a beauty contest in which these things have been added on as sops." The protests were so intense that the organizers were finally compelled to shift the venue of the "Swimsuit Round" to Seychelles. Countering these claims, the contest organizer says that the organization has raised ₤300 million for charity in many of the countries where it operates since 2000.
In 2013, the Miss World event is to be hosted by Indonesia, the world's largest Muslim-majority country. The country's top Muslim clerical body, the Indonesian Ulema Council, suggested that the event should be cancelled because it promotes "hedonism, materialism, and consumerism," and is nothing but "an excuse to show women's body parts that should remain covered." The organizers later announced that the bikini would be replaced by one-piece swimsuits and even sarongs, traditional beachwear on the resort island of Bali. Critics accuse the Miss World organizers of caving to extremist pressures. They point out that Bali is a destination for tourists from across the world who often wear minimal swimwear.
Miss Earth contest
Vida Samadzai was the 2003 Afghani contestant for the Miss Earth title. She was severely condemned by the both Afghan authorities and community for seeking the title.Samadzai was born in Afghanistan but raised in the United States. She was living in India at the time of the contest. The Afghan Supreme Court banned swimsuit contests and said that appearing naked in beauty contests is completely un-Islamic, and is against Afghan tradition, human honour and dignity. Habiba Sarabi, the Afghan women affairs minister, said Samadzai's semi-naked appearance "is not women's freedom but in my opinion is to entertain men". Afghanistan's embassy in Washington DC declared that claims by Afghan American Samadzai to represent Afghanistan is baseless. Samadzai, the second woman to be crowned Miss Afghanistan after Zohra Daoud's crowning in 1972, received a number of death threats and had to be under the protection of FBI for three months. She said she was a bit uncomfortable wearing the "70s style red bikini" and was aware of the risks involved.
Health issues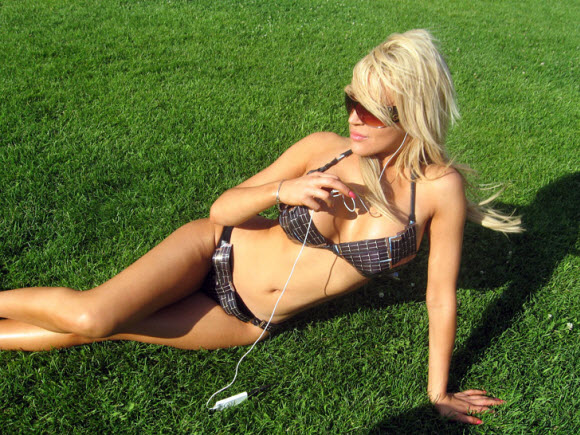 Wearing a bikini exposes large amounts of skin to potentially dangerous UVB light. Overexposure to UVB radiation can cause sunburn and some forms of skin cancer, among other harmful effects.In humans, prolonged exposure to solar UV radiation may result in acute and chronic health effects on the skin, eye, and immune system. Moreover, UVC radiation can cause adverse effects that can be mutagenic or carcinogenic. On April 13, 2011, the International Agency for Research on Cancer of the World Health Organization classified all categories and wavelengths of ultraviolet radiation as a Group 1 carcinogen, meaning there is enough evidence to conclude that it can cause cancer in humans.
As a result, medical organizations recommend that bikini-wearers protect themselves from UV radiation by using sunscreen, which contain ingredients that have been shown to protect mice against skin tumors. However, some sunscreen chemicals produce potentially harmful substances if they are illuminated while in contact with living cells, and the quantity of sunscreen that penetrates the skin may be sufficient to cause damage.
People who wax or shave their bikini areas also face the risk of folliculitis, an infection around the hair follicle. Some of these infections can develop into more serious abscesses that require incision with a scalpel, drainage of the abscess, and antibiotics. Staphylococcus aureus is the most common cause of folliculitis. Family physician Emily Gibson, M.D. expresses the view that shaving pubic hair "removes a cushion against friction, leaves microscopic open wounds and exposes you to infections".
A study originating in Nice, France, also found an association between pubic hair removal and an increased risk of sexually transmitted Molluscum contagiosum, a skin virus causing raised bumps or growths.
The body ideal
In the 1960s Emily Post decreed, "(A bikini) is for perfect figures only, and for the very young." In The Bikini Book by Kelly Killoren Bensimon, responding to a question on who should not wear a bikini, swimwear designer Norma Kamali says, "Anyone with a tummy." Since then, a number of bikini designers including Malia Mills have encouraged women of all ages and body types to take up the style. The 1970s saw the rise of the lean ideal of female body and figures like Cheryl Tiegs, who possessed the figure that remains in vogue today. The fitness boom of the 1980s led to one of the biggest leaps in the evolution of the bikini. According to Mills, "The leg line became superhigh, the front was superlow, and the straps were superthin." Women's magazines used terms like "Bikini Belly",workout programs were launched to develop a "bikini-worthy body", while the tiny "fitness-bikinis" made of lycra were launched to cater to the hardbodied ideal. The ideal was carried further by models like Elle Macpherson, featured six times on the cover of Sports Illustrated Swimsuit Issue. In 1993, Suzy Menkes, then Fashion Editor of the International Herald Tribune, suggested that women had begun to "revolt" against the "body ideal" and bikini "exposure." She wrote:
So exposure has become an issue. It is as if the sexy stretch outfits, the bras, corsets and carelessly revealed flesh of the 1980's reached a flood tide that is now on the ebb. Faced with the sexpot supermodels and the cult of body consciousness, women have begun to stage a silent revolt, offering passive resistance to the concept that if you've got it, you have to flaunt it. Significantly, on the beaches as on the streets, some of the youngest and prettiest women (who were once the only ones who dared to bare) seem to have decided that exposure is over.
Nevertheless, professional beach volleyball player Gabrielle Reece, who competes in a bikini, claims that "confidence" alone can make a bikini sexy.