With trick-or-treating in the bag, people are starting to gear up for the busy holiday season that's just around the corner. Buying gifts, attending holiday parties and finding that perfect holiday dress are all on the agenda. And while this time of year can be stressful, attending holiday parties and feeling fantastic in your dressy clothes shouldn't be.
To ensure that you look your absolute best in your holiday party dress, it's imperative to choose the perfect bra to wear underneath. Unsightly bra straps, exposed bras that aren't pretty enough to be shown, strapless bras that fall down, or worst of all – going without any bra at all — are a few of the pitfalls to avoid when choosing lingerie to pair with your dress.
Knowing what lingerie to wear underneath a party dress is a perplexing complication in the shopping process for many women. In fact, some women turn down an otherwise fabulous dress simply because they don't know what bra to wear with it. But rest assured, finding a great bra doesn't have to be difficult. The following guidelines will lead you in the right direction toward finding the ideal bra this holiday season.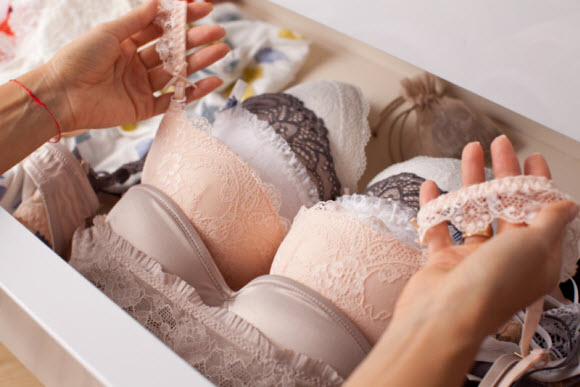 Straps
If you have a strapless dress, the most obvious and safe choice is a strapless bra. Many convertible bras have removable straps, so you may have one in your lingerie collection already that will work.
Bras that have decorative straps with embroidery or lace can look very pretty showing underneath a strapless dress or under the straps of a dress. The important thing here is to stay with the same color family of your dress. In other words, a black lace bra strap showing underneath a black cocktail dress looks sophisticated – a fuchsia bra strap does not. Likewise, consider the style you are conveying with your ensemble as well as the event you're attending. If the event is an office party and your overall look is classic and sophisticated, revealing your bra straps may not be the best choice.
Padding
The amount of padding to choose is mainly a question of personal preference. Some women like to feel more natural and opt for a lightly padded bra such as a bralette or other bra with minimal padding. If you are a woman with a petite bust, there are many options available in the Petite Lingerie market that will enhance what you have and make fitting into a holiday dress easier. For point of reference, Petite Lingerie is made specifically for women with AA bra cup sizes, A bra cup sizes or B bra cup sizes.
If you have a petite bra cup size and prefer a bra with more padding for your holiday dress, look for a push-up bra that has padded inserts or "bumps" that push breast tissue up and in, therefore creating maximum cleavage. No matter how padded your push-up bra is, make sure it is comfortable and fits you properly in the cups and band.
Color
When choosing a bra for your holiday dress, it is important to coordinate the bra color with that of your dress. For example, a black bra is likely to show through a lighter color dress. Contrary to popular belief, a nude bra is the best option to wear under anything white, rather than a white bra. The closer the shade of nude is to your skin, the more the bra will disappear under your clothing.
Bra Cups
If your dress has light or smooth material such as silk or satin, you will want a smooth cup bra (T-shirt bra) with no lace on the cups since any texture on the bra will show through your dress. In the case of a dress with heavier material or texture such as ruffles or faux fur at the bust area, you can play around with the texture of your bra since this area will be concealed. In this case, lace bras or bras with ornate embroidery are fine choices.
Design
Depending on the cut and design of your holiday dress, you may need to select a specialty bra such as one of the following:
Plunge Bras: For low-cut dresses you will want to select a plunge bra that is cut in a "v" shape to ensure that your bra doesn't peek out in front.
Strapless Bras: Ideal for strapless dresses, this type of bra can be used for any style dress including halter dresses. Be sure to find one with a proper fit to keep it from slipping down. Also check that the dress does not come down too far in back, therefore revealing your bra band.
Adhesive Bras: For those "tricky" dress styles such as backless designs, you will want an adhesive bra. These backless, strapless, wire-free bras have light adhesive that gently adheres to your breasts without leaving residue. They have a front closure and can be adjusted based on the amount of cleavage desired. Adhesive bras are ideal for dresses that cut lower on the sides or in back.
Convertible Bras: Most convertible bras can be worn traditionally, strapless or halter style, making them ideal for most dress designs. It is wise to have at least one convertible bra in your lingerie collection because it can be useful for a variety of clothing styles.
Bralettes: If comfort and coverage are your top priorities, a lace bralette is a great option for your holiday dress. This bra style is designed like a camisole and is perfect when the cut of the dress is lower than you prefer. These lightly padded, wire-free bras are extremely comfortable, plus the lace looks pretty and sophisticated underneath a lower neckline. Just be sure to coordinate the color of the lace with your dress. If you have a lower-cut black dress, for example, stick with a black lace bralette.
So there you have it — shopping for a great holiday dress and coordinating bra doesn't have to be stressful, as long as understand what to look for when selecting your lingerie. Follow these guidelines and you'll be on your way to looking and feeling your best this holiday season!