Victoria's Secret angel Miranda Kerr knows a thing or two about wellness.
Between her organic beauty empire, her incredible runway-ready-at-all-times body, and her unwavering zen outlook, the newly-wedmodel is basically the ultimate health paragon.
So you better believe that if she tells us to put rocks in our bras, we're gonna put rocks in our bras.
The 34-year-old spoke to The Cut recently about her holistic life practices, and revealed that one of her tricks is storing a little rose quartz in her bra to encourage self-love.
"Rose quartz, […] is my all-time favorite crystal. I really notice the difference when I'm holding it. I keep one in my handbag. I have a small heart-shaped one I put in my bra. It's known to encourage love (like self-love) in your life and open the heart chakra. It's supposed to have healing and protecting powers," she told the publication.
"It's a tiny little one in the shape of a heart. It's been buffed a little. One day I was carrying it and then, I thought I really should just put it on my bra on my left side, near my heart. And that felt good.
"I know it sounds crazy. But I feel as human beings, that we either come from love or fear. If we have something like that little reminder, like rose quartz, to always come from love and not from fear, it's a much more expansive place to come from."
Kerr has had a life-long fascination with crystals, she reveals. Her connection with them stems from her childhood, when her grandfather used to buy them for her grandmother, and has extended all the way to now, with the model filtering all her Kora Organics beauty products through a rose quartz.
Of course, her commitment to health and wellbeing goes far beyond the occasional crystal recharge. Other practices Kerr swears by include kundalini yoga ("Kundalini helps your nervous system and energize and open the chakras in your body.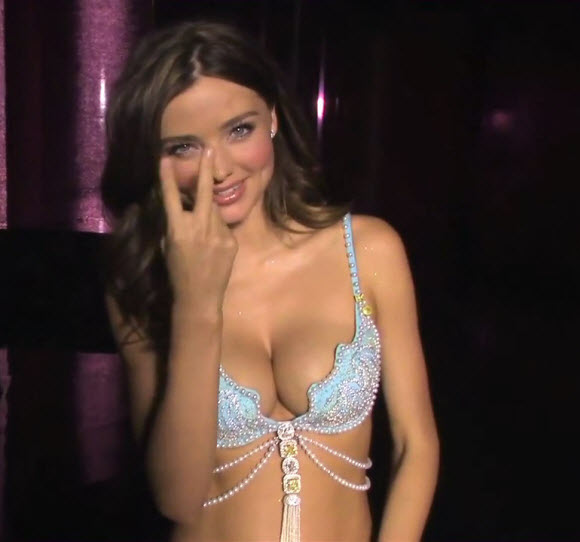 I enjoy the philosophy. If you're consistent with it, it's a powerful practice"); drinking apple cidar vinegar with hot water ("It gets the digestive juices going and it's a good way to flush out your system"); drinking smoothies; and baking pies ("It's worth it in the end to see other people really enjoying something you made").
Whatever she's selling, we're buying.
Source : elle.au