Lady Gaga showed off her extreme confidence to full effect as she literally bared all in scenes from her new Netflix documentary Five Foot Two.
If there's one thing she isn't short on, it's confidence.
And Lady Gaga showed this off to full effect as she literally bared all in scenes from her new Netflix documentary Five Foot Two.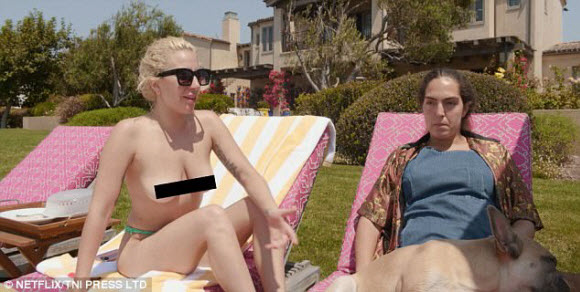 The Born This Way singer, 31, bravely went topless for filming of the hotly anticipated documentary, looking sensational in no more than a green thong bikini bottom and a pair of shades.
Going make-up free for her day sitting on sunloungers with friends, the Bad Romance hitmaker swept her platinum locks up into a low-maintenance ponytail as she chatted without a care in the world.
Showing off her ample assets, toned midriff and slender legs, the star proved she was in fantastic shape as she enjoyed a rare day off from her punishing schedule.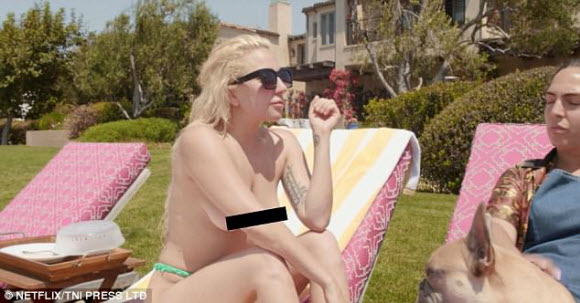 The star also revealed her arm tattoos before letting her hair flow over her shoulders.
Although Gaga, real name Stefani Germanotta, was seemingly unfettered by her scantily-clad display, her friend did make sure to tactfully avert her gaze as they spoke.
Keeping with the no-holds barred vibe of the documentary Gaga later addressed her fallout with Madonna in her documentary admitting she wished the Queen of Pop would tell her she's a 'piece of s***' to her face rather than insulting her on TV.
The Million Reasons songstress has slammed the 59-year-old icon on her for choosing to criticise her through the media rather than dealing with any friction between them in a face-to-face showdown.
Gaga explained: 'The thing with me and Madonna, for example, is that I admired her always and I still admire her no matter what she might think of me. No, I do.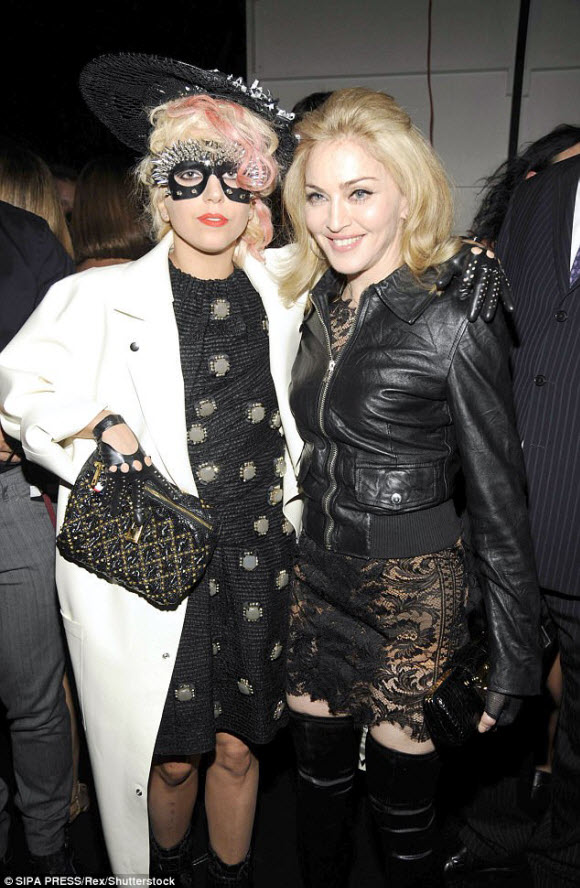 'The only thing that really bothers me about her is that I'm Italian and from New York so, like, if I got a problem with somebody, I'm gonna tell you to your face.
Adding: 'But no matter how much respect I have for her as a performer, I could never wrap my head around the fact that she wouldn't look me in the eye and tell me that I was reductive or whatever… No no no, like I saw it on f***ing TV.
'Telling me that you think I'm a piece of s*** through the media – it's like a guy passing me a note through his friend: "My buddy thinks you're hot, here's his…" F*** you! Where's your buddy f***ing throwing up against the wall and kissing me?'.
Gaga – who was born Stefani Joanne Angelina Germanotta – said that if Madonna has any issues with her or her music, she should have the courage to address the problem head-on.
Speaking in her newly released Netflix documentary, she said: 'I just want Madonna to f**king push me up against the wall and kiss me and tell me I'm a piece of s**t.'
Their budding friendship soured after a promising start in 2009 and in the led up to her new documentary, Gaga revealed in a teaser clip the explanation behind what went wrong between the two.
'The thing with, like, me and Madonna, for example, is that I admired her always. And I still admire her no matter what she may think of me,' the blond tells a friend as they sit on the floor.
Truly a tease, fans will have to wait until the documentary is released to Netflix on September 22.
When Gaga first burst on the music scene, she and Madonna seemed chummy, posing together at a 2009 Marc Jacobs fashion show.
Of the experience, Gaga told Extra: 'I love Madonna, she's even more wonderful in person than I had imagined. She's such a beautiful woman.'
The ladies even went on to have a pretend cat fight for a skit on Saturday Night Live in October of the same year.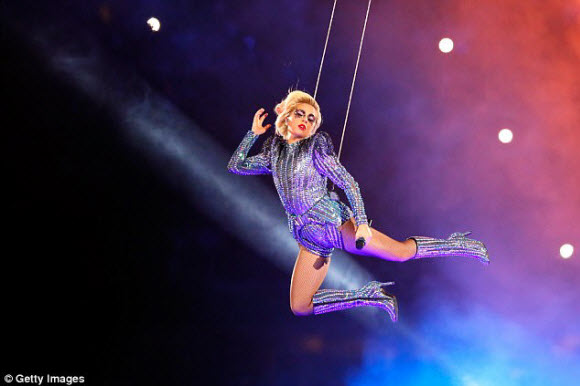 Gaga gushed of working with her idol: 'Madonna's such a pleasure to work with and she's so wonderfully amazing. We had a blast. We were laughing. It was great too because it was our idea to do the whole fight scene
'We thought it would be funny to answer the obvious question that everyone would be wondering…and we get along famously.'
However, relations between the pair went south after Gaga was accused of copying Madonna's song Express Yourself on her 2011 single Born This Way.
When asked by ABC News about the similarities, which were pointed out by many fans on the internet, Madge called the singer 'reductive.'
'Is that good?,' reporter Cynthia McFadden shot back to the short answer.
'Look it up,' the pop queen responded with a sly smile while taking a sip from her tea cup.
Madonna went on to mash up Born This Way with her own 1989 hit that Gaga was accused of copying on her MDNA Tour in 2012.
The ladies appeared to kiss and make up the following year when they were spotted posing together at the Met Gala in a social media photo with Katy Perry, seemingly attempting to prove there was harmony in the pop diva land.
However, in 2016 when Beats 1 Radio DJ Zane Lowe implied to Gaga that she and Madonna had very similar background stories, Gaga seemed annoyed by the comparison that has followed her through her career.
'Madonna and I are very different. I wouldn't make that comparison at all. I don't mean to disrespect Madonna. She's a nice lady. And she's had a fantastic huge career she's the biggest pop star of all time.
'But I play a lot of instruments, I write all my own music. I spend hours and hours a day in the studio. I'm a producer, I'm a writer. What I do is different. I'm not just rehearsing over and over again to put on a show,' she stated dryly.
Based on the clips posted so far, Gaga: Five Foot Two will document the past few months for the superstar, including her Emmy Award-nominated Superbowl Halftime performance in February.
In an audio clip posted to Instagram, she tells fans: 'I have seen a few short clips of the documentary but I have decided to not watch it all the way through, or most of it for that matter, because I can't be objective about myself so you'll see it before I do.'
One clip shows the singer – who stated in 2010 she had tested 'borderline positive' for Lupus – in a doctor's office.
A doctor – who's face is not shown, tells Gaga: 'So phase one is "lets try to get out of this intense pain that's in your face."'
Though it is not confirmed, it is possible Gaga could be suffering from peripheral neuropathies, which is a Lupus-adjacent illness that causes pain of the face.
Lupus runs in the singer's family, her aunt Joanne suffered from the disease.
Gaga named her latest record Joanne in tribute to her father Joe's sister, who died in 1974 at the age of 19, before Gaga was born in 1986.
Despite all of her personal success, she has also faced a few devastating personal lows.
In July of 2016 she confirmed that she and fiance actor Taylor Kinney had ended their engagement, they began dating after he starred in her 2011 music video You And I.
In May of this year, her close friend and executive director Sonja N. Durham died of breast cancer.
Despite addressing loneliness in her documentary, she is reported to be dating agent Christian Carino, who has she been spotted with frequently since they were spotted kissing before the took the stage at the Superbowl in February.
Source : Dailymail