Mădălina Diana Ghenea (8 August 1987, Slatina, Romania) is a Romanian-born actress and model who now lives in Milan, Italy. She rose to fame after she started her acting career in the year 2010.
Early Life
Mădălina Diana Ghenea was born on 8 August 1987 in Slatina, Romania. She is a young actress and famous lingerie model. Ghenea has a younger brother, her mother is a veterinary doctor and her father worked many years in Liman to sustain their family. From an early age she was in the spotlight, taking part in the TV show "Tip Top Minitop". For 7 years, Mădălina took ballet and piano lessons. She graduated from National College "Ion Minulescu" in Slatina and was always aspiring for a career in modeling. She is registered at the Faculty of Psychology and Social Sciences in Bucharest.
Career
She started her career in fashion when she was only 15 years old, and started presenting for the famous designer Gattinoni in Milan, Italy. She participated in famous fashion shows worldwide, Romania, Italy, Germany, Japan, Austria, Spain, France and even South Africa. Among the most popular ads where she appeared include those from known brands like : La Perla, Lovable, Lise Charmel, Peroni, New Yorker, Borghetti, Sloggi, Grimaldi Mare, Max Well, Lormar, Bitter, Primadonna, Quelle, Margherita Mazzei, Lascana, Von Dutch, Parah, Lepel and Hunkemöller. She's one of the world's top lingerie models, posing for Lascana in Italy.
Ghenea appeared on magazine covers in Romania: "The One" March 2012,"Go" April/May /June 2012 and in Italy: "Lady Sposa" 2010.
Madalina is one of the protagonists of the famous calendar Peroni as Miss January 2008.After being selected for the international calendar along with two other top models from MRA agency – Catrinel Menghia and Carmen Prodan, Madalina Ghenea won a video casting for Eros Ramazzotti's latest album called "The New Best" of Eros Ramazzotti – Il tempo tra di noi ". Tryouts took place since the beginning of October in Italy, Germany and France witch was attended by many known models. Ghenea attended in the last-minute with only 1 week before the shooting and she was chosen. The filming took place in Milan, Italy. Madalina has attracted the Romanian media's attention with the release of "Il tempo tra di noi" video song, where she appeared as the girlfriend of the famous singer. The album had a huge success and sold over more than 11 million copys worldwide.
In 2010, she debuts in television and agree to take part in the contest "Ballando con le stelle", her partner becoming Simone Di Pasquale. Since 2011 she is the image of TRE-Italy mobile company and starts filming a commercial with actor Raoul Bova. Also in the same year she became the image of the products of dance clothing DEHA and vintage racing cars Mille Miglia. In 2011 she debuts as an actress in the role of Irina, in the Italian film "I Soliti idioti". Since 2013 she is co-starring in Don Hemingway with Jude Law. She was named one of the most desirable and sexy women of 2012 by Men's website AskMen.com.
Since the age of 15 she worked at four model agency's
AMT Models – mother agency
Major Model Management- New York
Major Model Management- Milan
Personal Life
Mădălina considers herself a citizen of the world, carrying her life in a suitcase, always open to embrace any tradition or culture. She has chestnut-brown hair and dark hazel eyes, she is 5'11 feet tall, wears a size six dress and has 35-23-35 measurements." She is an animal lover, enjoys classical music and is passionate about mysticism and numerology. She is a fluent speaker of three languages: Romanian, Italian and English.
In 2011, Mădălina was dating actor Leonardo DiCaprio. The relationship only lasted a few months.Since September 2012 she has been in a serious relationship with Gerard Butler, whom she meet while she was hired to help Butler promote a new razor for the Dubai-based Super Max brand. Her favorite quote is: "Quod me nutrit me destruit". Meaning "What nourishes me, also destroys me."
Charity Work
Madalina is an international activist, who joined the organization "Artists for Peace and Justice" for Haiti relief.
In Romania she donated a significant amount of money for the renovation of the Maternity section of the main hospital in her hometown Slatina.
Photos Of Mădălina Diana Ghenea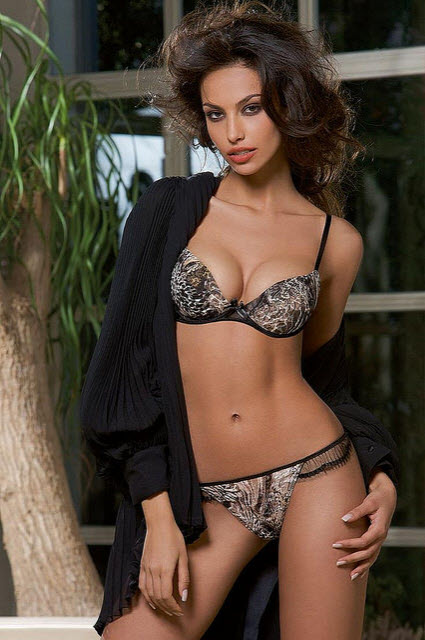 Short Biography
 
Name
Mădălina Diana Ghenea
 
Birthday

8 August 1987

Slatina, Romania

 
Nationality
Romanian
 
Height
5 ft 11 in (180 cm)
 
Weight
132 Pound (60Kg)
 
Hair Color
Dark Brown
 
Eye Color
Hazel
 
Sexual Orientation
Striaght
 
Measurements

35-24-35 (US)

89-61-89 (EU)

 
Bra Size
32C
 
Dress Size
6 (US) or 36 (EU)
 
Shoe Size
8.5 (US) or 39 (EU) or 6 (UK)
 
Religion
Unknown