The ladies of the 2016 Sports Illustrated Swimsuit Issue are out on the town in honor of this year's launch!
The bevy of beauties that strutted their stuff on the red carpet included Gigi Hadid, Lily Aldridge, Hannah Davis, Hannah Ferguson and, of course, one of the cover girls herself, Ashley Graham.
Gigi looked as gorgeous (and sexy!) as ever in a black jumpsuit complete with racy cutouts all throughout the completely see-through number.
The 20-year-old model's underwear—and killer figure—were perfectly visible as she worked the camera on the red carpet and hung out with her pals Lily and Ashley.
Meanwhile, former cover star Hannah Davis looked like every bit the golden goddess in her gorgeous gown and Hannah Ferguson went for over-the-top sexy in her risqué little black dress..
Lily opted to turn the heat up as well with her gown this evening, except she steered clear of wearing a black dress and took to a bold red low-cut ensemble perfectly timed after Valentine's Day.
This year's cover was revealed over the weekend and was "a nod to female empowerment," a source told E! News.
"I've got plenty of friends [of all sizes] and different shapes and everything," Ashley recently told us. "And I don't want any of them to feel like they aren't 'real women.'" Preach!
{myFlickr}feed=photoset, photoset_id=72157662469142934, gallery=lightbox{/myFlickr}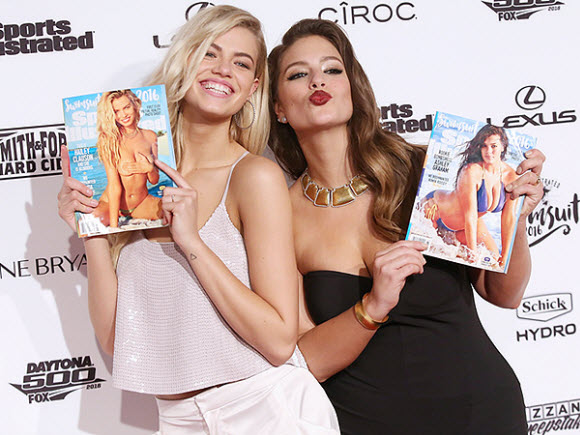 Source : Eonline